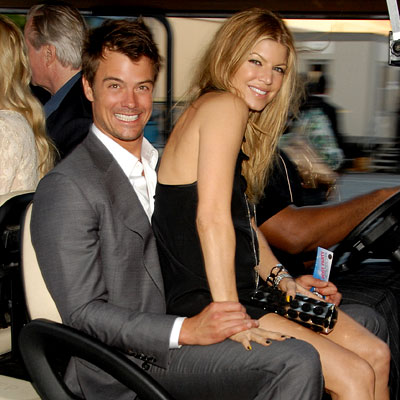 Boozing butta beauty Fergie was said to be super-pissed when she saw an autographed pink tennis ball that her live-in boyfriend, Josh Duhamel, got from Russian tennis star Maria Sharapova. Josh was blabbing about how great it was to meet Sharapova at the ESPYs and said he wanted to get a display case for the pink ball.
Fergie was so steamed she threw the thing out the door.
When "Las Vegas" hunk Josh Duhamel proudly showed live-in love Fergie an autographed girly pink tennis ball he'd been gifted by sexpot Russian champ Maria Sharapova his Pop Princess went postal! As Jush gushed on… and on… and on about meeting leggy blonde Sharapova at the ESPY Awards, he idly tossed his prize in the air and mused: "You know what? I think I'll get a special box for it!" Fuming Fergie… exploded and snarled: "I've got a better idea!" Snatching LoverBoy's ball in midair, she ran to the oyer of their LA home, yanked open the front door – and flung his pretty pink playthink as hard as she could.
[From The National Enquirer, print edition, Mike Walker's column September 3, 2007]
I could see this being true. (I'm not saying it is, because I take everything in the Enquirer with a grain of salt. They do have some exclusives that turn out to be true, but crap little stories like this you can't ever really verify.)
How would you feel if your boyfriend/husband/significant other went on amd on about meeting someone? I know Sharapova's a famous athlete so if my husband was elated to meet her I wouldn't be that threatened, but Duhamel is a minor celebrity and he could easily land her. That's got to piss off the Ferg. Everyone wonders why Duhamel has stayed with her this long, at least, you know, bitter bloggers like me who have nothing better to do but sit behind our computers and talk shit about people.
Back in February, Josh and Fergie said they keep their relationship hot by taking romantic vacations together, staying out of the spotlight, and singing karaoke. at home. Yes, karaoke. Fergie praised Josh's version of Total Eclipse of the Heart. Maybe it is love.
Here's Fergie after getting her hair done recently. She looks a lot better with giant bug glasses on.