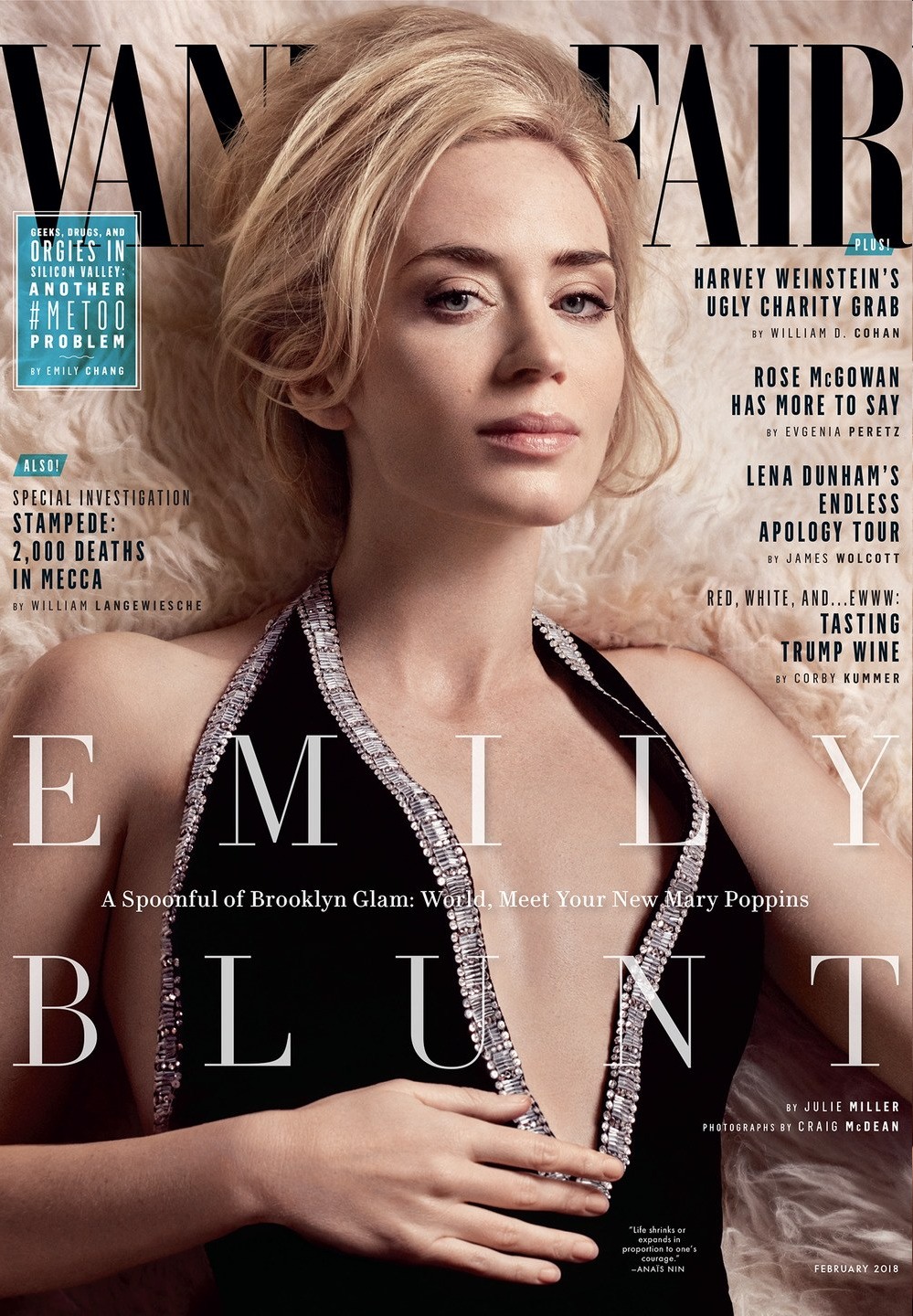 Emily Blunt is a beautiful woman, but I dislike her as a blonde. This shade does nothing for her coloring at all! She needs to stick with warmer, richer shades of brown or red. Blonde Blunt covers the February issue of Vanity Fair to promote two films: Mary Poppins Returns, which comes out on Christmas 2018, and A Quiet Place, which comes out in April. It seems a bit early for Blunt to appear on a February cover, right? I can think of a dozen other women with decent Oscar campaigns who would be better candidates for a February VF cover: Octavia Spencer, Saoirse Ronan, Greta Gerwig, Sally Hawkins, Allison Janney, etc. Or they could have used this cover to hype the sh-t out of Black Panther, which is actually coming out in February. Just another nonsensical window into the editorial decisions of magazines, I guess.
Anyway, A Quiet Place was directed by John Krasinski, Emily's husband. They star in the film together. Here's the description of the movie: "A family lives an isolated existence in utter silence, for fear of an unknown threat that follows and attacks at any sound." Odd. The VF story – while poorly timed – is a good read, and Emily covers a wide variety of subjects. You can read the full piece here. Some highlights:
Why they moved from Los Angeles to Brooklyn: Because she missed the intimacy of "brushing past strangers on the street" and being in "a vibrant, bustling city where you don't feel isolated."

On strangers wanting photos: "Social media has changed the landscape so an encounter with you is valued more as a social-media currency than a genuine interaction. Frances McDormand told us—she just makes my teeth ache I love her so much—when someone asks her for a picture, she says, 'You know what? I've actually retired from that. But I would like to shake your hand and meet you.' "

Why she refuses to engage with social media stuff: "I don't think it does sh-t, to be honest. I think a movie lives or dies on word of mouth and the trailer. I have seen people do endless social-media campaigns and the movie tanks, so I don't see a correlation. . . . I strongly believe that my job is to persuade you that I am playing somebody else, so exposing too much personally is just something I can't get on board with."

On her career in show business: "I am not cynical in my personal life. I actually feel quite hopeful. But with the business itself, you have to approach it in a harder way. I think you have to wear a helmet. It was just an accumulation over the years. . . . You are part of a machine that is moving and will overwhelm you and drown you if you are not tough in it. It's a very precarious industry that can often be quite crushing, so any advice I have for anyone going into it is to do something else."

On sexual harassment: "Everyone has had their bum pinched, but I would not put me having my bum pinched on the same side of the street as women who have been raped or sexually assaulted or abused or harassed… The bum-pinch statement was more of a euphemism for any kind of minor behavior that I have experienced that has been very easy for me to shut down. . . . I think it is something that everyone has experienced. That comment was meant in no way to disparage the people who have actually been brave enough to come forward. I think it is a really vital, remarkable time, and I really hope that it will translate to other social injustices because I think this is a time when people are finding their voice and using it."

Her fantasy career: "It would be my dream just to flip houses. I adore renovating. I love working with different materials and coming up with a different story for each room. I am Pinterest-mad. Once I begin playing everyone's mother, then I'll just start flipping houses instead."
A lot of people are always telling me that Emily and John are the most relatable, amazing couple of all time. I've never really bought it, but that's not to say that I don't think they're special in their own way. I like that Krasinski is happy to let Emily's star shine brighter than his. I think it's sweet that she wanted to star in a movie he directed, and I think it's cute that the experience made them stronger. But the most relatable thing in this article? Emily fantasizes about flipping houses. Who amongst has not had that day-dream? Anyone who binge-watches HGTV dreams of one day giving up their careers to flip houses.
Here's a new still from Mary Poppins Returns:
ICYMI: See a Delightful New Image From Mary Poppins Returns: https://t.co/kx0xgRpsQy pic.twitter.com/v3Rh0KbxLy

— Disney (@Disney) December 29, 2017
Cover courtesy of Vanity Fair.