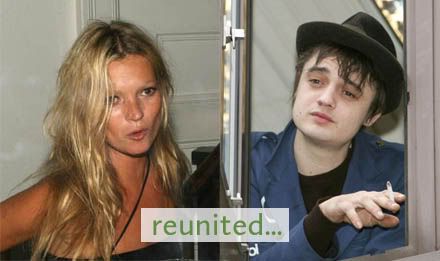 British rag "News of the World," not know for its accuracy, is reporting that Pete Doherty and Kate Moss are back together and that Kate has given Pete the key to her place:
"It's the news Kate's been trying to hide, but it's true they're spending more and more time together…
"Pete's like a love-sick teenager all over again.
Kate's laid down some ground rules though. My source close to the model, 32, revealed: "She's told Doherty he has four weeks to show her he can keep out of trouble and away from drugs. She is worried about being tarnished with unpredictable Pete just when everything's on the right track with her career and daughter."
If this is true I would really, really like to see pictures. It seems unlikely since the press follow Moss everywhere and there's no evidence yet. However, it does explain Doherty's scrawled message of love to Kate as he left a court appearance in London this week.