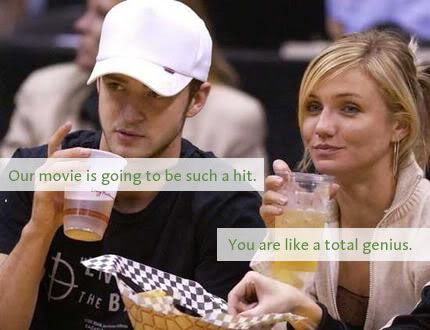 We cannot contain our delight at today's news that Cameron and Justin are taking advantage of the brief ice skating "craze" to create and star in a ice skating-themed romance movie:
Justin and Cam have thrown their acting hats into the rink and have begun developing an as-yet-untitled romantic skating flick with themselves as the leading couple.
By the time they finish this flop the public will not give a shit about ice skating. The Olympics are finished, Skating with Celebrities has wrapped, and no one will care about ice skating a month from now. The only reason people will watch this is to see Cameron in tiny outfits.
Everyone also knows that it's incredibly stupid to make a film with your significant other. The Sun recaps:
MADONNA and SEAN PENN's Shanghai Surprise from 1986 is one of the worst movies ever made. They divorced three years later.
BEN AFFLECK and J-LO's appalling Gigli came just before they split — and their careers have never recovered.
Eyes Wide Shut is not regarded as one of TOM CRUISE or NICOLE KIDMAN's finest works. They divorced in 2001, two years after the film, STANLEY KUBRICK's last, came out.
Gigli on ice – we can't wait!