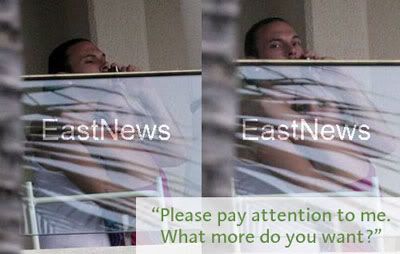 Britney Spears does not know how to cut her losses. Instead, she's attempting to miminize them by putting Kevin on a budget:
Insiders said Spears has put Federline, a wannabe rap star, on a budget. "Each month, he will be allotted a certain amount of money for personal use – i.e., clothing, nightclubs, booze and day-to-day activities. Any big items – cars, or trips that go over allowance – need to be approved by Brit herself," said one source.
Page Six goes on to quote a source that witnessed Britney screaming at Kevin on her cell phone for not visiting her all day.
Obviously things are strained between Britney and Kevin. There's also been a lot of speculation that she's pregnant. The latest news is that she told someone at the Four Season's spa that she's pregnant and that she cancelled a photoshoot because of her growing midsection.
While some call the latest photos of Britney in a bikini inconclusive, a video of Britney walking in Hawaii on March 4th shows the pop star with a discernable bump as she moves around: