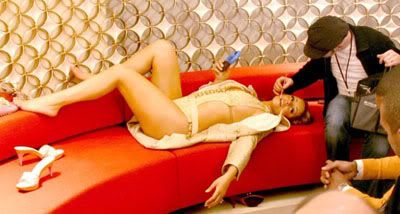 More photos surfaced of Mariah and Pharrell filming "Say Something," the next single off Mariah's multi-platinum album, "The Emancipation of Mimi." Mariah looks healthy and more toned in a side-slit bathing suit. Coveted Louis Vuitton purses and a slew of gorgeous shoes are featured in the video. Snoop Dog was rumored to have a spot in "Say Something," and he lends his talent to the track, but we haven't found pictures of him with Carey and Pharrell. He may be edited into the video later.
We may have spoken too soon when we speculated that Pharrell and Carey were an item. Although they were pictured holding hands after the shoot, it may have been just for publicity as the two are both said to be involved with other people. Pictures [via]
Six more pictures after the jump.