I kept seeing stuff about Princess Charlotte of Cambridge starting nursery school last week, and I honestly thought Charlotte had already started and William and Kate were just doing everything very low-key. But no? Charlotte started nursery school today in London. The Duchess of Cambridge photographed her daughter at Kensington Palace just before they set off for Willcocks Nursery School this morning.
The Duke and Duchess of Cambridge are very pleased to share two photographs of Princess Charlotte at Kensington Palace this morning. pic.twitter.com/dDIOZdA7aM

— Kensington Palace (@KensingtonRoyal) January 8, 2018
The images were taken by The Duchess shortly before Princess Charlotte left for her first day of nursery at the Willcocks Nursery School.

— Kensington Palace (@KensingtonRoyal) January 8, 2018
Charlotte turns 3 years old in May, and I would assume that the nursery school set-up is a lot like George's old set up in Norfolk, meaning half-days and lots of fun. George got more privacy in Norfolk, but Charlotte has to go to nursery school in London now because the Cambridges are keen to take on more work this year. The nursery school comes at a crazy cost though – £14,500 a year.
Superficially, I love the way Kate styled her daughter here. I would have thought that Kate would have gone with head-to-toe pink, but no – a nice blend of brown tights, red coat, red Mary Janes, red bow and pale pink scarf and backpack. Adorable!! They seem to be growing Charlotte's hair out too.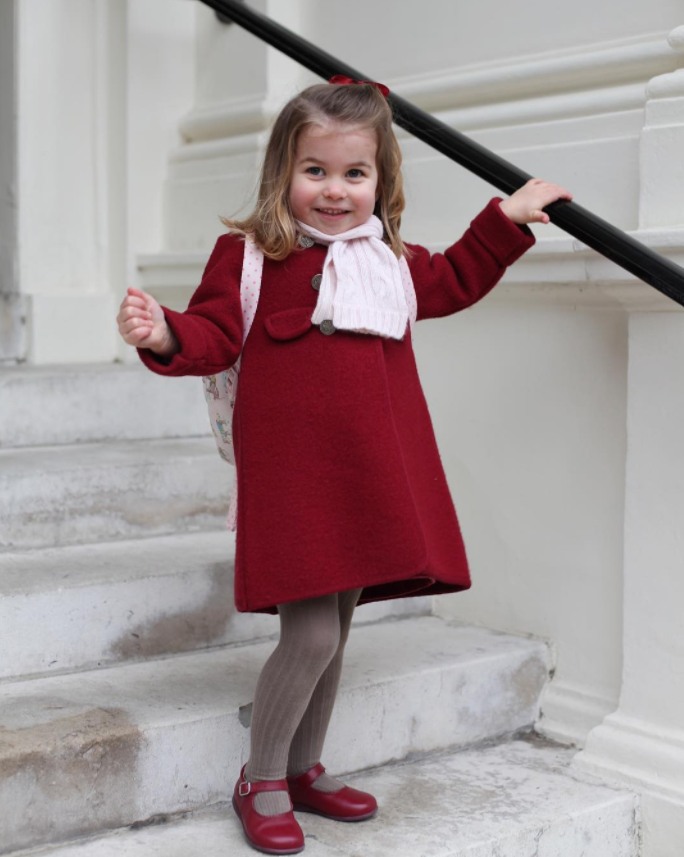 Photos courtesy of Kensington Palace.