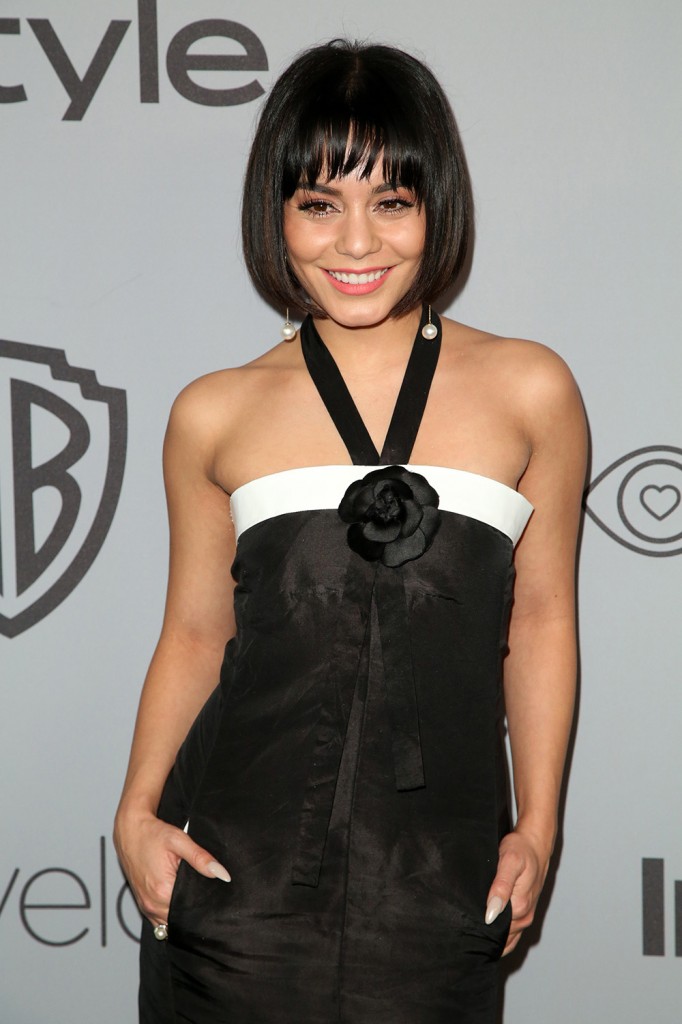 Vanessa Hudgens, who recently wrapped shooting the comedy Second Act with Jennifer Lopez, channeled Old Hollywood with beau Austin Butler at the InStyle & Warner Bros. Party at the Beverly Hilton Hotel after the Golden Globes on Sunday night. The 29-year-old actress was excited about the dress, posting a photo of the gown's label on Instagram with the caption, "Just the classiest of class." I kind of like the dress. I do love the white accent stripes but I'm not fond of the flower on the chest and the straps at the neck. I think this would have worked better as a strapless, flower-less dress. She's definitely got the shoulders to pull that off. I love the pearl drop earrings peeking out from under her bobbed haircut, but I'm not find of the severe bangs. They look bad on Nina Dobrev, and they're really not working for her either. And, despite her recent post of a photo with a ring on THAT finger, she and Austin are not engaged. Too bad, as they do make a good looking couple.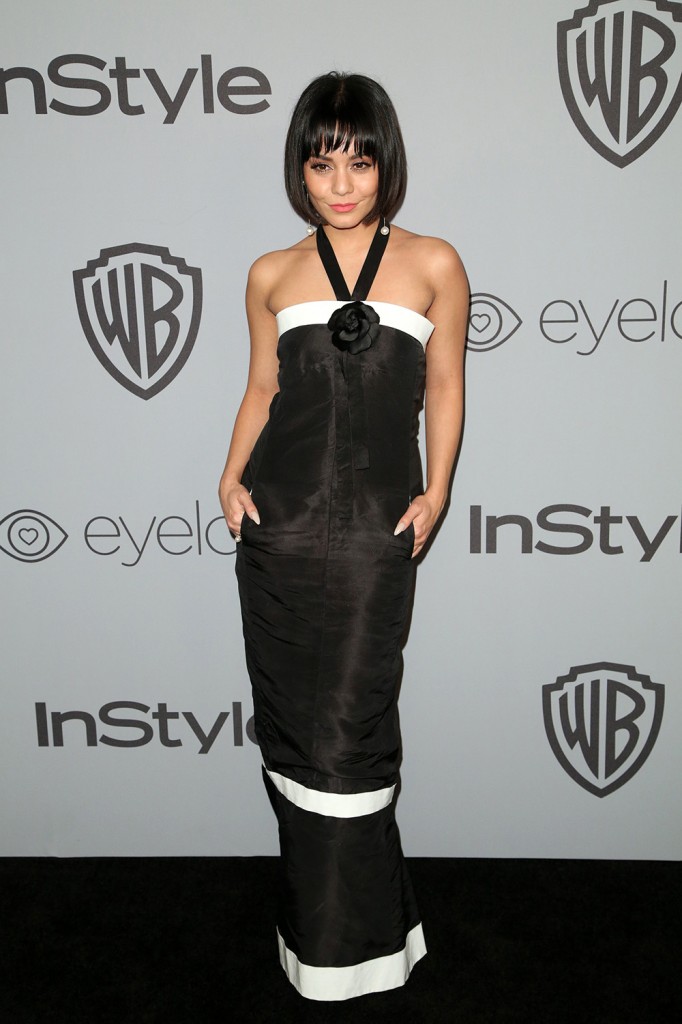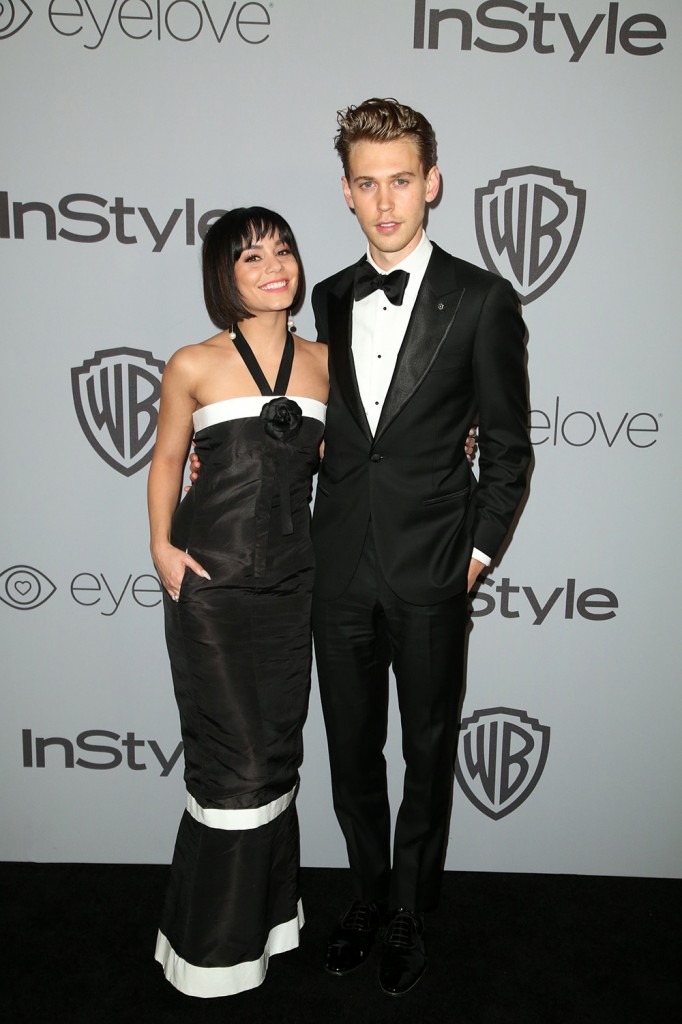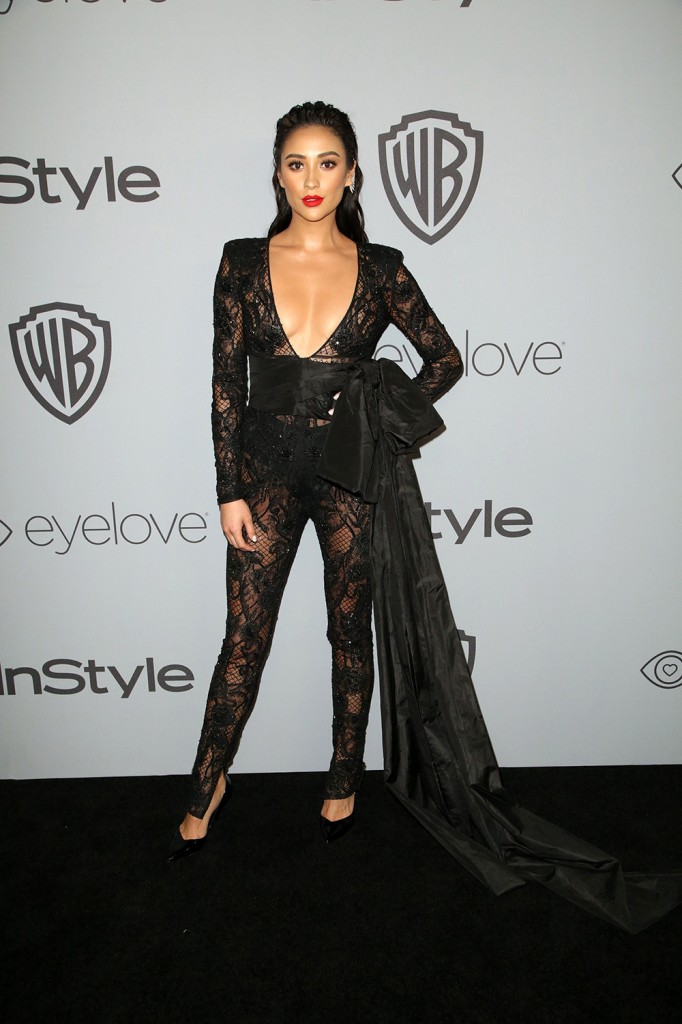 Shay Mitchell, of Pretty Little Liars fame, wore a lace bodysuit by Dundas. I really didn't want to say this was tacky, but if the adjective fits….The plunging, sheer number also featured a huge satin sash and bow at the waist. There's a lot going on here, and none of it is good. The slicked-back hair isn't doing her any favors either. The whole thing makes her look older than her 30 years. Well, at least her accessories – which included Stella Luna shoes and a Chanel bag – and makeup from Kat Von D's line were on point. She gave a shout-out to her styling team on Instagram, showing off her glowing face and gorgeous earrings.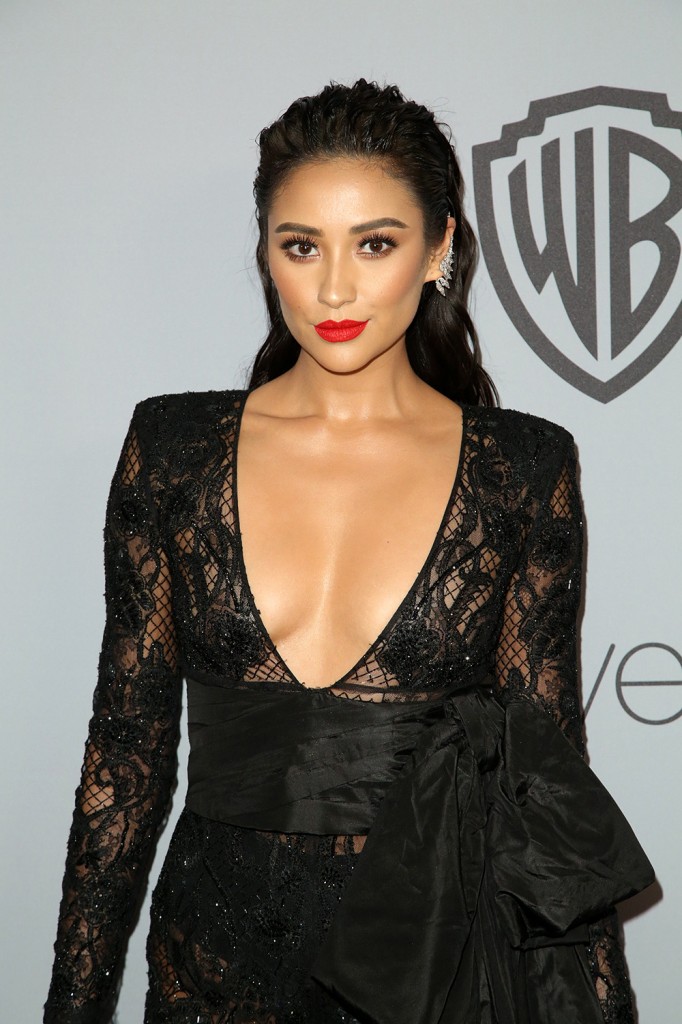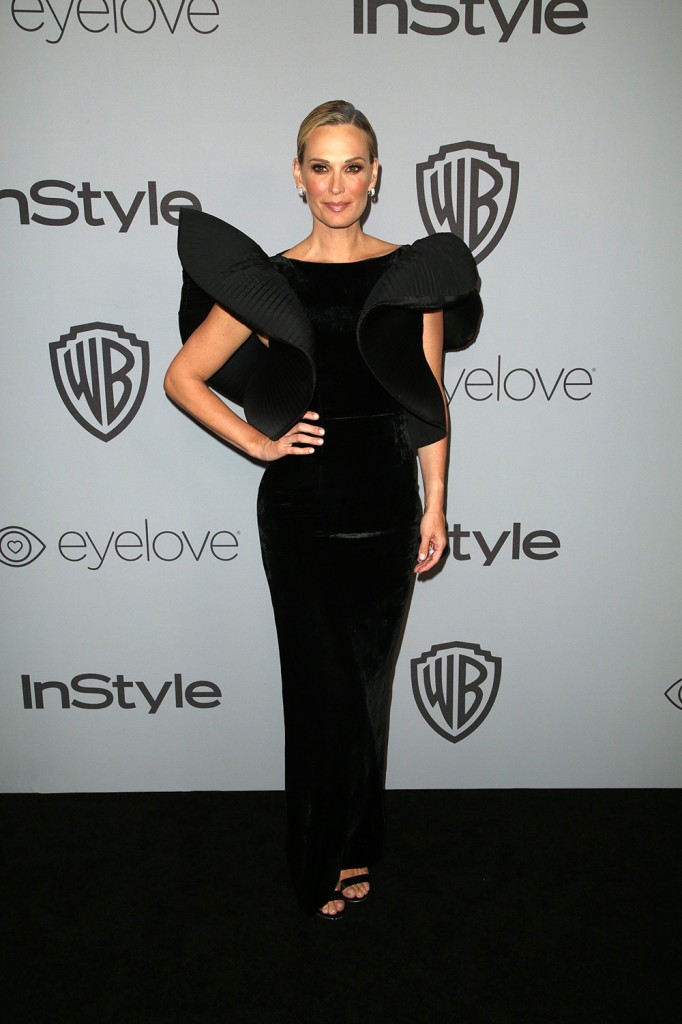 Model Molly Sims, who I know because of her role on Las Vegas (RIP), donned a gown by Alberta Ferretti. With most actresses wearing black for the Golden Globes awards and post-show festivities, I guess it must be hard to make a statement that stands out, and this 44-year-old achieved just that. Although I think the huge over the shoulder pieces make her look a little too much like a raptor from Jurassic Park, I'd give the gown a win. Her makeup is beautiful, befitting a supermodel, but the hair doesn't work with that gown. That ponytail wrap reminds me of what women wear to keep their hair in check while on the back of a Harley. It doesn't fit with the glam that gown exudes.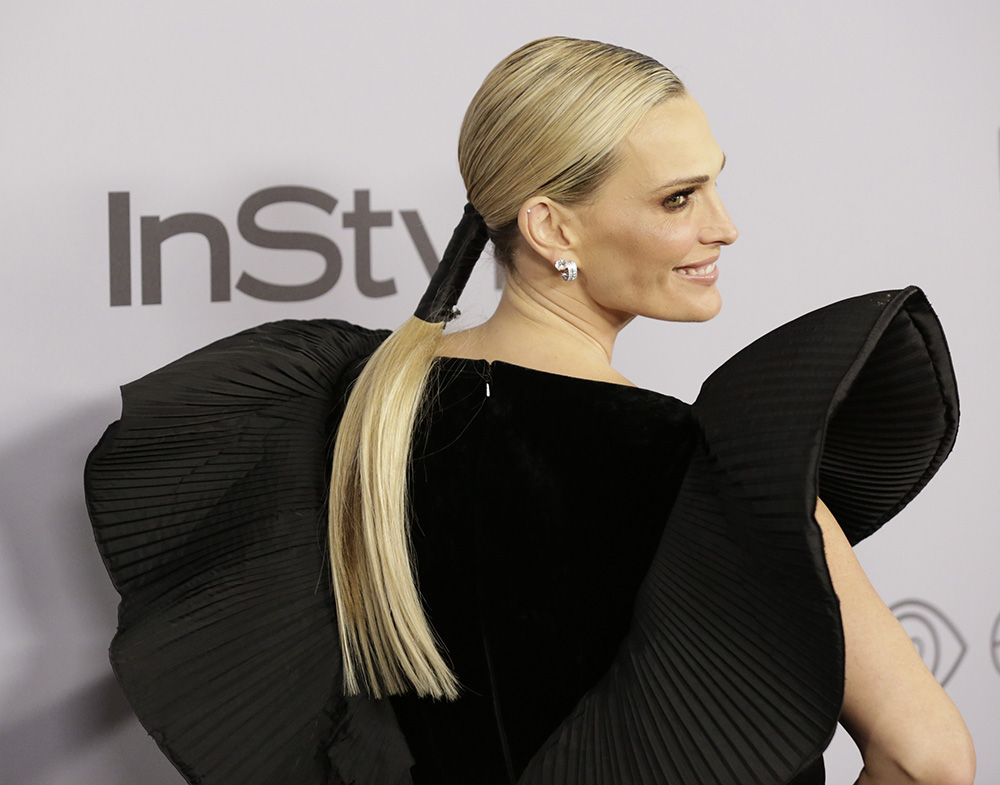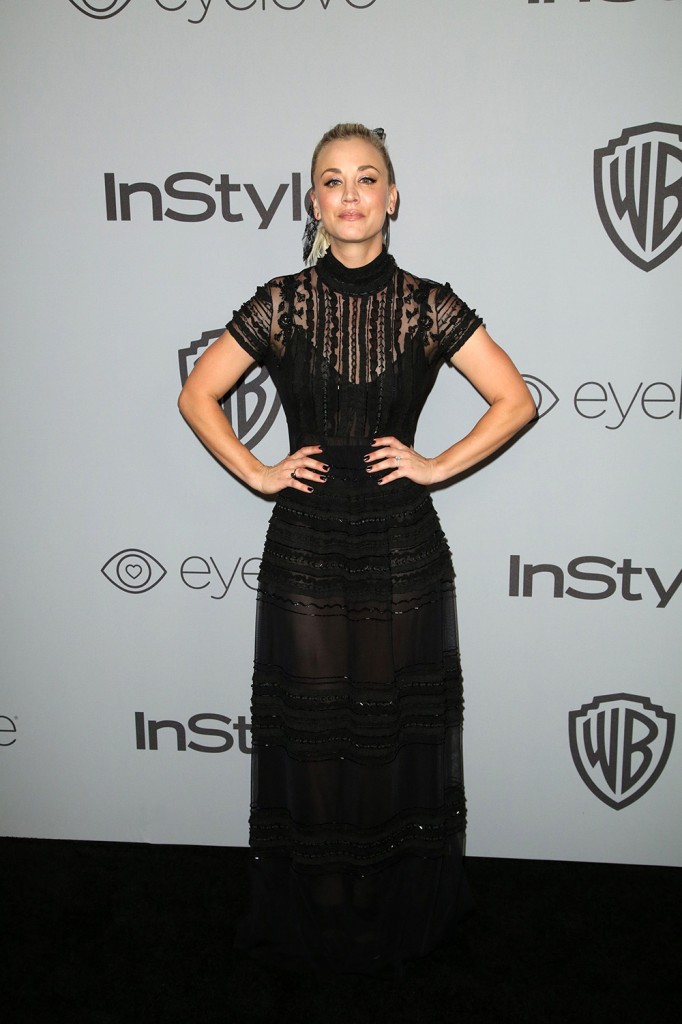 Kaley Cuoco, with fiancé Karl Cook, wore a black lace gown by Elisabetta Franchi. The 32-year-old star of Big Bang Theory, which (may be going off the air after its 12th season), told PEOPLE on the red carpet that Karl was the one because "he's blonde" and that their union will result in "really cute blonde babies." I kind of like this dress. It's got a classic vibe. I want to say it looks "smart", but I'm not sure that's the word I'm looking for. It's subdued, and it's a nice complement to Karl's tux. Again, the hair isn't doing it for me. I'm glad it's off of her face, but I think the lacy bow on her ponytail is what's throwing me off. Her makeup looks lovely though, and Kaley made sure to thank her styling team on Instagram.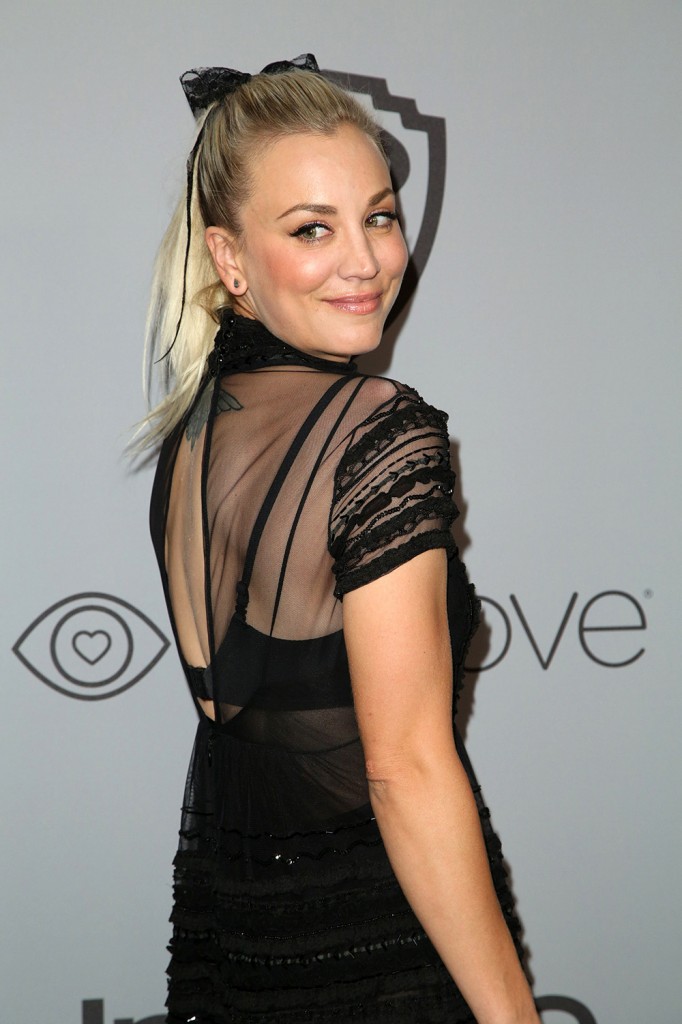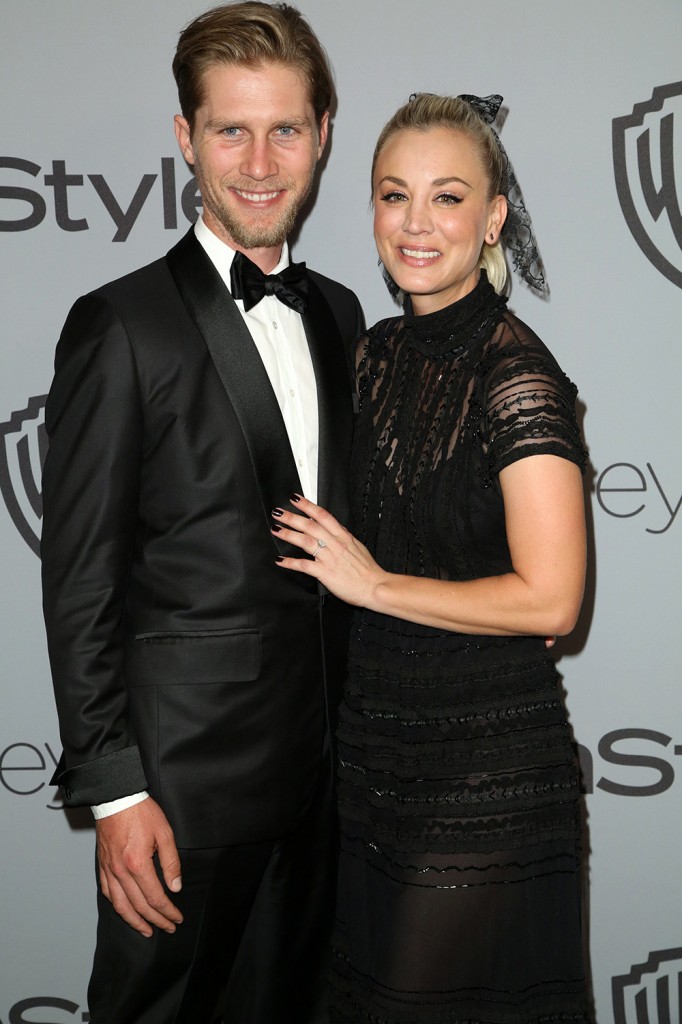 Photos: WENN