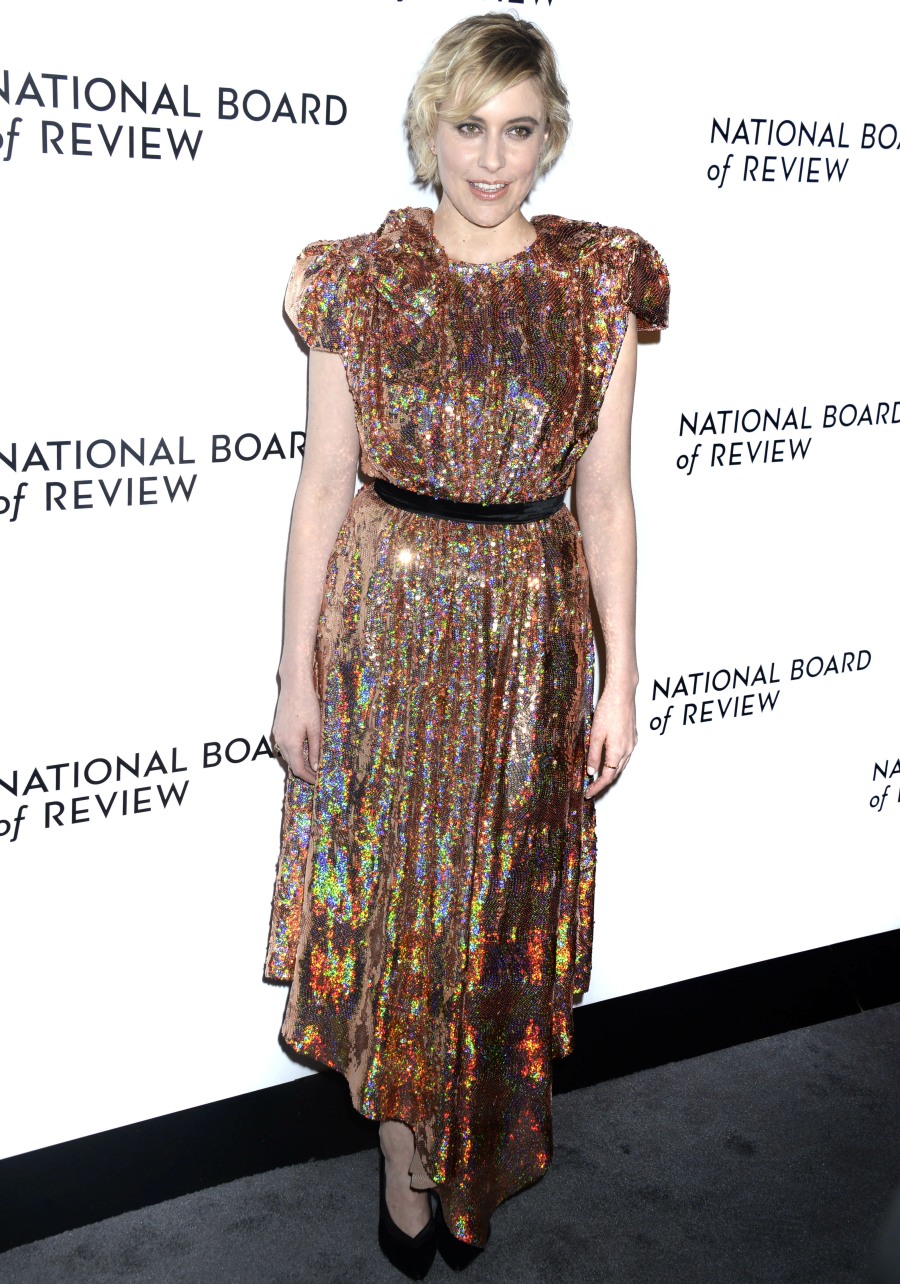 Here are some photos of Greta Gerwig, the writer-director of Lady Bird, at last night's National Board of Review Awards on Tuesday night. The quick fashion note here is that she wore a sparkly Gucci dress, and she looked great. I would argue that this Gucci is a tad too "dressy" and cocktail-y for the event, because historically the NBR Awards are more low-key, but honestly… everything has gotten more glam lately, and people really did treat this like any other awards-season red carpet.
On Tuesday, we talked about Greta and the Woody Allen Conundrum. Greta worked with Woody Allen in 2012, on To Rome with Love. As I said, this was before – I believe – most actors knew about the extent of Dylan Farrow's accusations against Woody. It would have been easy enough for Greta and her #TimesUp pin to completely throw Woody Allen under the bus. She did not. In the press room, after Lady Bird picked up the Golden Globe for Best Comedy/Musical, Greta was asked about working with Woody Allen. Her answer sucked, and she failed to even verbally cut ties from him. I wrote: "the Oscar consultant tasked with shepherding Lady Bird through the awards season really needs to pull Gerwig aside and tell her that Woody Allen has no Hollywood constituency at this point – not counting ride-or-die Kate Winslet – and that publicly saying 'I regret working with Woody' will not offend anyone or hurt her Oscar chances. In fact, saying that will help her Oscar chances." Well, someone took my advice:
Greta Gerwig has vowed not to work with Woody Allen again – something many stars have avoided taking a definitive position on. The Lady Bird writer and director, 34, spoke out about working with Allen, 82, and the controversy surrounding him after decades of sexual misconduct allegations in a The New York Times op-ed on Tuesday. When the Times asked Gerwig and screenwriter Aaron Sorkin if Kevin Spacey, Roman Polanski or Allen would ever work again, Gerwig directed her answer to Allen, who she worked with on 2012's To Rome With Love.

"I would like to speak specifically to the Woody Allen question which I have been asked about a couple of times recently, as I worked for him on a film that came out in 2012," the Golden Globe winner said. "It is something that I take very seriously and have been thinking deeply about, and it has taken me time to gather my thoughts and say what I mean to say…. I can only speak for myself and what I've come to is this: If I had known then what I know now, I would not have acted in the film. I have not worked for him again, and I will not work for him again."

Gerwig said she didn't come to the decision lightly, revealing she deeply analyzed the allegations surrounding the director.

"Dylan Farrow's two different pieces made me realize that I increased another woman's pain, and I was heartbroken by that realization," she said. "I grew up on his movies, and they have informed me as an artist, and I cannot change that fact now, but I can make different decisions moving forward."
That's a much better answer, a much more complete answer. "I grew up on his movies, and they have informed me as an artist, and I cannot change that fact now, but I can make different decisions moving forward." Exactly. I remain unmoved by the idea that the #MeToo movement is going to lead to witch hunts, or that men will stop flirting with women, or whatever inane argument some people make these days. But I do have a real worry that the most vocal #MeToo warriors are operating with a 20/20 hindsight and judging men and women's past actions with our new standards. Everyone is ready to "cancel" every actor who ever worked with Woody Allen, when very few of them actually knew about Dylan Farrow's accusations until 2014.
Here's what Dylan had to say.
Greta, thank you for your voice. Thank you for your words. Please know they are deeply felt and appreciated. https://t.co/q7dV2yAFwH

— Dylan Farrow (@realdylanfarrow) January 10, 2018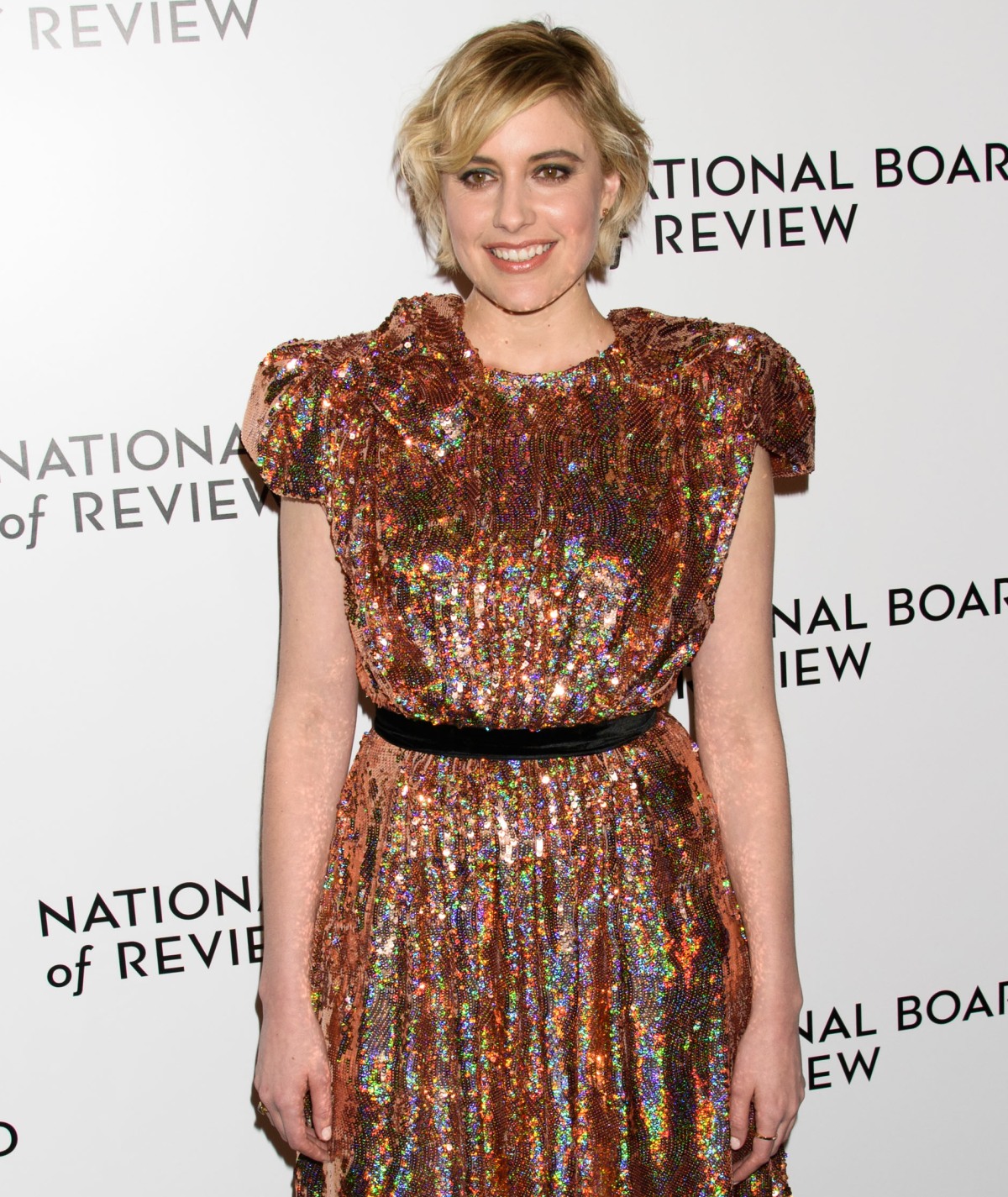 Photos courtesy of WENN.