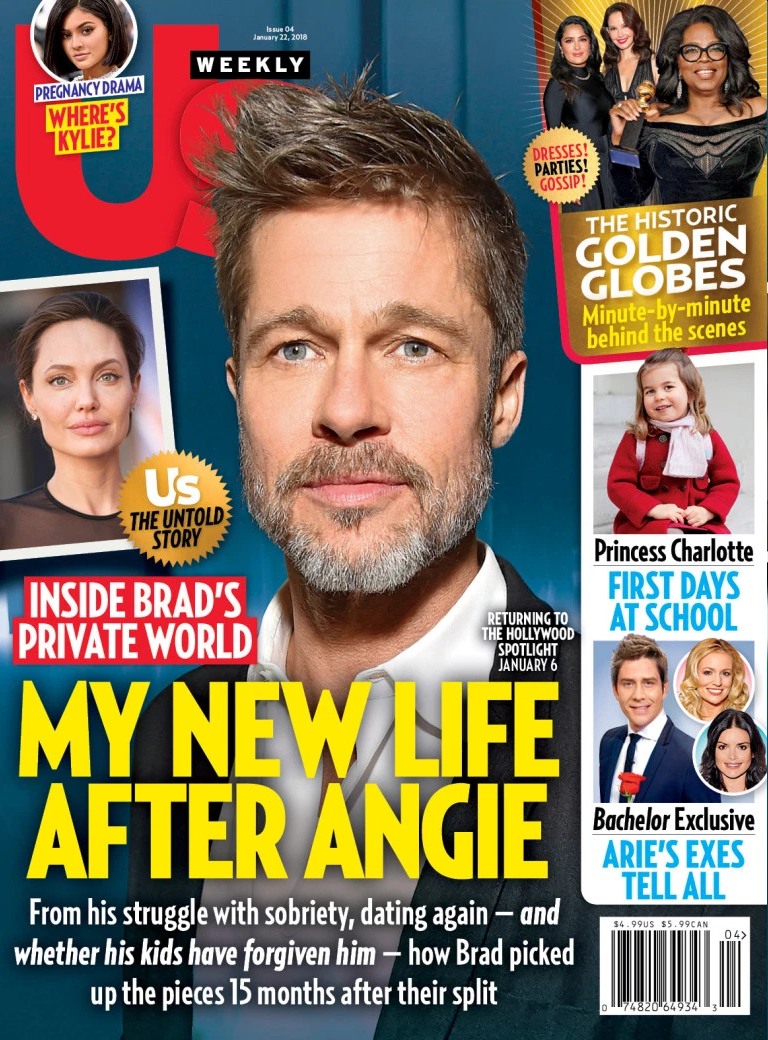 We're still getting occasional updates on Brad Pitt and Angelina Jolie's divorce, even though it really doesn't seem like anything has changed in months. Angelina still seems to have primary custody, and Brad's time with the kids still seems pretty limited. I'm not even sure if the older boys (Maddox and Pax) even want to see Brad at all at this point. But this week's Us Weekly cover story is trying to spin it all as "Brad is super-involved and he just wants to see his kids more because he's sober now, Poor Brad!" I remain unmoved.
The operation is handled with the utmost discretion. A few times a week, Brad Pitt waits in his beloved Craftsman home in the Hollywood Hills as SUVs descend to deliver precious cargo: any or all of his six kids. Though a Pitt insider notes the actor lives "just down the street" from his ex and the children's mother, Angelina Jolie, "it's never Brad or Angie that does the handoff. It's always the bodyguards and nannies." And as soon as papa Pitt takes over care of Maddox, 16, Pax, 14, Zahara, 12, Shiloh, 11, or twins Knox and Vivienne, 9, he settles the brood in for some quality time. "Brad doesn't go out much with the kids or leave the house," the source reveals in the new issue of Us Weekly. "He prefers to keep things very private and safe."

That's his whole philosophy these days. Following his shocking split from Jolie, 42, in September 2016, the actor "lives a quiet life and spends a lot of time at his home," says the source. "It's his sanctuary and just being there is where he finds peace." The Ad Astra star, 54, continuously creates more zen there, notes the source: "He has projects around the house and is always making things or changing things around."

Pitt, who gave up drinking following his divorce, has also committed himself to therapy. "He goes to therapy every week and is mostly interested in learning and bettering himself as a man and father," the source tells Us. Though he and Jolie are still hammering out a custody agreement behind the scenes, Pitt sees his kids a few times a week. "But Brad would definitely like to spend more time with them than he does," says the insider.

When he's not on dad duty, Pitt has been enjoying reconnecting with old friends including Fight Club director David Fincher and his longtime makeup artist Jean Black. Says the source, "They've always been loyal to him and were there for him when the marriage ended." He's also having a great time getting back into two of his biggest hobbies: art and music. "He visits galleries and goes to a lot of concerts."
The subtext here is that Brad sees the kids more than people believe, and he wants you to know that he can see the kids without bringing them out in public, which is what Angelina does. I've heard some people complain about Angelina bringing her kids on so many red carpets in the past year, but to me… none of the kids look like they're being dragged, you know? Maybe Vivienne, granted. But the older kids – Maddox, Pax, Zahara and Shiloh – all seem eager to stand up with and for their mom. Besides, Brad making a case about privacy rings hollow when he was right there, for years, using the kids for publicity and his image, the same as Angelina.
Here are some photos of Brad at Sean Penn's Haiti fundraiser over Golden Globes weekend. I think this was the only appearance Brad made over the weekend.
Photos courtesy of Getty.