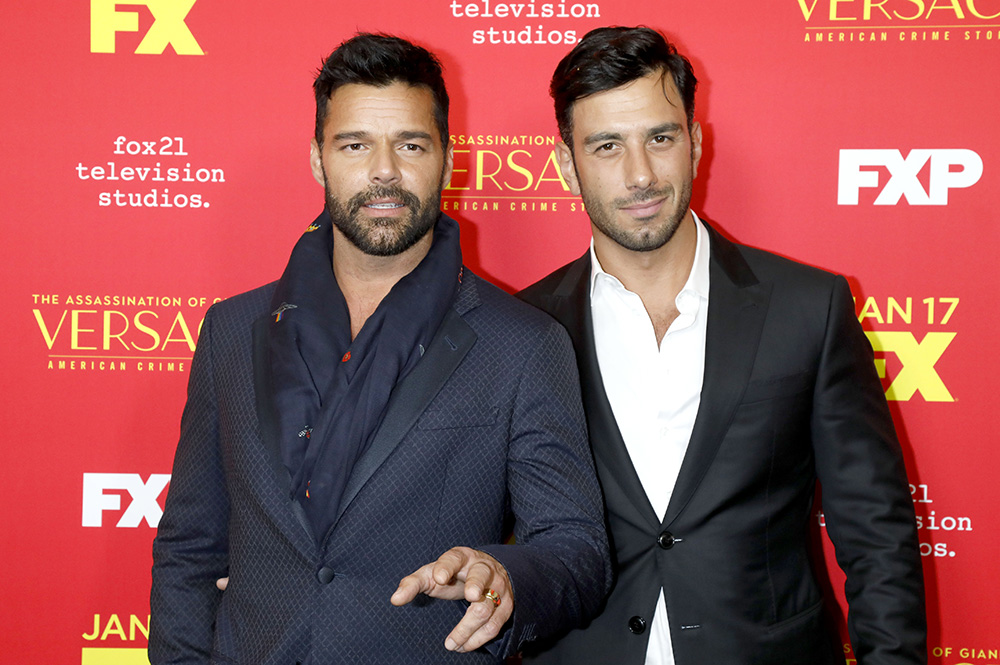 Ricky Martin, a man who rocks a Speedo like no other, spoke to Out magazine in advance of the premiere of FX's American Crime Story: The Assassination of Gianni Versace, which premieres on Wednesday (I can't wait).
The 46-year-old singer, actor and bon-bon shaker feels that the late designer's story is just as relevant today as it was when he was murdered back in 1997. "I believe that the story of injustice this series will bring to the table will spark a lot of conversations about things that we, as the LGBTQ community, were dealing with in the '90s, and that we're still dealing with." He also pointed out that "At this point in our lives, there shouldn't be stigmas over the things that we are going to be talking about."
Ricky is doing his part to further the conversation in a positive direction, putting his his nine-year-old twin sons, Matteo and Valentino, and his artist husband, Jwan Yosef (more on that in a moment), in the spotlight to hopefully serve as an inspiration for other non-traditional families. He tells the magazine:
A lot of people tell me, 'Well, your kids are on the covers of magazines and blah, blah, blah,' and I'm like, 'Yes because I want to normalize this,' " he says. "I want people to look at me and see a family and say, 'There's nothing wrong with that.' It's part of my mission. It's part of my kids' mission as well. My kids ask me about having two daddies and I tell them we are a part of a modern family. This is a beautiful sense of freedom.
Speaking of magazine covers, Ricky and the family were recently featured on the cover of Architectural Digest, and featured in an article showcasing his GORGEOUS Beverly Hills home, complete with art from Jwan on the walls. True to his mission, Ricky posted the image to Instagram and if this is what a non-traditional family looks like, please put them on all of the covers.
So, as promised, Ricky and Jwan are officially married. On the red carpet for American Crime Story on Monday Ricky told reporters that he and Jwan, who were engaged in 2016, made it official, stating "We exchanged vows, and we've swear [sic] everything, and we've signed all the papers that we needed to sign, prenups and everything." He gushed, "I can't introduce [Jwan] as my fiancé. He's my husband. He's my man…We've signed all the papers that we needed to sign, prenups and everything."
What happened to the big Puerto Rican blowout Ricky teased last June? That obviously didn't happen, but he announced "we're doing a heavy party in a couple of months, I'll let you know." I will be waiting by my mailbox for the invite.
One troubling theory as to the low-key nuptials is that Yosef was born in Syria, and most of his family is still living there. Thanks to #45's policies banning Syrians from entering the country, many of Jwan's relatives can't come to the States to celebrate. Despite this, Ricky is still in party planing mode, pointing out, "We still don't know where we will do it, Los Angeles, Puerto Rico, or in Sweden, where my fiancé is from, or in Spain, where I am also from."
Congrats to the happy couple and, if I haven't mentioned before, I'm free to help you celebrate. Have passport, will travel.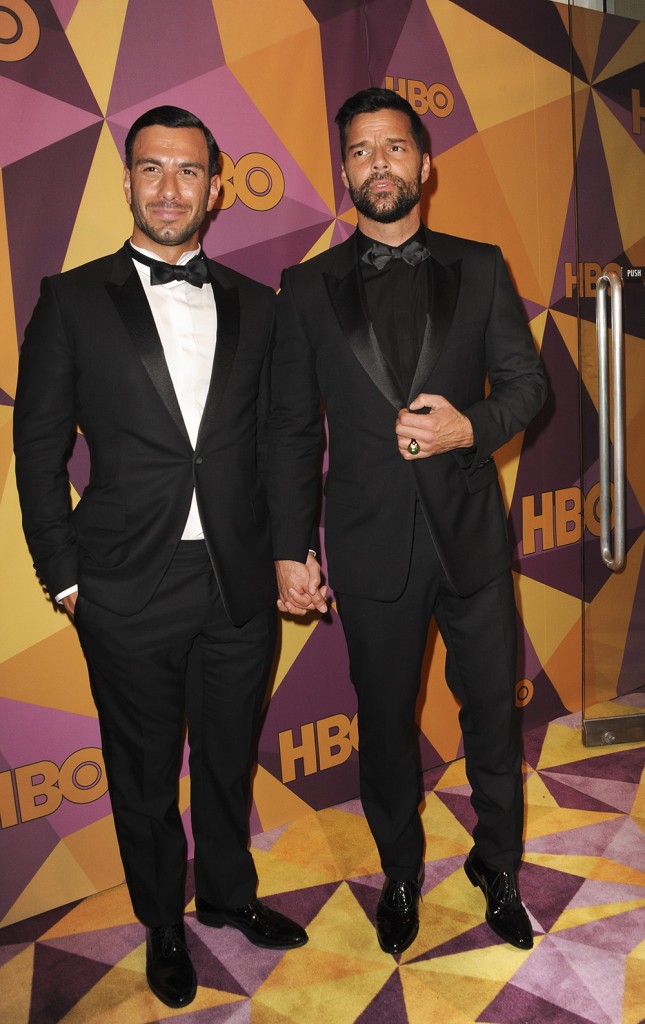 Photos: Getty Images, WENN, Instagram