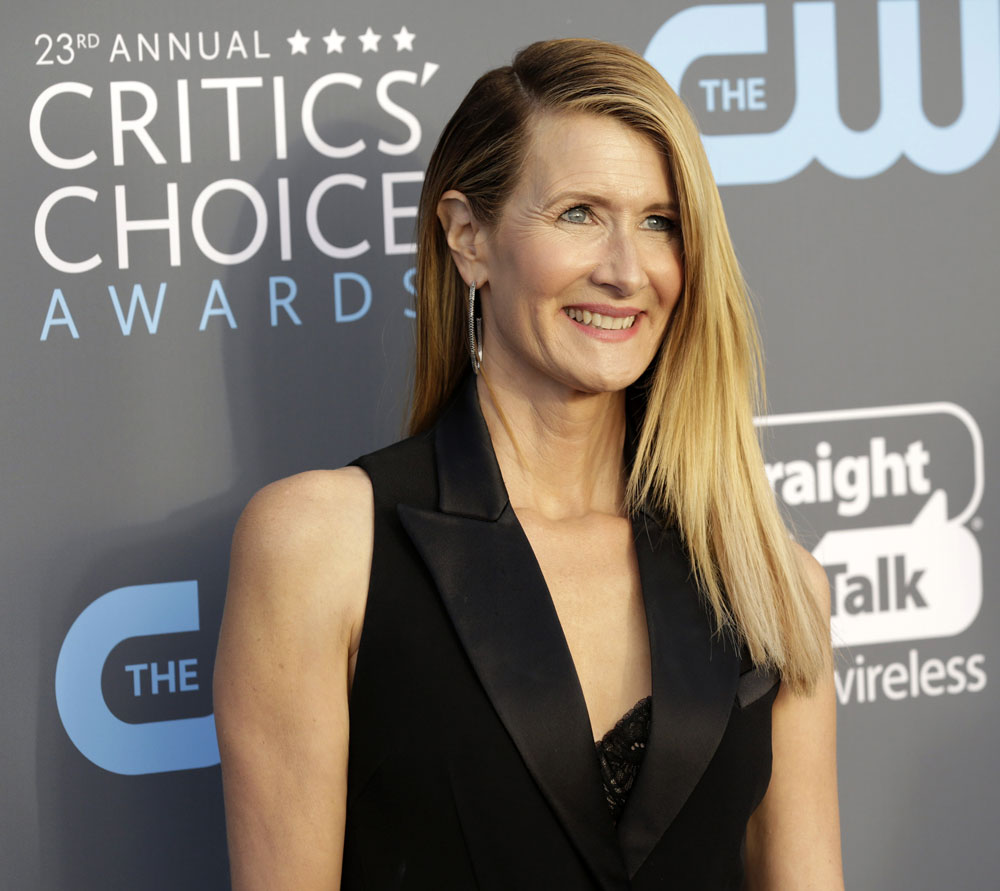 The Critics' Choice Awards seem to sneak up on us just about every year, like they barely do any promotion for it and suddenly it's here. That was the case yesterday when Kaiser told me in the morning that there was yet another awards show that night. While watching the ceremony I actually got depressed for about 30 seconds because I thought it was a Sunday. That said, they kept it moving, it clocked in at under two hours, and Olivia Munn was a decent host. She was a natural with people, Olivia was funny and I came away thinking she would be great on a sitcom because she has nice comedic timing. At least we didn't have to deal with TJ Miller's painfully unfunny schtick.
Before we get to the fashion I'd like to say that The Oscars should study how this show is timed and just copy everything they do. They give TV awards at the Critics Choice too and still manage to keep it moving. (Here's a full list of nominees and winners!) As I say every year after I sit through the Oscars, most of the secondary and technical awards should be relegated to other ceremonies. Now let's discuss these various looks, which is one of my favorite parts of this job.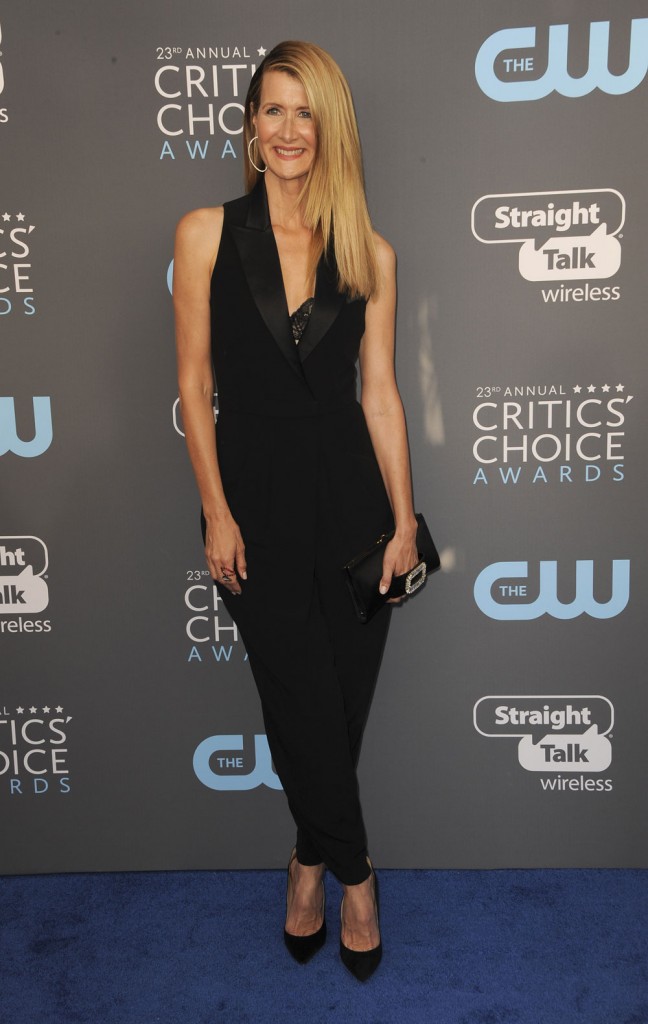 Laura Dern looked polished in this black Balmain pantsuit/jumpsuit with a deep v-neck and a tuxedo collar. She won Best Supporting Actress in a Movie/Limited Series for Big Little Lies, for which she also took home The Golden Globe earlier this week. I love that she wore pants I just wish they were more fitted. This looks comfortable and perfect for this event though. Her styling was gorgeous too, it's like her hair is emphasizing how tall she is. So many actresses had to bed down to accept their awards last night.
Jaimie Alexander was in a weird mullet gown by Georges Chakra, which looked black at times on camera but was actually dark green. I love the cut of the bodice and the thin lines which look like they get slightly more wavy as they go down the skirt. That's a thoughtful design feature but the feathers at the hem and the long train detract too much, I just want to focus on the lines. Plus her styling is over the top. Her hair doesn't need to sit in a giant poof like that on the top of her head.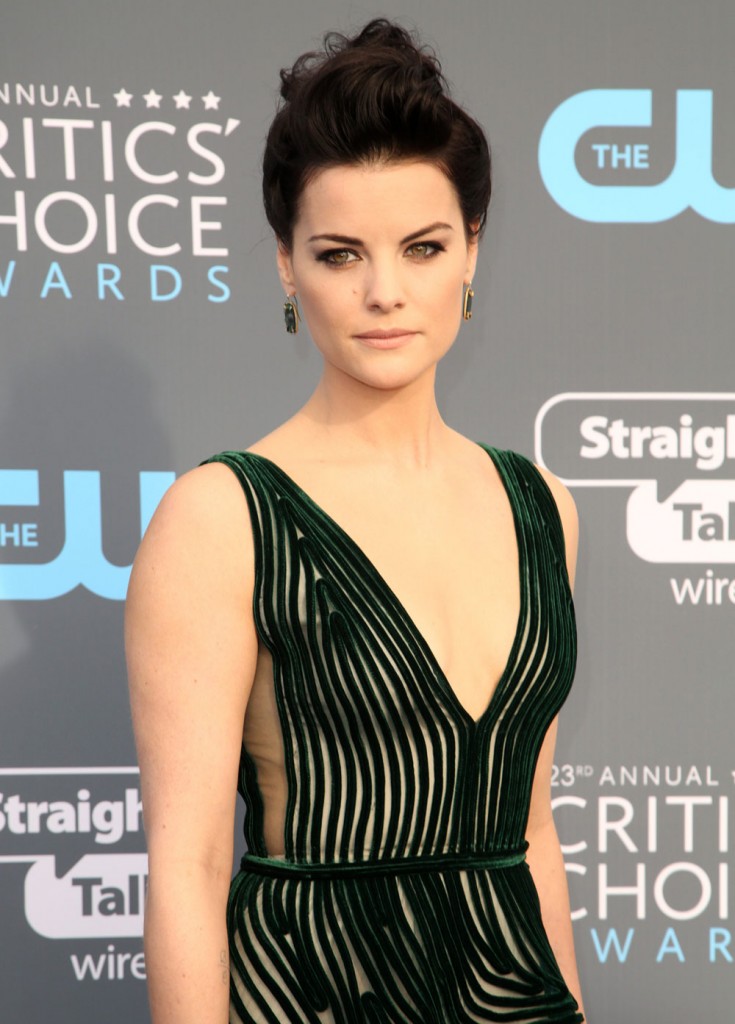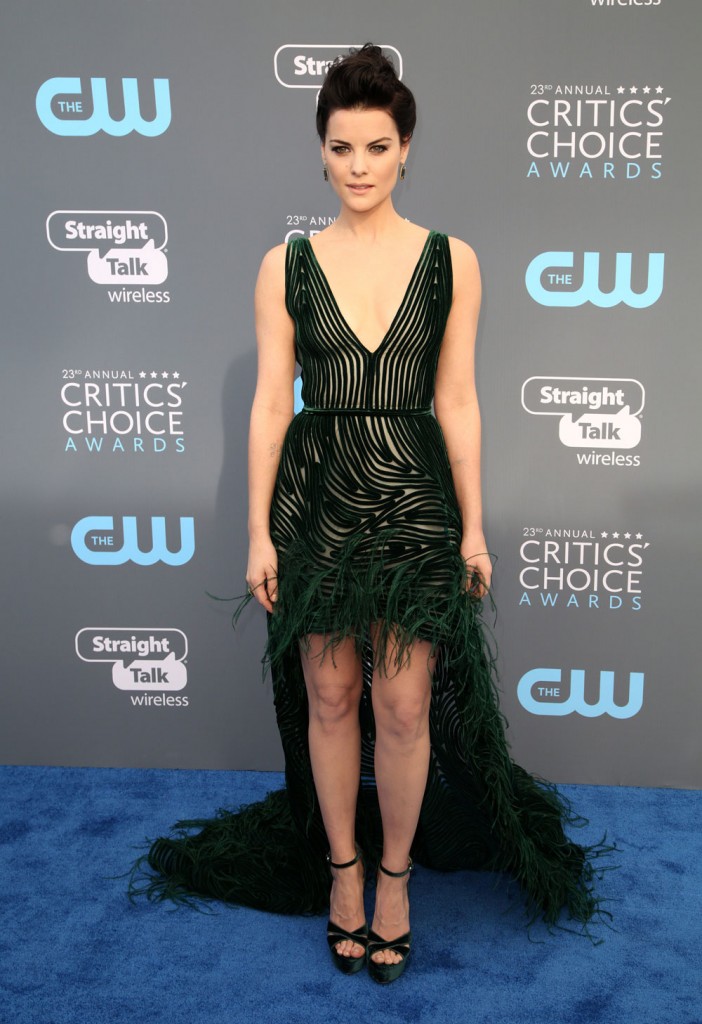 Emilia Clarke's styling looked very 50s to me, like she stepped off the set of Mad Men. I think it's that hair color on her, which just seems dated, along with how it's styled and of course her dress. I like a conservative gown though and there's something cool about a full length long sleeve jewel neck dress. It's like everything is covered plus it has big mirrored dots all over it. This is by Dolce & Gabbana and I like it, I would wear this.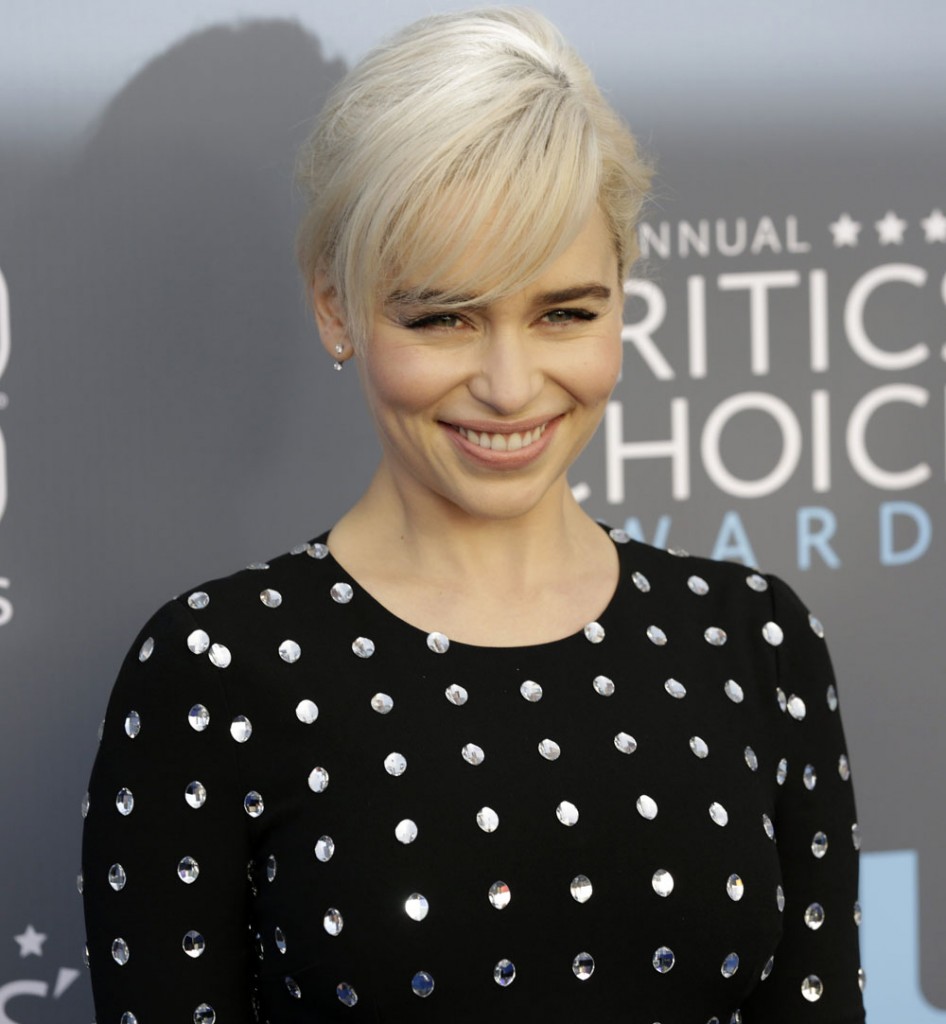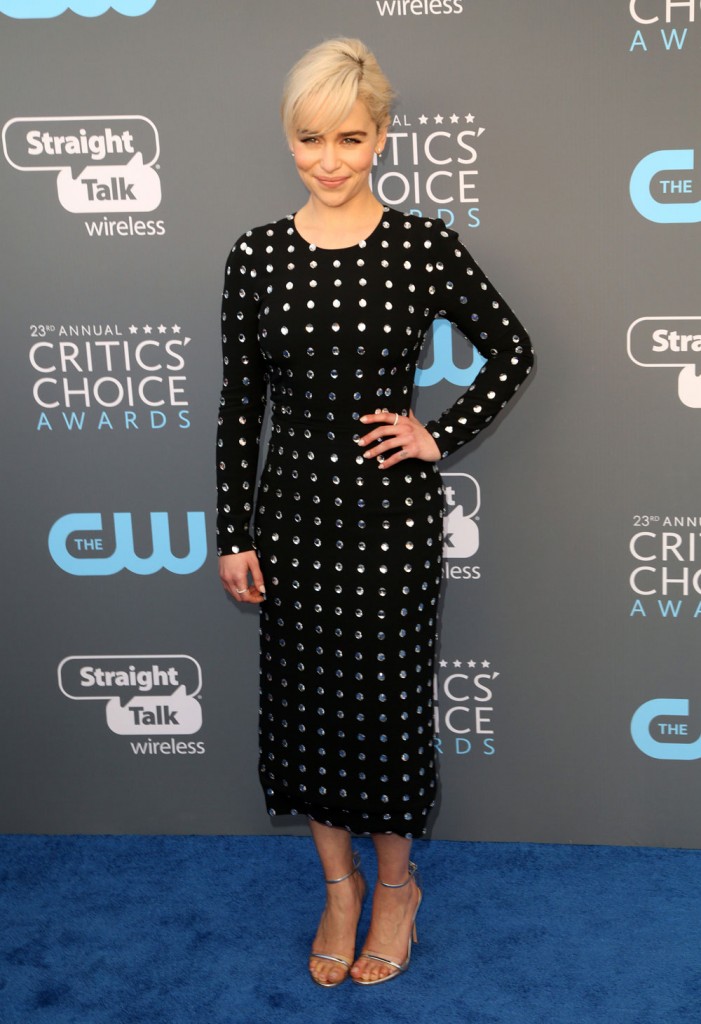 Presenter Sarah Hyland was in a Naeem Khan gown that looks like a black sequin tank top with a white tulle tiered skirt. It's very basic and Sex and The City, but she pulls it off somewhat with her styling. One of our agencies got photos of her in her coat and it's kind of cute how nothing fits over that skirt. That's a dress you just don't bother to buy a custom coat for because you would only wear it with that specific dress anyway. A short coat would go with that too though.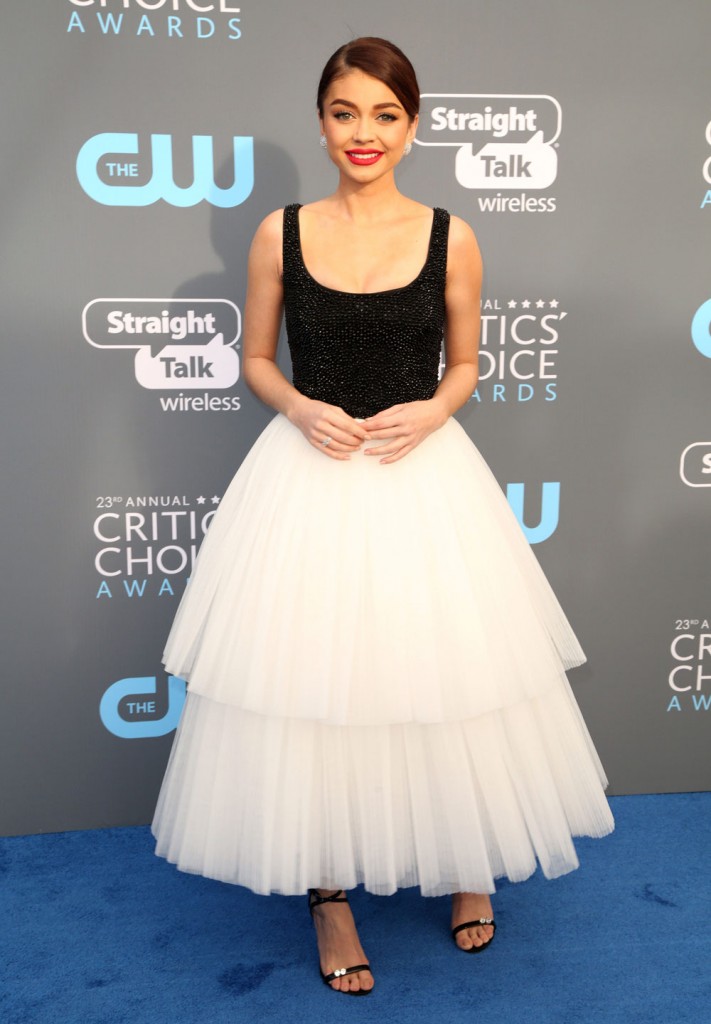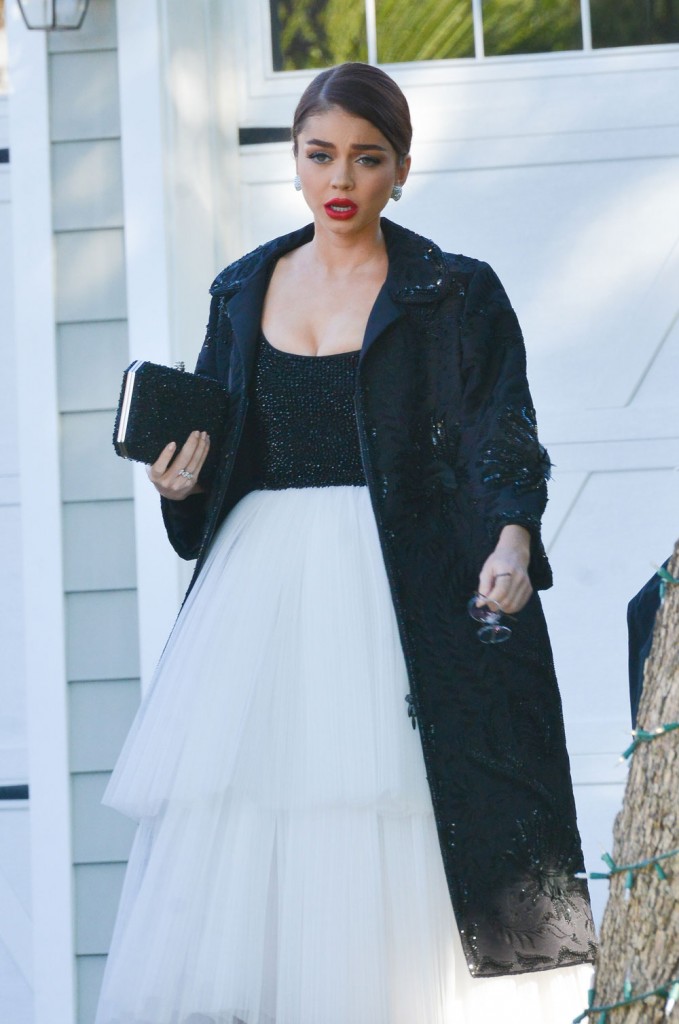 I'm putting Alexis Bledel of Handmaid's Tale at the end as she was also in black and white, in a Rasario gown which looked like it had an abbreviated bustline. This trend of taking features that should be in one place – ruffles, sleeves, cutouts – and just moving them is so bizarre. It's like designers are bored and deconstructing everything at this point. The black top ends midway down her bust, the tie around the waist is very high and that altered silhouette does something weird to her, like her torso looks shorter for some reason.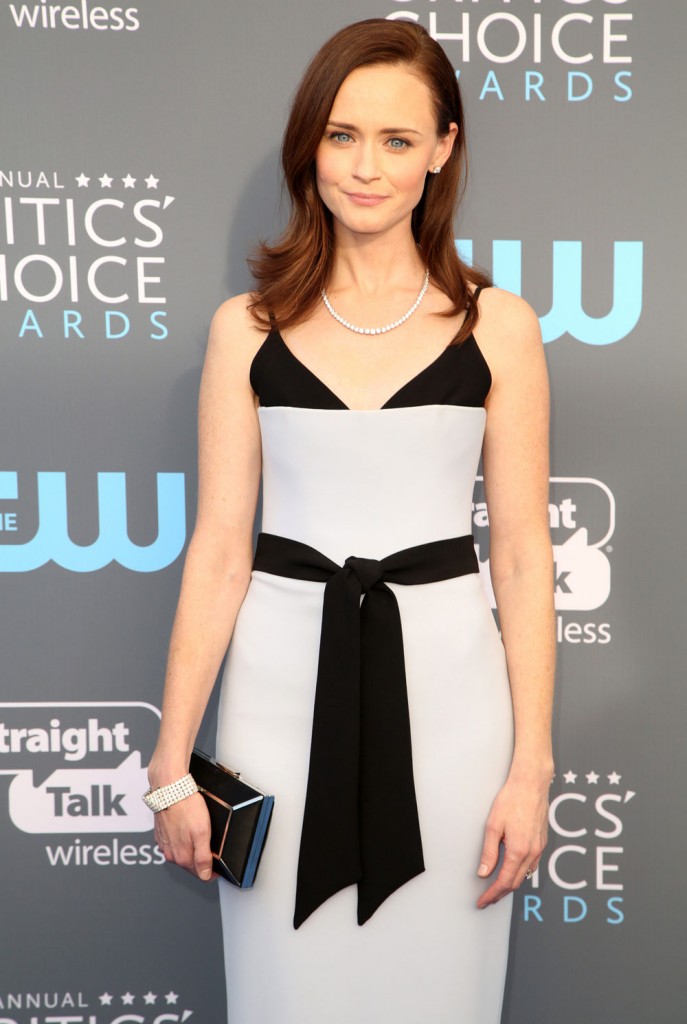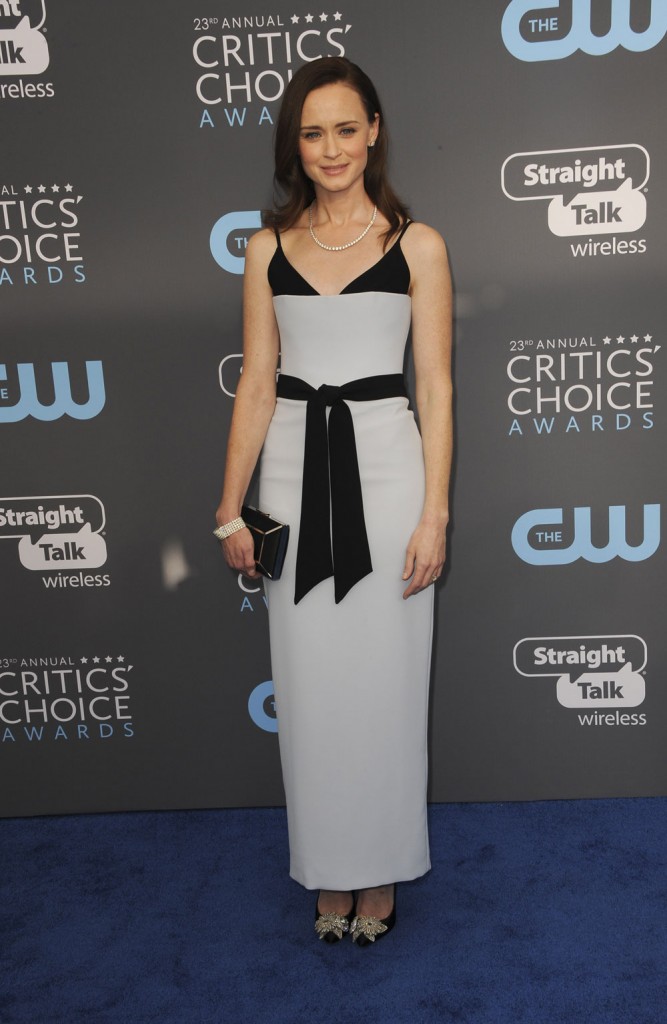 Photos credit: WENN