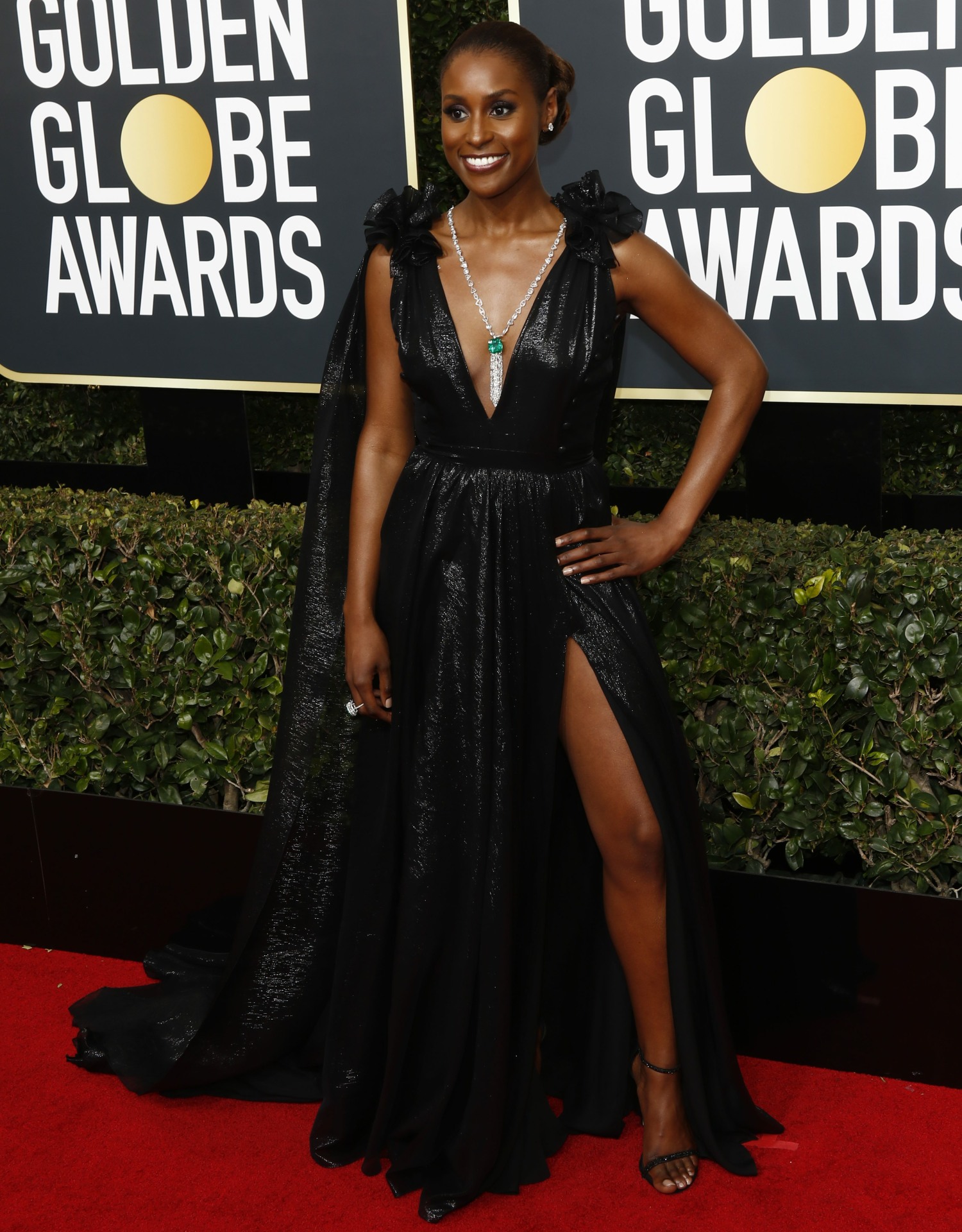 I'll give Drake some credit: he loves extraordinary women. I'm sure he loves ordinary women too, but publicly at least, he has a type: extraordinary women of color. Serena Williams, Zoe Kravitz, Rihanna. And now… Issa Rae? Issa Rae and Drake apparently crossed paths several times on Golden Globes weekend, and Drake possibly tried to hit on her. Issa possibly wasn't interested. Because that's his thing too: he loves extraordinary women, he loves to pursue extraordinary women, and once he "gets" them, he loses interest. He's only interested in the chase. And Issa Rae has no time for that sh-t.
Drake might have his sights set on romancing Issa Rae, according to eyewitness who caught them interacting after the 2018 Golden Globes. The Insecure star attended Sunday night's ceremony as a Best Actress nominee, but on her way from one after-party we're told she was approached by Champagne Papi himself, who wanted Issa to stop by the Netflix bash he was DJing.

One source says when Drake spotted Issa, he "made his whole group stop so he could go talk to her." After "he asked her if she wanted to come to the Netflix party with him," the insider says the actress told Drake "she was with all her friends," and was like, "'Thanks, but no thanks!'" The sources says Issa "walked away" and Drake essentially "got denied." Another source says the "Hotline Bling" performer "didn't come on that strong," but did "flirt a little." The second insider elaborates, "He thinks Issa Rae is beautiful and talented. He would like to take her on date if he was given the opportunity. He talks highly of her talents to people."

But as a third insider insists, Issa "never denied" Drake and the two simply "exchanged pleasantries" while crossing paths. "They don't really know each other but are friendly," the third source tells E! News. And as it turns out, Issa did end up at the Netflix party later that night. Per Complex, Issa even shared a video of Drake spinning at the gathering and called him "Zaddy" in her caption. When she finally got home, Rae complimented his DJ skills, saying in a video, "He was a phenomenal DJ. He played all the corrects tracks. The playlist was simply correct, so I'm pleased."

Unfortunately for Drake, it appears Issa was all about celebrating with her girls after a successful Globes. The eyewitness shares, "She was dancing with her friends and having a good time but she and Drake never hung out there or anything like that."
I mean… it certainly sounds like he was interested, it sounds like he took his shot and it sounds like she didn't even let him do his whole Drake Romance thing. She shut it down fast, so yes, technically he didn't even get as far as "tossing rose petals at her feet" or "giving her sad eyes over a bottle of champagne papi." You know why? Because Issa Rae is a smart girl. She knows he only enjoys the chase. She's got better things to do with her time. Still, she took pity on him and called him Zaddy.
Photos courtesy of Getty, Pacific Coast News and WENN.