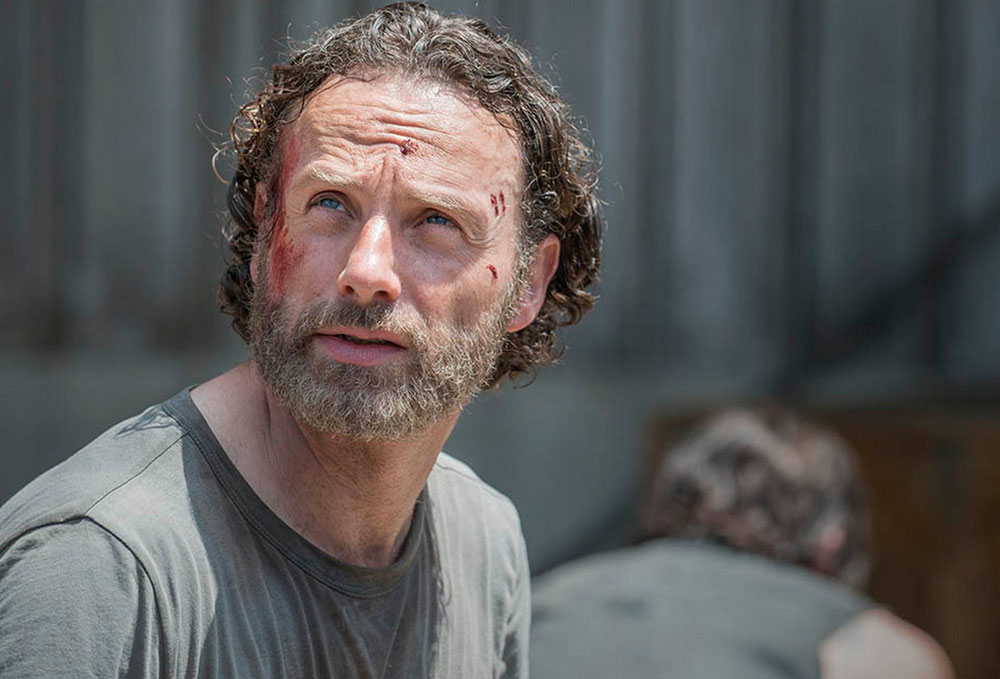 Spoilers for past episodes of Walking Dead follow
Do you guys remember how fans were calling for Walking Dead showrunner Scott M. Gimple's head because he killed off Carl with little-to-no warning to the young actor and his family? Carl still exists in the comics and is the heir apparent to his dad Rick's leadership role. He's been on the show since the beginning, he's his father's primary motivation for living, and fans have watched the actor, Chandler Rigs, 18, grow up on the show. To be fair, "fans" includes me and I gave up on Walking Dead a while ago, plus Gimple has bragged for years about throwing curveballs at the audience and teasing them with big cliffhangers during midseason and season finales. He really seems to be enjoying exerting power for the sake of it and not just to further the story. Well someone in charge seems to be listening to the outrage over Gimple's seemingly unilateral decisions, as a new showrunner has been hired in his stead, a woman named Angela Kang who has been a writer with The Walking Dead since 2011. She was named showrunner and executive producer starting for season 9 (it's been renewed unsurprisingly), which premieres later this year. Of course Gimple wasn't simply replaced, he was promoted to head of the entire WD franchise. Give me a break.
The cable network has renewed The Walking Dead for a ninth season and signed now-former showrunner Scott M. Gimple to an overall deal in which he will now serve as chief content officer of the franchise. In his new role, Gimple will oversee The Walking Dead's vast TV universe, including both the flagship and spinoff Fear the Walking Dead, as well as gaming and future brand extensions on a variety of platforms, among other areas. Writer/co-executive producer Angela Kang has been promoted to executive producer and showrunner, replacing Gimple in the latter role, of The Walking Dead. Kang has been with The Walking Dead since 2011, writing some 20 episodes of the show, including critically praised hours including "Coda" and "Still." Kang will take over as showrunner starting with season nine, which will premiere in late 2018.

"This is an enormously important day for the entire The Walking Dead television universe. We are proud to acknowledge Angela's significant contribution to the series and to set a clear path forward for a ninth season under her direction. Further, with gratitude and admiration, we also recognize Scott's broad impact on, and leadership of, the content that fuels our TWD universe. Together, we will dream bigger and more broadly than ever before," said Charlie Collier, president of AMC, SundanceTV and AMC Studios. "I know I speak for Angela, Scott and everyone at AMC when I say thanks most of all to the fans and the many talented people who have helped AMC play Dead."
Do we know anything about Kang, like has she been on Talking Dead? I couldn't find anything suggesting she has, but she's written 21 episodes of the show. (She also wrote two episodes of an underappreciated single-season 2010 show I loved, Terriers, with Donal Logue. It just suffered from bad branding I think.) Comic creator Robert Kirkman has praised her for her "poignant" writing, and said that she gave him ideas for the comic. Dustin at Pajiba raves about her and mentions that she's written some of his favorite episodes. Incidentally, That THR article linked above also mentions that Kirkman just signed a deal with Amazon studios and will be working with them from now on instead of on the AMC series. I didn't hear about this news when it came out last August, but it seems like Kirkman saw the writing on the wall and got out when he could.
Getting back to WD's new showrunner, I wonder if Gimple is still going to have veto ability on major character decisions and if they promoted Kang to be the fall guy. I know it sounds cynical, but I wouldn't be surprised if that was the case and if the show won't change significantly. Plus it's gone so downhill lately that it would take a major overhaul to get Walking Dead back to a semblance of its former self. The fact that Gimple was promoted instead of replaced suggests that he still has significant power that he'll wield as usual. We'll see though, and at least they replaced Gimple and have promoted a woman in his stead.
Kang is to the left in the photo below.
Embed from Getty Images
photos credit: AMC and Getty