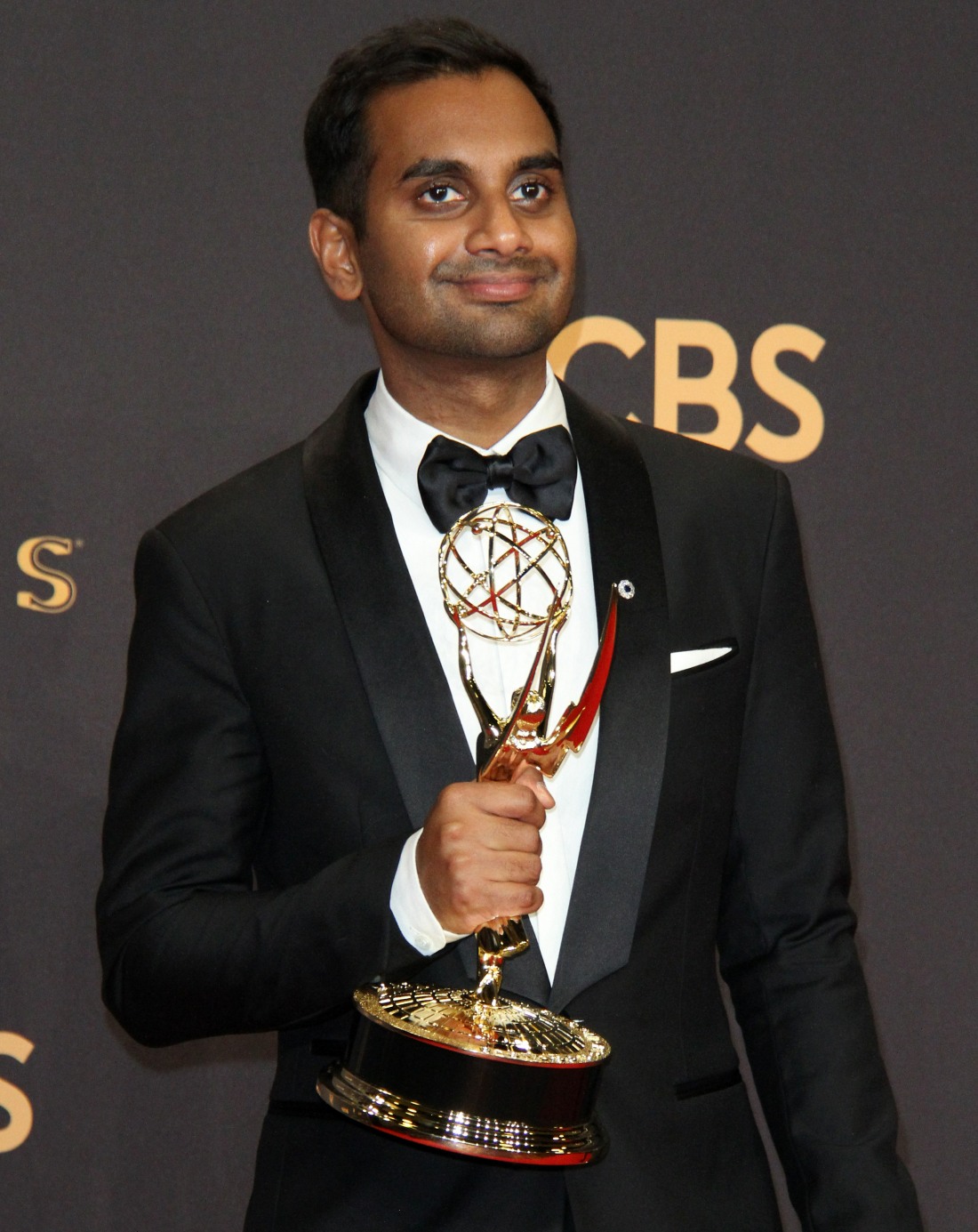 I've always liked Aziz Ansari. I've rooted for him. There are too few prominent Asian-American men in Hollywood, and Aziz Ansari made a name for himself as a self-aware ally, someone who spoke with authenticity and nuance about women, relationships, sex, love and everything in between. But we can't have nice things anymore. Like, James Franco's outing as a pervert didn't surprise me. But this surprised me. A young woman has detailed her violating and disturbing encounter with Aziz Ansari in a lengthy interview/account with babe.net – you can read the entire NSFW piece here. Prepare yourself. It's upsetting.
The young woman's real name isn't published, the article just calls her Grace. Grace was 22 when she met Ansari last year at an post-Emmys party. The flirted, she gave him her number, they met up quickly for a first date in New York. He ended dinner out quickly and brought her back to his apartment. It was there where he tried to repeatedly coerce her into sex, failed to acknowledge verbal and non-verbal cues that she was not interested in having sex with him, and more. She ended up leaving his apartment in tears. From the end of the piece:
Speaking to babe, Grace mentioned the glaring gap between Ansari's comedy persona and the behavior she experienced in his apartment as a reason why she didn't get out earlier. "I didn't leave because I think I was stunned and shocked," she said. "This was not what I expected. I'd seen some of his shows and read excerpts from his book and I was not expecting a bad night at all, much less a violating night and a painful one."

…Grace says she spent the next day groggy and miserable. When they asked, she told her coworkers that the date had gone poorly. She also reached out to her friends, who helped her craft a message to tell Ansari how she felt about the date. But he reached out first.

"It was fun meeting you last night," Ansari sent on Tuesday evening. "Last night might've been fun for you, but it wasn't for me," Grace responded. "You ignored clear non-verbal clues; you kept going with advances." She explains why she is telling him how she felt: "I want to make sure you're aware so maybe the next girl doesn't have to cry on the ride home."

"I'm so sad to hear this," he responded. "Clearly, I misread things in the moment and I'm truly sorry."
From reading the tweets about this, I get that there are a lot of men and a handful of women who don't think Grace's story is really all that bad or a clear-cut case of assault or sexual misconduct. Which is the larger problem – not every woman has been raped, but I guarantee that the overwhelming majority of women have had these kinds of disgusting encounters on a date, where it feels like he's trying to coerce you into something, like he doesn't even care if you're uncomfortable, or that you're saying you don't want to do anything and he's still trying and that an erection has no conscience. The fact that so many women shrug this off as "a bad date" or "just an awful night" is part of how we normalize rape culture instead of consent culture. I believe Grace. And it upsets me because Aziz really seemed like a good guy.
Aziz has issued a public statement, saying that he was "surprised and concerned" with Grace's account and that after their date…
"The next day, I got a text from her saying that although 'it may have seemed okay,' upon further reflection, she felt uncomfortable. It was true that everything did seem okay to me, so when I heard that it was not the case for her, I was surprised and concerned. I took her words to heart and responded privately after taking the time to process what she had said."

The statement concluded with: "I continue to support the movement that is happening in our culture. It is necessary and long overdue."
I think what bothers me is "upon further reflection, she felt uncomfortable." Do men actually have to sit there and think about this, hours later, days later and only then do they realize that they've acted like total creeps?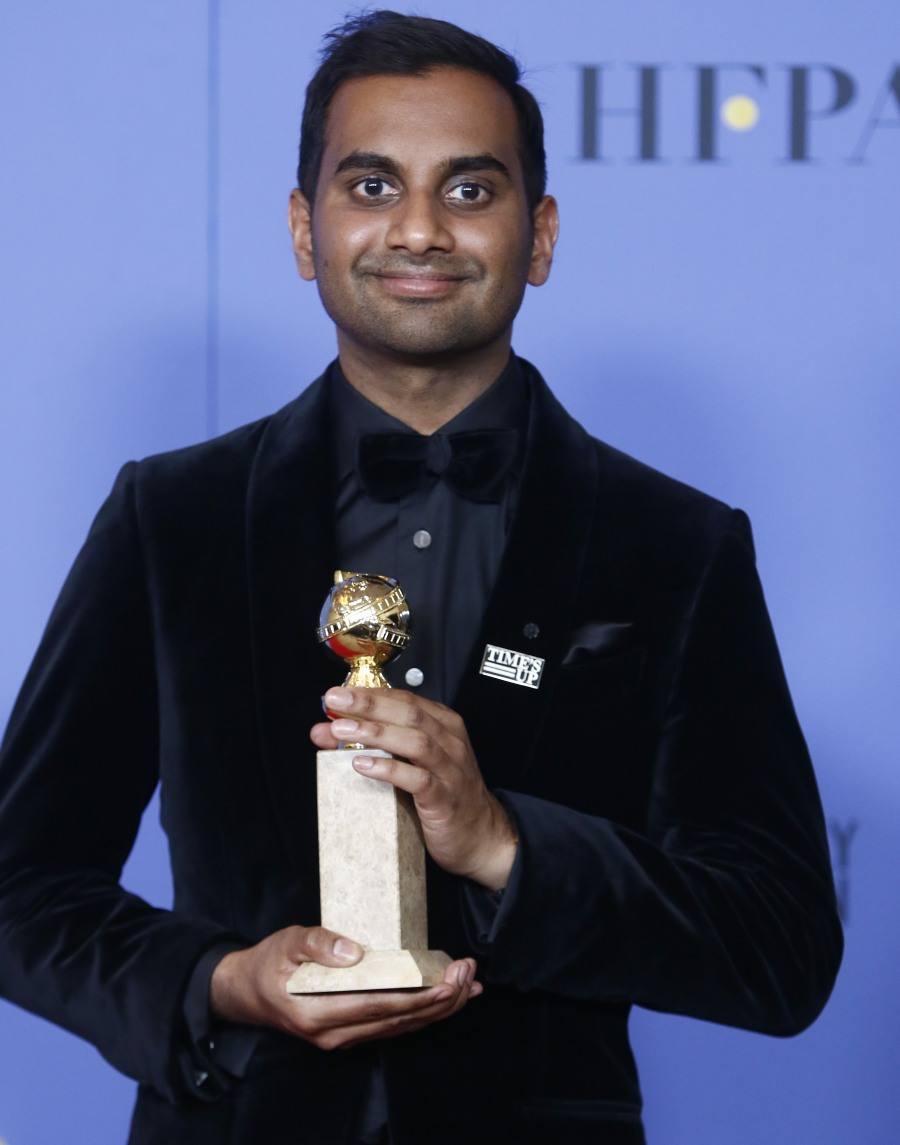 Photos courtesy of WENN.