Did you know that Wendi Deng Murdoch – Rupert Murdoch's third ex-wife – was the one who introduced Ivanka Trump to Jared Kushner? Wendi set them up. Ivanka and Wendi are very close and have been for years. Ivanka used to be a trustee on Wendi's daughters' trusts. During the campaign, Ivanka and Jared took a European vacation with their kids… and Wendi and her daughters too.
Wendi, as you probably know, is Chinese and she became a naturalized American citizen years ago. But even when she was married to Murdoch, many believed she was "running" him for the Chinese government, and the evidence for that is that Murdoch cozied up to many Beijing bureaucrats for years in an attempt to worm his way into some business deals. The whole thing was rather shady. Also shady? American counterintelligence officials warned Jared Kushner one year ago that Wendi was probably playing some kind of next-level, long-con spycraft game on behalf of the Chinese government. I sh-thole you not. You can read the full article here at the Wall Street Journal.
U.S. counterintelligence officials in early 2017 warned Jared Kushner, President Donald Trump's son-in-law and senior adviser, that Wendi Deng Murdoch, a prominent Chinese-American businesswoman, could be using her close friendship with Mr. Kushner and his wife, Ivanka Trump, to further the interests of the Chinese government, according to people familiar with the matter. U.S. officials have also had concerns about a counterintelligence assessment that Ms. Murdoch was lobbying for a high-profile construction project funded by the Chinese government in Washington, D.C., one of these people said.

The project, a planned $100 million Chinese garden at the National Arboretum, was deemed a national-security risk because it included a 70-foot-tall white tower that could potentially be used for surveillance, according to people familiar with the intelligence community's deliberations over the garden. The garden was planned on one of the higher patches of land near downtown Washington, less than 5 miles from both the Capitol and the White House.

The counterintelligence officials didn't provide Mr. Kushner with details about their assessment of Ms. Murdoch, the people familiar with the interaction said. The warning was part of an effort by national-security officials to highlight to Mr. Kushner, who was new to government, the need to be careful in his dealings with people whose interests may not align with those of the U.S., the people added. Ms. Trump, who in late March announced she would take a formal White House role, wasn't present for the counterintelligence warning. Neither Ms. Murdoch, Mr. Kushner nor Ms. Trump has been accused of any wrongdoing.

It is common for counterintelligence officials to warn senior members of a new administration about interactions with people with foreign connections, and such briefings sometimes refer to specific people, according to people familiar with the protocols.

A spokesman for Ms. Murdoch said she "has no knowledge of any FBI concerns or other intelligence agency concerns relating to her or her associations." He added that she "has absolutely no knowledge of any garden projects funded by the Chinese government."
LMAO.
LMAO.
LMAO.
LMAO.
*gasp*
I mean… Wendi was trying to help the Chinese government get permits to build a NOT AT ALL SUSPICIOUS WHITE TOWER on a hill in Washington, DC because… Chinese gardening and everything is completely innocent, how dare you. Honestly, it's almost a relief to think that China was really working this hard to manipulate Jared and Ivanka. As the Russian government proved over and over again, this kind of effort was so unnecessary. All the Chinese needed to do to win over the Trump family was email Don Jr a few times with promises of a cache of Hillary Clinton's But Her Emails. Don Jr would have given China whatever they wanted.
Also, this is a true story: despite her denials, many people believe that Wendi was dating Vladimir Putin or they were close friends in some sketchy way. It's also possible that Wendi is some kind of double-agent or triple-agent, working for both China and Russian interests. Hm.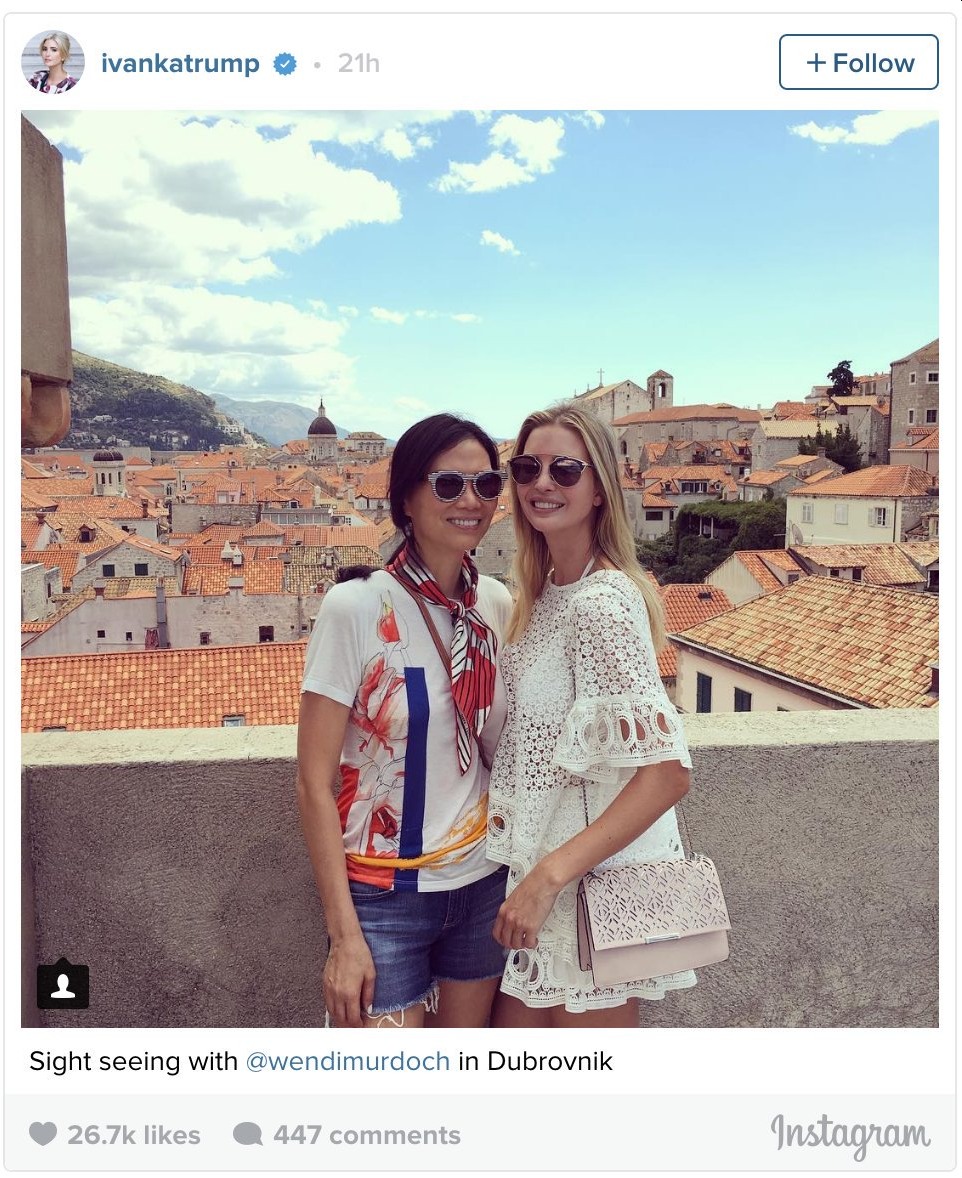 Photos courtesy of Instagram, Getty.