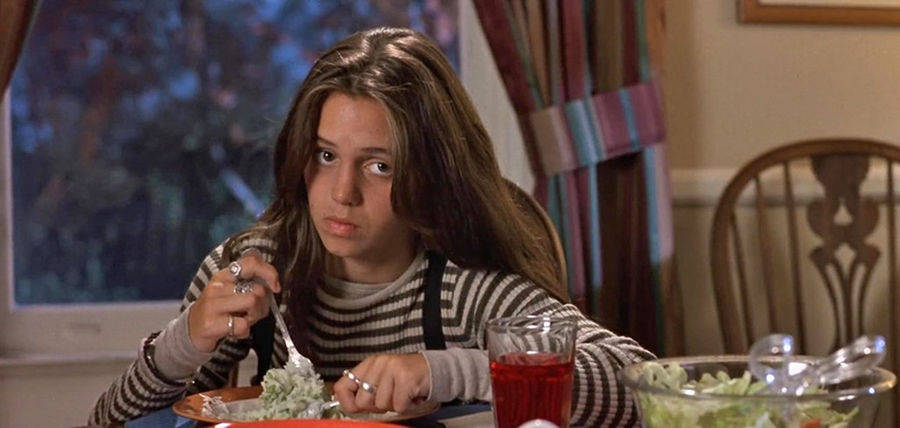 I've had a tough time since the news broke about Weinstein, because like so many women I have a #metoo story. (I didn't even realize this was what was wrong until I noticed how much I was stress eating in the mornings while I was working.) My story is similar to Eliza Dushku's, which she just revealed happened to her at age 12 while working on True Lies, in that I was 13 and I minimized it and internalized it in my memories until I recently understood how bad it was. It took me 30 years and months of hearing similar stories to tell someone. I told my mom and she was so upset and appalled. She told me she would have taken action, and I said it would have been useless because nothing would have happened to the man, who was 31 at the time. It would have changed my life irreparably and if it managed to put a dent in his career it would be surprising. This is why women and victims don't speak out, because we bear the brunt of suspicion and consequences.
I bring this up because Eliza's story hit home for me and because I completely understand why she kept quiet, why she minimized the story when she told it to a few people, and why the people close to her are now promising they would have helped her. Maybe they would have, maybe they would have tried and it wouldn't have worked, but when you hear about it decades later you feel helpless and like you would have saved the person. Another reason I'm mentioning this is because my initial reaction, as a writer, is to tell people, particularly men, to shut it and that it's not about them. (I wanted to respond like this to James Cameron yesterday but I didn't.) I get it though, they feel for Eliza and wish they could have helped. This is all lead-up to the news that Arnold Schwarzenegger and Tom Arnold, who were in True Lies with Eliza, promise they would have done something. Again, I'm not sure how else they could have responded. As we reported yesterday, Jamie Lee Curtis has responded with a thoughtful essay on The Huffington Post. Here's what Arnold and Schwarzenegger tweeted.
I promise you @JimCameron @Schwarzenegger @jamieleecurtis would've done something too. We all love & are proud of @elizadushku #metoo https://t.co/4rmjfWqj39

— Tom Arnold (@TomArnold) January 14, 2018
Tom, you bet your ass all of us would have done something. I'm shocked and saddened for Eliza but I am also proud of her – beyond being a great talent and an amazing woman, she is so courageous. https://t.co/EJJbkdior2

— Arnold (@Schwarzenegger) January 16, 2018
I kind of said everything I needed to about this story. It's just sad although I have hope that more of these monsters will be outed, shamed and rejected by their industries and peers. I have hope that more people in power will understand how prevalent this is, and that they will take even minor reports seriously, because they are likely only hearing a sliver of the story.
Incidentally, the stunt coordinator who abused Eliza (I'm not even using "allegedly" after how he attacked her after this story came out), Joel Kramer, continued working in the industry for decades and most recently was the stunt coordinator on Blade Runner 2049. As we heard yesterday, he was dropped by his agency and claims that he's considering suing Eliza. You know that's not going to happen, particularly since two additional women have come out with stories about Kramer's abuse.