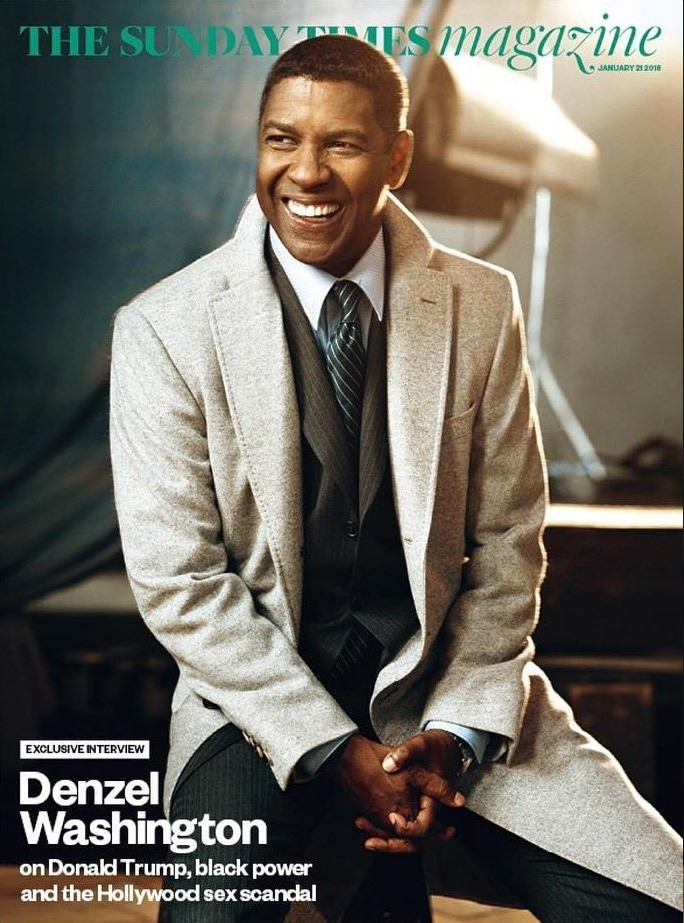 Denzel Washington is still promoting his now Oscar-nominated role in Roman J. Israel, which is how he got the cover of the UK's Sunday Times Magazine. I generally enjoy British people interviewing American actors, because there's often an anthropological vibe to it, like the Brits are studying the Americans for clues about their politics, thoughts on racism, and more. This is particularly true of this interview with Denzel, arguably one of the most famous and beloved African-American celebrities in the world. Denzel has been around for a while though, and he's able to walk that weird apolitical line. You can read the full piece here. Some highlights:
He wished he had kept a piece of his Roman J. Israel afro: "Maybe it's a black-community thing. When my first son was born, we cut the pieces of hair from his first year and you keep it. I guess it's like keeping baby teeth."

On the Dallas Cowboys kneeling, and the owner's threat to kick them off the team: He shrugs. "You gotta pay the cost to be the boss. You can take a knee — but don't complain if you go home, you know? It's a free country. You have the right to protest. Are they being benched? I don't think so. You can't bench a whole team."

On the #MeToo conversations changing Hollywood: "I'm sure it already has. I'm sure there are those who thought they could get away with anything and they don't feel that now. I mean, I hope they don't. I think it will change the industry for good. Hmm, Harvey. It's about 10 years. I haven't talked to Harvey in about 10 years."

He gave up alcohol on his 60th birthday: "I just had enough. Some things you can have enough of. Not peanut butter yet, but all alcohol. I gave it up with the idea of putting my best foot forward. I tried everything else, let's try this."

Whether he cares about awards: "Of course people care about them. First of all, it's an opportunity for the industry to celebrate those who have achieved. I don't know if it's a measuring stick … I remember they all used to go to Swifty Lazar's party at Spago's after the awards. There used to be a parking lot and you could look down over Spago's, and I remember seeing people going in — Warren Beatty and people like that — and I said to myself, someday I'm going to get in there. It wasn't so much about getting the award, it was, like, I wasn't invited to the party and I needed to be."

Whether America will ever "recover" from going from Obama to Trump. "What do you mean, 'recover'?" Obama was a good guy in charge. A good president and a good man, and now we have the opposite. "Well, it's early days yet …" Really? "It's not like Barack and I are old pals, you know. I think he watched someone and was inspired by someone and someone will be inspired by him," he says obtusely. Does he think the current regime is inspiring? "Is it not?" he replies. He seems determined to remain ambiguous on politics, and although he's sitting in front of me, in his head he's already left the room. But after we meet, I notice he looked mesmerised while watching Oprah Winfrey at the Golden Globes.

His final thought on Trump: "There's a pastor who talked about this. I think his name is AR Bernard and it's Daniel, chapter 10. He says that God puts kings in a place for a season and reason, and we don't always know the reason, so this is what it is right now. There's a reason behind it and I say to people that, if nothing else, we should be more unified. All the more reason to work together."
Denzel is basically saying what so many people said, trying to find some kind of silver lining in the sh-thole that is American politics today, which is that "well, at least people are organizing and focused now." That's not a silver lining, peeps. But mostly I think Denzel is just trying to sell his movie and not piss people off by talking about his views on politics and race. Which is his right, absolutely. But at some point, do you judge apolitical people for staying silent publicly when we're in the midst of all of this fascism and racist terrorism?
Photos courtesy of Getty, cover courtesy of The Sunday Times Magazine.