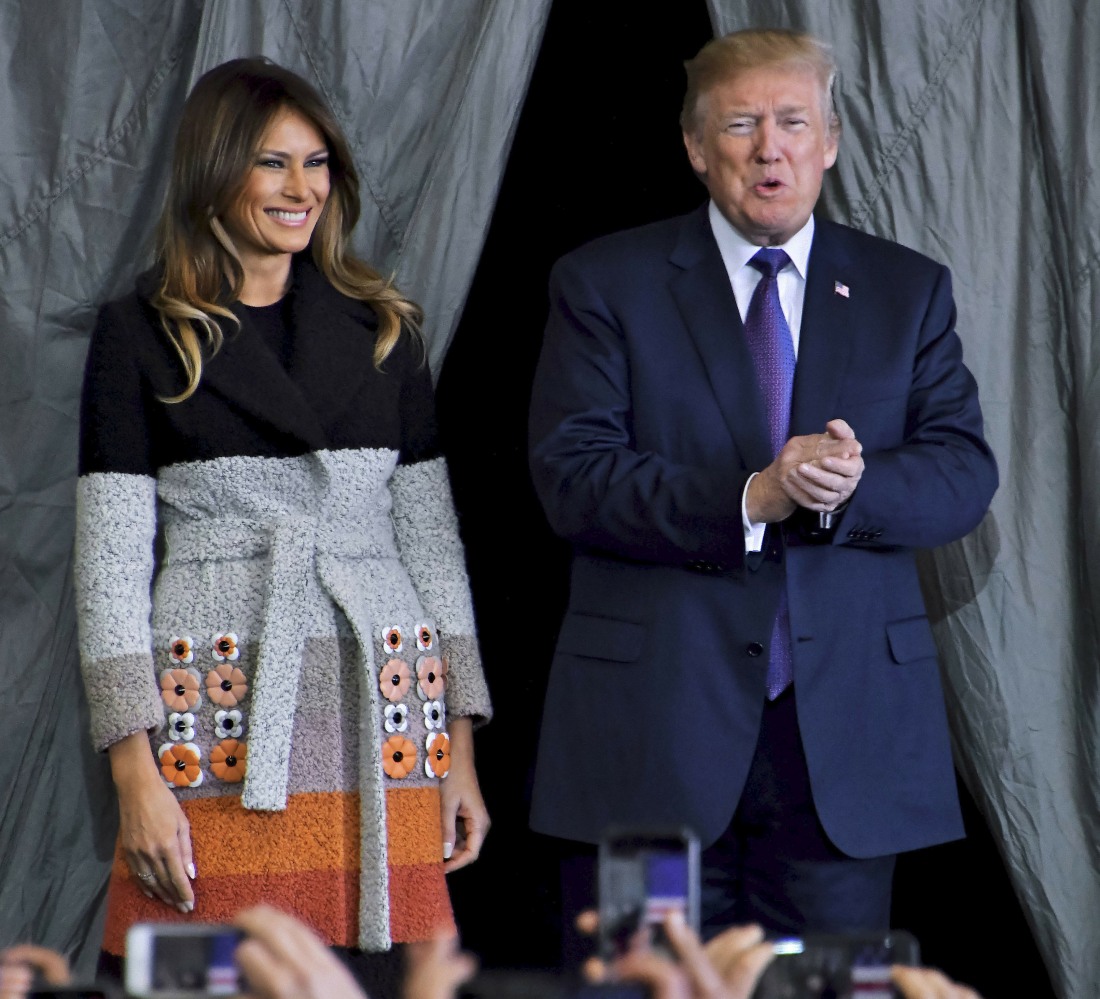 Do you like how we have gotten to the point where no one even notices if we don't see Melania Trump for weeks at a time? Granted, Laura Bush wasn't an activist FLOTUS either, but Laura Bush was seen all the time – she liked being a hostess and doing softer, gentler photo ops. Melania seems so sulky whenever they try to make her do that stuff, and I get the feeling that Melania would just prefer to do her own thing completely, and never even see her husband or any of his cronies. Still, Melania was scheduled to fly to Davos this week with her bigly husband. Only now she's canceled. Curious!
First lady Melania Trump, in a change of plans, will not be joining President Donald Trump on his trip to the World Economic Forum in Davos, Switzerland, later this week. East Wing communications director Stephanie Grisham confirmed to CNN that the first lady's decision to forgo the trip was based on "scheduling and logistical issues."

A week ago, Grisham told CNN the first lady would be attending the annual meeting of influential financial leaders and business titans in a show of support for her husband, who intends to give remarks during his visit. The President's own trip to Davos was also in flux until several hours ago, due to the government shutdown, which has been now been resolved. White House press secretary Sarah Sanders had said Monday that if the government reopened, Trump would keep his promise to attend.

"The President's delegation will leave tomorrow, and the President will continue on his trip later in the week," she said, in the event of the shutdown ending.

Melania Trump has not made a public statement since January 12, when news of a possible payoff from her husband's lawyer to porn star Stormy Daniels to cover up an alleged affair was first reported by The Wall Street Journal. The first lady did, however, depart with the President later that day to Mar-a-Lago for the long holiday weekend, although she was not spotted with him during two evening dinners hosted by Trump, one with former New York Mayor Rudy Giuliani and another with House Majority Leader Kevin McCarthy.
Am I alone in thinking that Melania likely did not and continues to not give a sh-t about Donald Trump's affairs? She didn't give a sh-t when he bragged about sexually assaulting women, so why would she care about the consensual sex with Stormy Daniels? Melania's exact thoughts are probably along the lines of "better her than me." Still, it looks bad. So Melania has to at least pretend to be offended, which is possibly why she and her husband didn't even acknowledge their wedding anniversary.
Past presidents and first ladies have often taken to social media to celebrate their birthdays and wedding anniversaries, giving the American people rare glimpses into their private lives and marriages. But here again, the Trumps have bucked tradition. President Donald Trump and First Lady Melania Trump marked their 13th wedding anniversary on Monday, but neither celebrated the occasion on social media.

Trump did fire off a few tweets that day, but only to slam Democrats on Capitol Hill over the deal to reopen the government following a brief shutdown. "Big win for Republicans as Democrats cave on Shutdown," he wrote late Monday.

Mrs. Trump's most recent tweet came on another commemorative day — the one-year anniversary of her husband's inauguration. "This has been a year filled with many wonderful moments," the first lady tweeted Saturday. "I've enjoyed the people I've been lucky enough to meet throughout our great country & the world!"

The first lady's tweet included a photo of herself — notably not with her husband but with a military escort.

According to The Washington Post, the Trumps were not spotted celebrating in Washington, D.C., on Monday night either, though the newspaper noted that the couple rarely dine outside the White House when they're in town. It also seems unlikely that the Trumps will have a belated celebration, considering the first lady just cancelled plans to join her husband on his upcoming trip to the World Economic Forum in Davos, Switzerland.
Michael Wolff's book, Fire and Fury, claims that Melania is basically a ghost in the White House – she has no presence there, and even when she is there, she sleeps separately from her husband and they don't even spend any time together. Wolff paints that as Melania's decision though, that she's the one keeping her distance from her husband, and that he goes along with it to make her happy (seriously). I honestly believe that they're like strangers passing in the night at this point. Again, why would she even care about Stormy?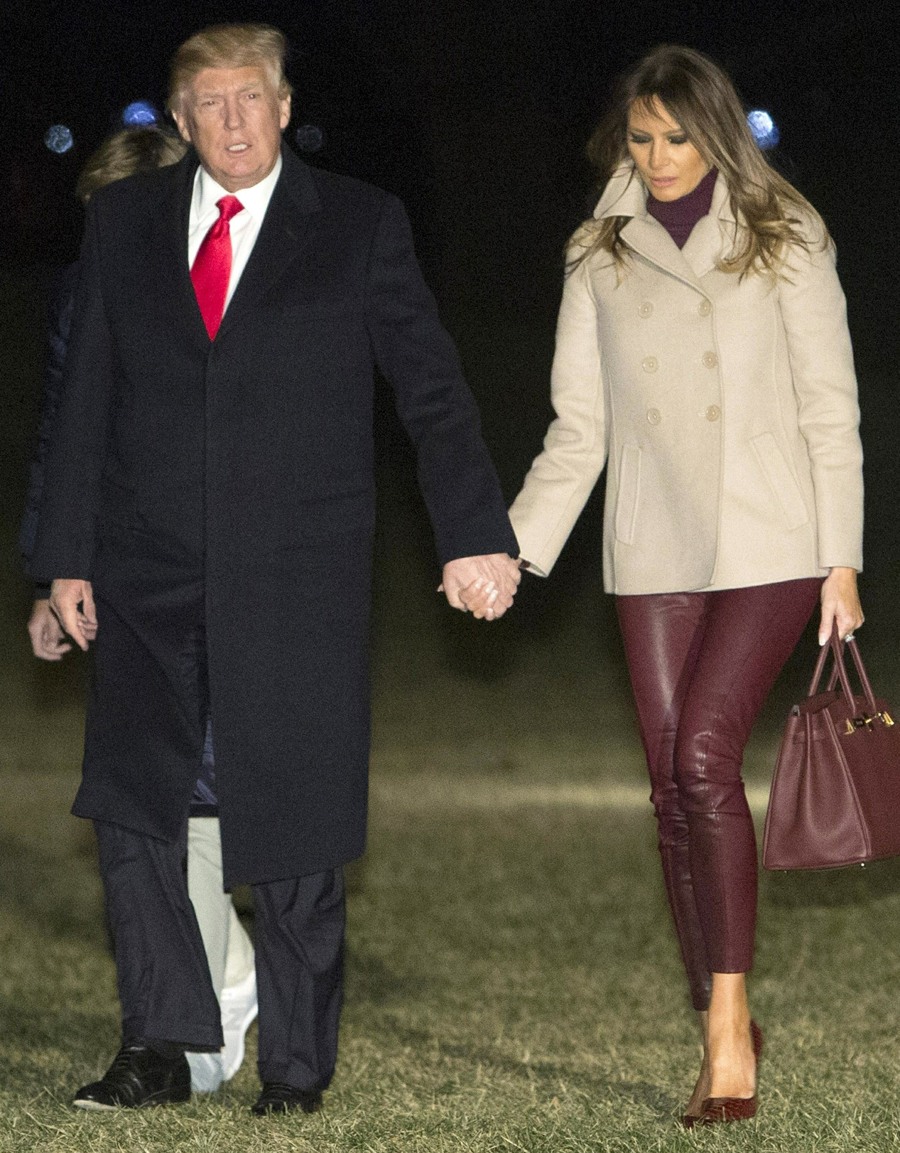 This has been a year filled with many wonderful moments. I've enjoyed the people I've been lucky enough to meet throughout our great country & the world! 🇺🇸 pic.twitter.com/MMRi72ENd0

— Melania Trump (@FLOTUS) January 20, 2018
Photos courtesy of WENN, Backgrid.