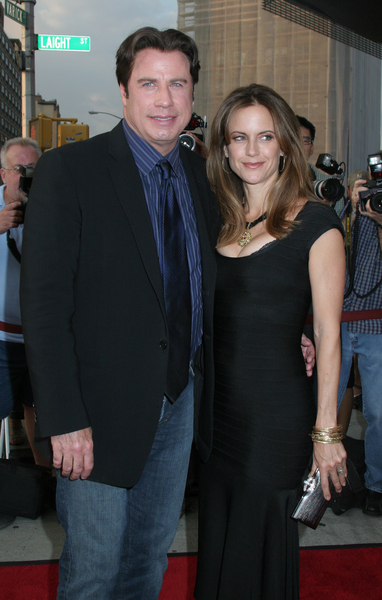 Those wacky Scientologists are so funny. One of their mouthpieces, Kelly Preston, is telling Starpulse that she knew she'd marry John Travolta after she saw a picture of him on a "Grease" poster. She didn't exactly end up with Travolta right away – she was engaged to Charlie Sheen but broke up with him after he accidentally shot her in the arm, and was married to actor Kevin Gage from 1986 – 1988.
"Actress Kelly Preston knew she was destined to marry John Travolta after she saw her future husband on a poster for Grease as a teenage girl. The 44-year-old Twins star, who has been married to Travolta for 16 years, was leaving a cinema in the late 1970s when she was struck by the actor's poster look.

"She says, 'I did have sort of a flash. I came out of a film, saw the poster for Grease and I knew I'd be with him. I just knew. I was about 16 years old. I really knew it and it turned into, 'I'm going to marry that man,' and so he likes to tease me that I walked out and said, 'I'm going to marry that man,' and then did, ultimately.'"
[From Starpulse]
Talk about the power of positive thought. I had a dream last night that I fell in love with Luke Wilson, and it was kind of flash-like, so I'm pretty sure I'm going to marry him now, based on the Kelly Preston theory of love. Travolta has recently stated that he and Kelly are going to try to have another child when they're done filming their movie.
John Travolta and Kelly Preston are planning to extend their family – before it's too late.

The couple are currently working on new movie Old Dogs, which they both star in. When that's wrapped the pair will start trying for a sibling for son Jett, 15, and eight year old daughter Ella.

Travolta, 53, says, "Once we finish our new movie, we're going to get cracking. Kelly is 44 now. The window for us to have a child, at least naturally, is closing."
[From China Daily]
I hope he meant to say another child, not a child, since they already have two – though by most accounts, they mostly ignore their oldest child, Jett, who has autism. Apparently Scientology and autism don't mix – our original article noted, "Autistics in Scientology are usually known as 'degraded beings' who brought the affliction on themselves. Kelly Preston has gone as far as saying in the past that Jett suffers from Kawasaki Syndrome like disease because of 'environmental toxins', with Jett reacting badly specifically to carpet cleaning chemicals." But apparently Preston is an expert on how to treat other disorders – specifically addiction. She has opened a Scientology-based rehab facility in her native Hawaii.
"John Travolta's wife Kelly Preston has opened a new Scientology rehab center on her native Hawaii. The new drug rehabilitation clinic, which follows the principals of Preston's religion, will use tried and tested alternative methods to ween addicts off painkillers and hard drugs.

"Preston, who was born on and brought up in Honolulu, Oahu, says, 'I'm convinced this rehab center works.'"
[From Starpulse]
Well thank goodness we have Kelly Preston around to teach us all how to live better by denying out basic psychological makeup.
Picture note by JayBird: Here's Kelly and John at the "Death Sentence" New York City Movie Premiere on August 28th. Images thanks to PR Photos.