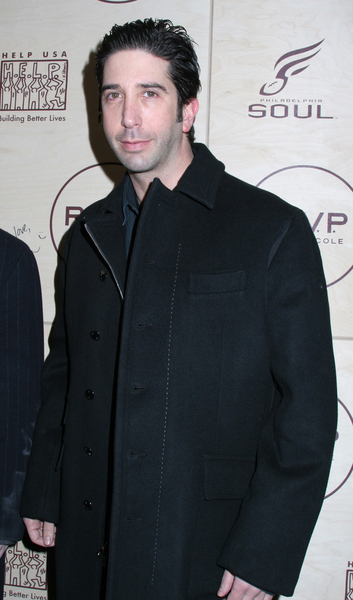 David Schwimmer has been in the UK on and off for the last year or doing a play and directing a movie. Though he seems very fond of the England, he's not so big on the food.
"David Schwimmer was disgusted by British food during his recent stay in the country. The former Friends star criticized the nation's cuisine after spending time in the country for his role in West End production Some Girl(s) in 2005 and directing his latest movie Run, Fat Boy, Run in London earlier this year.

"He says, 'You guys deep-fry everything. Even healthy British food like Shepherd's Pie makes you put on 20 pounds after every meal.''
[From Starpulse]
I know I'm going to get yelled at, but I'm going to have to agree. When I was last in the UK I was traveling around on a student's budget, so there wasn't really much of an opportunity for fine dining, so my experience was obviously limited. But I've never experienced such consistently heavy, potato-based food in my life. Starches on top of starches. Why would someone want pasta with a side of potatoes? I haven't eaten a baked potato since. Schwimmer also stated his love of the country – specifically his love of the British ladies.
"David Schwimmer has said that he is more then willing to put his career on hold for love.

"He tells Britain's Cosmopolitan magazine that 'I look at someone like Courteney Cox and see how happy she is, but I've always put work first and now I have no wife and no family. My mom would love to see me settled, as she thinks it will make my life complete.'

"He said American girls need not apply!

"David said that he is looking for a wife in London. David went on to say that 'I do like British girls especially their sense of humour.'
[From Product Reviews]
Let's hope Schwimmer's not so old-fashioned that he expects his wife to cook for him, or it'll be a lifetime of blood sausage and jacket potatoes. I can't imagine any girl being attracted to him for him – he just seems so Ross Gellar. I'd forever be handing him dinosaur bones (I'd have to pick some up first) in an attempt to make him happy.
Picture note by JayBird: Here's David (not exactly trying to distance himself from the Ross Gellar look) at the Annual Drama League Awards Ceremony. Header image of David at the RSVP to Help Benefit for Habitat for Humanity benefit in January. Images thanks to PR Photos.