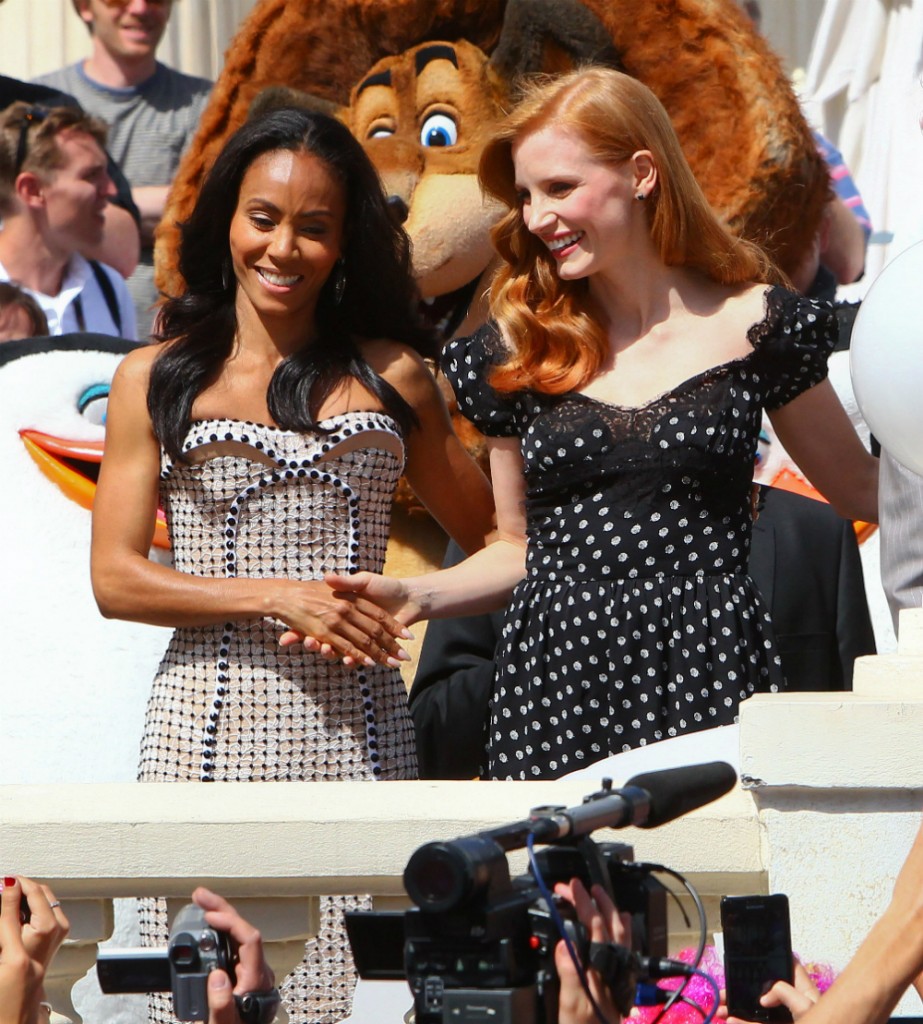 Jada Pinkett Smith attended the Sundance Film Festival as a judge and as a the host of "The Will and Jada Smith Family Foundation Presents Broadening the Lens: Perspective on Diverse Storytelling" panel. Other panelists included Lena Waithe, Effie Brown, Radha Blank, Christine D'Souza, Poppy Hanks, Minhal Baig and Ezra Edelman. During thediscussion of representation on film and in the industry, Jada took a minute to recognize Jessica Chastain for practicing what she preached. Jessica is set to appear with Octavia Spencer in a new comedy. During negotiations, Jada claims that Jessica stood by Octavia so they could both secure a decent deal for the film. A clip of Jada's comments was posted to Twitter:
Prime example of sister solidarity between @jes_chastain and @octaviaspencer
📽: @MzSpectacular4u pic.twitter.com/amAl1njQFP

— Jada Pinkett Smith (@jadapsmith) January 22, 2018
Jessica said to Octavia, "I got you." I'm going to Universal and we're going to make a favorite nations deal. And Jessica stoop up for Octavia. And I want you to know that because they stood up together, they got three times what they were asking for – as a unit. And that's how I'm telling you, how – it's nice to go out and march, we can do that. It's nice to wear black at the Golden Globes. It's nice to do that. But what are we doing behind closed doors? And I gotta give our sister Jessica Chastain her props because she stood up for Octavia and put it down. And that's how we all need to do it, for each other."
"But what are we doing behind closed doors?" for me, this is the crossroads at which we stand. I am all for outspoken advocacy on social media and taking it to the streets, but when the cameras are turned off, when there is no audience, what will we do to further our causes? I love that Jessica backed up her convictions. I love that Jada made a point to acknowledge it and to show how working together benefitted them both. I am appalled that Octavia is not given everything she deserves without having to ask for it, she's Octavia Spencer, for god's sake! Jada speaks up on a lot of issues. Some of her comments are less popular than others, of course, but I admire that when she feels passionately about something, she talks about it. Jessica did not respond to these comments directly but she did retweet to one of Jada's tweets after the video was posted:
Yes everyone suffers in a broken system. We stand together. https://t.co/x7lYE1aama

— Jessica Chastain (@jes_chastain) January 23, 2018
Not only was Jada a judge and panelist, she was a supportive mom to her son Jaden's Skate Kitchen, where she looked incredible in every way. I cannot get an ID on who made her t-shirt but I found this site that is selling them now. I may get one for everyone in my family.
Photo credit: WENN Photos, Getty Images and Twitter