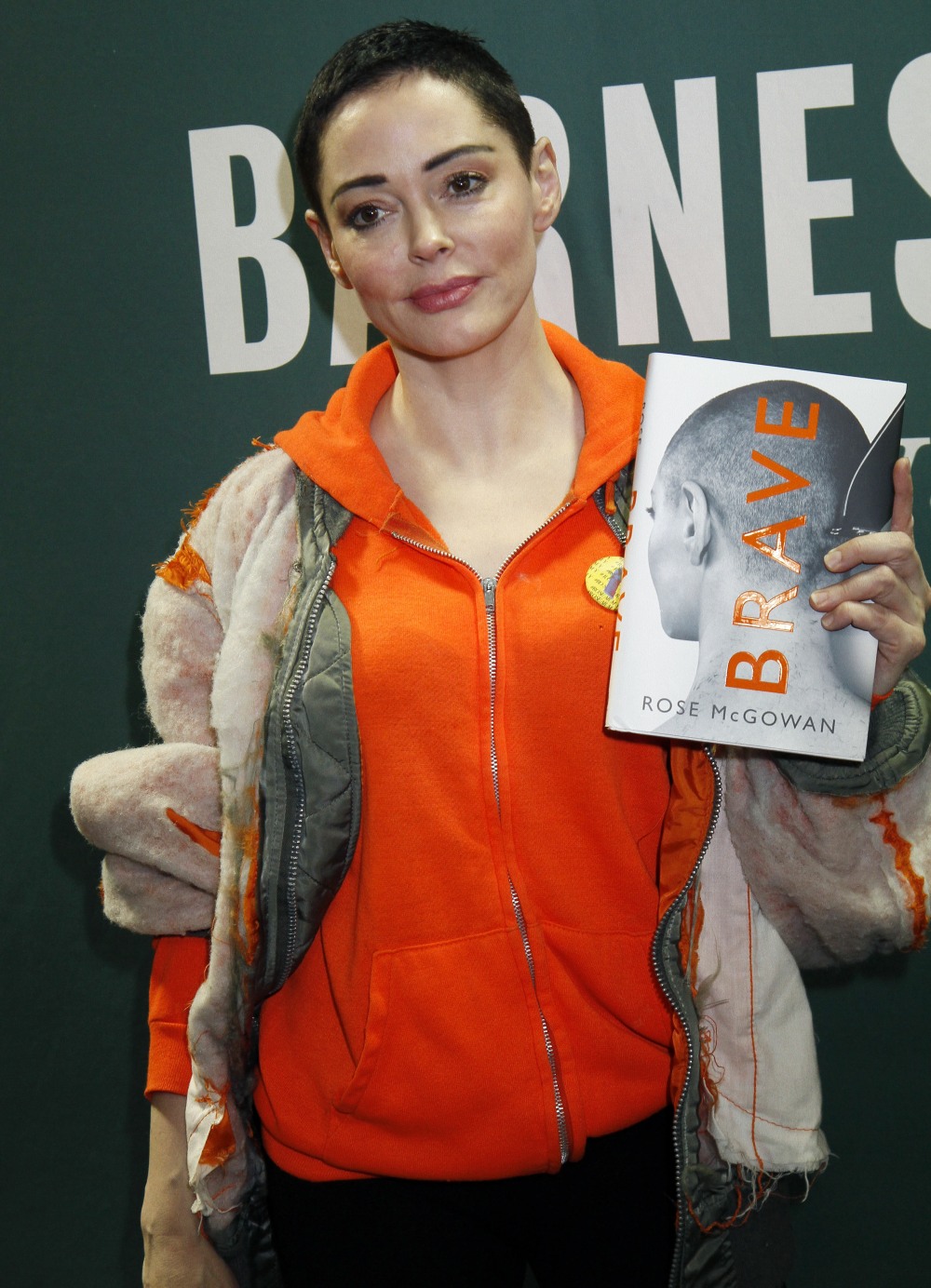 Here are some photos of Rose McGowan at Barnes & Noble, doing a discussion/Q&A session for her book, Brave. She did this appearance after Harvey Weinstein called her liar and claimed they had consensual sex back in the 1990s, because I guess Weinstein thinks we're all idiots. Weinstein's statement also included a really strange "email" from Ben Affleck, in which Affleck allegedly denied that McGowan had ever told him she was raped. Can we just take a moment and really say this outloud: what a f–king bizarre way to deny something. Anyway, Rose released a statement about Weinstein's statement:
After initially unleashing a profane tweet about the claims, McGowan released a new statement Wednesday via her representative. "Yesterday's statement from Mr. Weinstein and his attorney Ben Brafman unequivocally proves a continued attempt to malign, smear, and 'slut shame' Rose McGowan," it said in part. "It is an affront not only to Rose, but to the hundreds of women who have come forward with their stories of harassment, sexual abuse, and rape perpetrated by Mr. Weinstein and those like him. This is a sad, pathetic old-fashioned sexist attempt to undermine obvious truth, and the gaslighting will no longer be tolerated. … Mr. Weinstein's attempts to discredit Rose is part of his 20-year-long campaign to silence her, clearly proving he IS the monster so many women have described him to be."

The statement also said McGowan, like "so many other #MeToo's," will "continue to push back at ingrained thought and a corrupt power structure." It added, "She will not be commenting further. The truth can be found in her work: BRAVE the book, it can be found in the rawness of Citizen Rose and in the music, lyrics and emotion of Planet 9. It is time true voices were heard and it is time for the lies to stop."
There are moments when I think Rose does seem to be emotionally unstable, and like someone who is going to do more harm to herself than anyone else ever could. But then I remember that HOLY SH-T Harvey Weinstein really did go on a 20-year campaign to gaslight her, destroy her career and silence her. He hired Mossad agents to tail her, spy on her and meet with her under false pretenses. That would be enough to make any person go crazy. So Rose has been holding on to the few shreds of truth: Harvey Weinstein raped her, and she was telling her story privately for years. Rose also appeared on The Late Show with Stephen Colbert where this happened:
Rose McGowan dubbed herself as "the architect" behind for ousting Harvey Weinstein's decades of alleged sexual misconduct and assault. Wearing a bright orange hoodie sweater, McGowan, 44, discussed her past with the disgraced movie mogul, 65, during Wednesday's episode of The Late Show with Stephen Colbert.

"Six months ago before you and other people had the courage and bravery to come out about Harvey Weinstein…," host Stephen Colbert said before the Citizen Rose star interrupted him. "Mine was a year ago, I was the architect," she said, adding, "But I didn't talk … I wanted them to have a voice." Then, when asked if she was called "crazy" for speaking out about her allegations against Weinstein, McGowan replied: "No. I always knew it was everybody else. No, I see things."
I go back and forth on how to judge the "start" of Harvey Weinstein's downfall. It's clear that Ronan Farrow was working for a year on the Weinstein expose, and the New York Times was working separately on the Weinstein story, so which one counts as the "first"? The NYT, because they published first? Or Ronan because he was working on it for longer? Why does it matter, really? As for Rose being the architect… well, okay.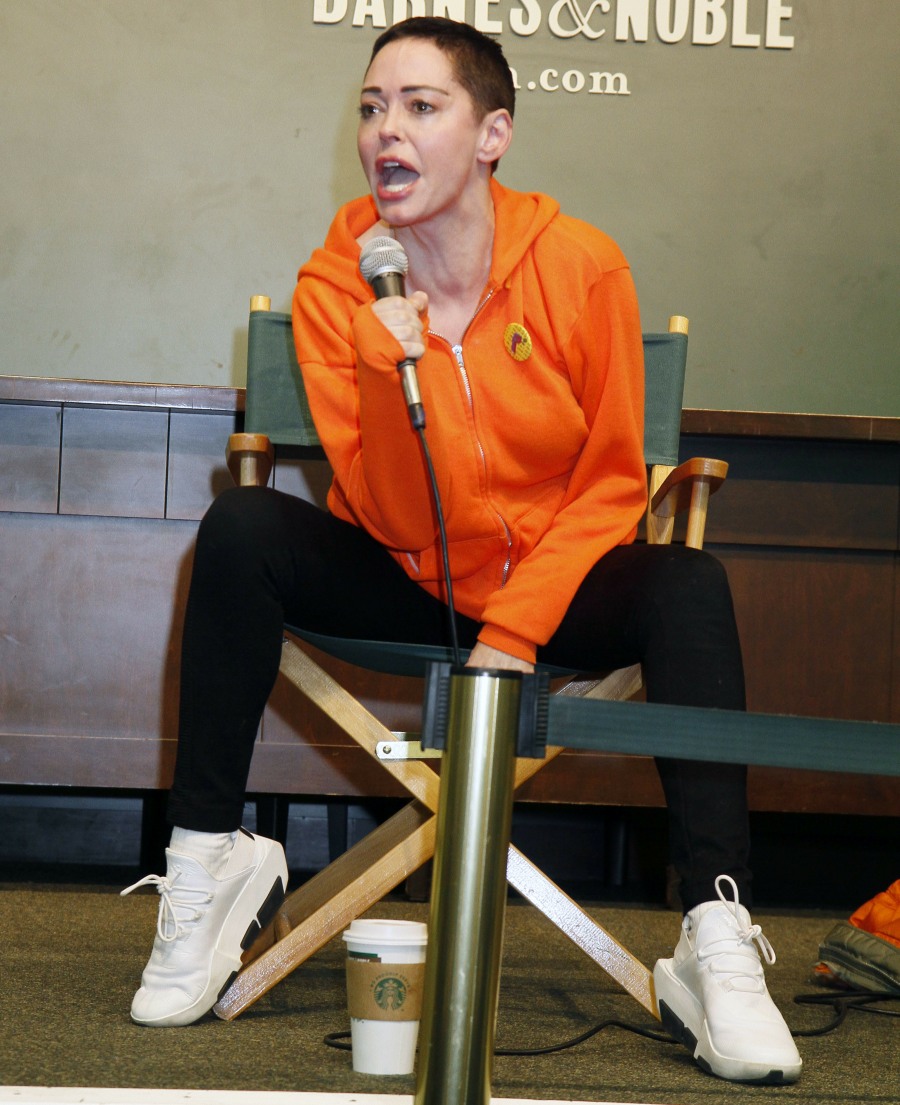 Photos courtesy of WENN.