Ellen DeGeneres scored the first post-White House talk show interview with former (forever?) FLOTUS Michelle Obama. It's a very savvy choice. Ellen and Michelle are friends, Ellen famously shies away from political comedy so it's not odd to keep politics out of the conversation and it's a daytime chat show where the subjects can be less weighty and more fun – like presents! Ellen brought up the now infamous gift-exchange between Melania Trump and Michelle on the day of the inauguration. Melania arrived at the White House with a large Tiffany's box and presented it to Michelle on the steps of the White House as the Obamas welcomed the Trumps to the WH. The problem was, Michelle visibly grappled with what to do with the box until Barack took it from her and brought it inside. Michelle explained why there was such confusion and, finally, told us what was in the box.
Melania Trump's inauguration present to Michelle Obama remains a mystery – until now.

"It was a lovely frame," Obama shares, in a sneak peek of the full interview airing on Thursday.

"Well, there's all this protocol. I mean, this is like a state visit, so they tell you that you're going to do this, they're going to stand here. Never before do you get this gift, so I'm sort of like okay," the mother of two tells the host.

In one of the most memorable GIFs from the inauguration, Obama awkwardly received the present and frantically looked around for a place to put it. "You brought a gift!" the first lady exclaimed as seen and heard on footage of their meeting. "I'll take care of the protocol here," the 44th commander-in-chief said gamely.

During her interview with DeGeneres, Mrs. Obama recalls her train of thought when she looked around in vain for an aide to hand it off to while they posed for cameras.

"What am I supposed to do with this gift? And everyone cleared out and no one would come and take the box. And I'm thinking do we take the picture with?" the Chicago native says.

"And then my husband saved the day – see he grabbed the box and took it back inside. But everybody cleared out. No staff, no one. I was like what do you do with the box?" she adds.
When this happened, I didn't think much about it. I don't know why it didn't occur to me that there was a breach of protocol involved. Coming from a military family, I understand the rigidity of protocol. Since this moment is the first visual exchange of command, of course there would be procedures to follow. So, who takes the hit, here? Obviously, it's Melania. But I don't feel good about saying that because she was probably upset and terrified by her new role. So, she thought she was making a conciliatory overture and it went all kinds of wrong. What is most unfortunate was poor Michelle was the one left to deal with it.
If the Trumps going off script, bungling a simple moment then leaving it to the Obamas to fix to restore order isn't a metaphor for our country, I don't know what is. As far as the frame itself, in any other situation, it's a nice gesture and I'm sure a very pretty frame. Maybe Michelle used it for a photo of her relaxing on a yacht with Oprah, Tom Hanks and Bruce Springsteen, sipping a cocktail with no worries. And maybe she's turned that frame in the direction of 1600 Pennsylvania Avenue, where Melania is presently being held.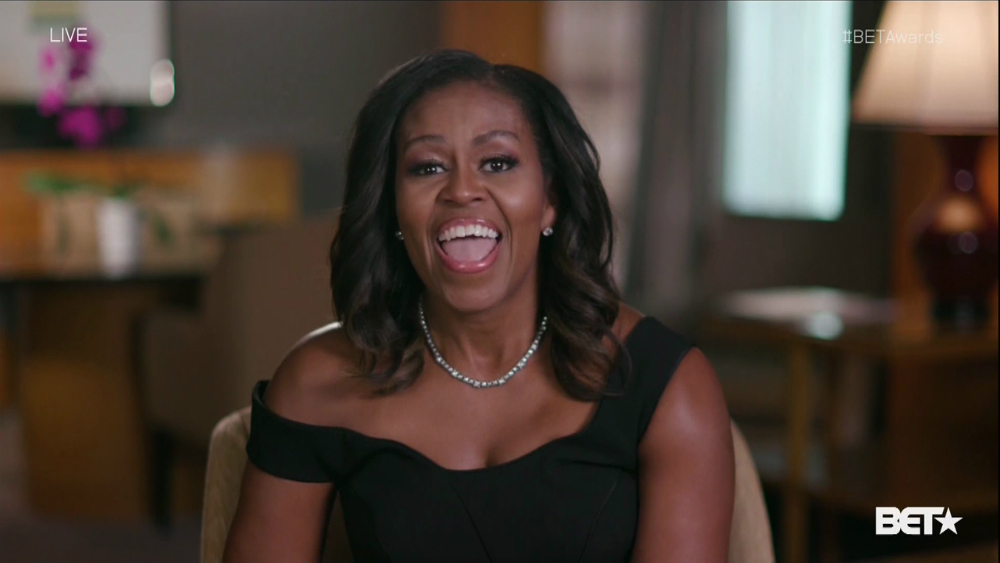 Photo credit: WENN Photos and Getty Images