Author Stephen King is one of the people I follow on Twitter. I like him in general and find his tweets a nice mixture of informative and amusing. But I live for his Molly aka the Thing of Evil posts about his beloved pup. Molly brightens my day every time she pops up:
Molly, aka the Thing of Evil, curls up for a nap on the body of the flamingo she killed earlier. pic.twitter.com/uY9PhQVZSp

— Stephen King (@StephenKing) January 23, 2018
Molly, aka the Thing of Evil, prepares for the big snowstorm. pic.twitter.com/8eKRAQLoz8

— Stephen King (@StephenKing) January 4, 2018
But life does not always go as planned (unless you're Molly aka the Thing of Evil) and sometimes even best selling authors have an off-day. Wednesday, King posted the following tweet:
Having kind of a blue day, Twitter, so tell me a joke. I'll re-tweet the first one that makes me laugh.

— Stephen King (@StephenKing) January 31, 2018
A few things went through my mind when I saw this. The first was that I admire people who have the confidence to be vulnerable in such a public way. The second was my busy-body curiosity about what was possibly making him blue and hoping it wasn't something too serious (and certainly not anything to do with Molly aka the Thing of Evil.) Then I thought about what a brilliant way to perk yourself up when you are feeling down. I purposefully scroll Twitter looking for funny tweets when I'm down. Either that or go to Buzzfeed to read one for their funny Tweet compilation posts so King's request seemed inspired to me. All those thoughts were eclipsed by my biggest thought which was: what joke do I know that can make Stephen King laugh?!? Alas, the answer turned out to be "none." I am a lousy at telling jokes. I can be sarcastic, make puns or give funny responses but I suck at telling jokes. And as I age, I have become one of those people who forgets part of it and has to go back and start again. Fortunately for King, he didn't need to wait for me to remember a good joke, he received 7,000 others. Below are a smattering of the jokes he received (I tried to appeal to a variety of humor preferences):
Heisenberg & Schroedinger get pulled over for speeding.

The cop says "do you know how fast you were going?"

Heisenberg says "no but I know where I am."

Cop says "did you know there's a dead cat in your trunk?"

Schroedinger says, "I do now, asshole."

— Mikel Jollett (@Mikel_Jollett) January 31, 2018
Sorry you're having a blue day, Stephen. Here's a joke your fellow American author Tom Barbash told me. It's only a little risqué…

The chicken and the egg were enjoying a post-coital cigarette. "Well", said the egg, "I guess we settled that question."

— David Mitchell (@david_mitchell) January 31, 2018
2/? …a fighter plane in the Air Force. One time her plane got hit and she had to jump out over enemy territory with just a gun, a knife, and a bottle of Jack Daniels. She drank the whisky on the way down and then she landed in the middle of FIFTY ENEMY SOLDIERS. FIFTY!…

— Loretta Ross (@lorettasueross) February 1, 2018
4/4

"Stay the hell away from Aunt Jane when she's been drinking."

— Loretta Ross (@lorettasueross) February 1, 2018
I walked into my room and tripped on my own bra. It was a booby trap.

— Emma (@willec94) January 31, 2018
@StephenKing I bought my wife some beads for her abacus. You know…it's the little things that count.

— TonyRush  (@TonyRush) February 1, 2018
How many Lowe's could a Rob Lowe rob, if a Rob Lowe could rob Lowe's?

— Tonya Neu (@Neugirl21) February 1, 2018
whats the difference between a hippo and a zippo? one is a little lighter

— eric kudla (@emkudla) January 31, 2018
My wife came home and caught me looking at optical illusions – I said "Honey! It's not what it looks like!"

— Tassy Konto (@tassykonto) February 1, 2018
… you get the idea. You can click here to read more, like I said, there are thousands of responses. But the winner, the one that made Mr. King laugh out loud was this one:
Okay, winner winner chicken dinner. I didn't get it. Then I did. Then…ROFL https://t.co/Q5xDk7SE5H

— Stephen King (@StephenKing) January 31, 2018
How do you make a duck sing? Put it in the sun 'till it's Bill Withers

— Lucy Gumble (@LucyRandallGum) January 31, 2018
This Mister would love that joke too. And when I tell it to him tonight, I'm taking all the credit (he's rarely on Twitter so he'll never know.) The good news is that it worked. Once King got his laugh, he started laughing at all of them, which was the whole point. As I said, I chickened out but there was one joke I love that I was considering. Good thing I didn't post it, someone else did:
Guy goes to get his morning paper. On it is a snail. He picks the snail up and throws it across his yard.

A year later, same snail shows up on his doorstep, on his paper.

The guy goes to pick it up when the snail looks up and yells, "HEY! What the hell was THAT all about??

— Justin Gibbs (@jgibbs1022) February 1, 2018
I love this idea. It's Friday. 2018 has gotten off to a rocky start, let's make each other laugh. Offer up yours in the comments.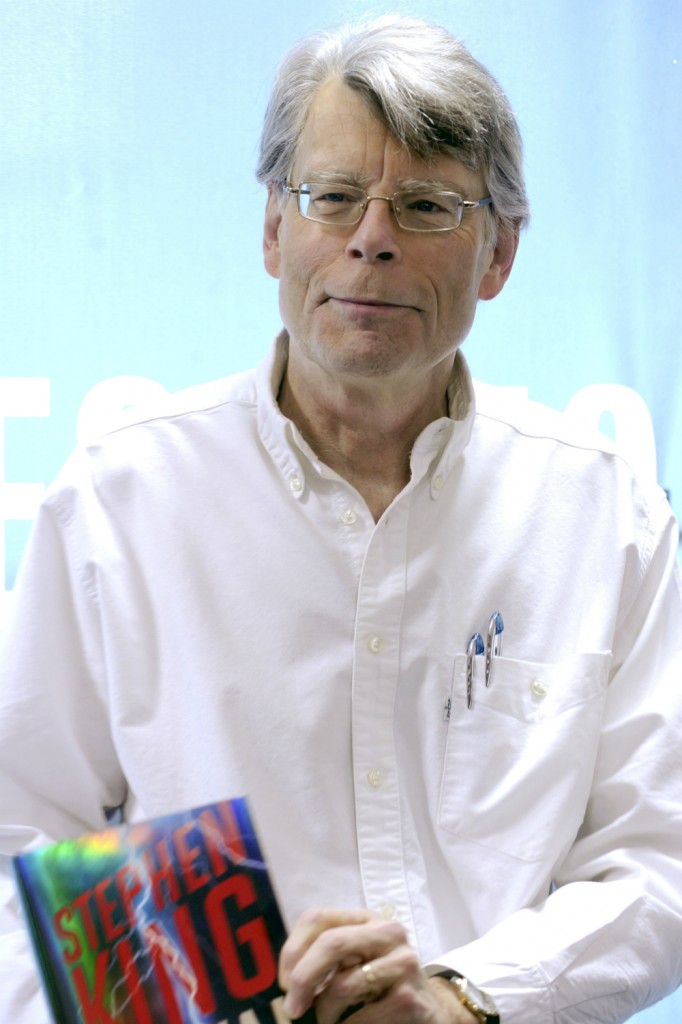 Photo credit: Twitter, WENN Photos and Getty Images