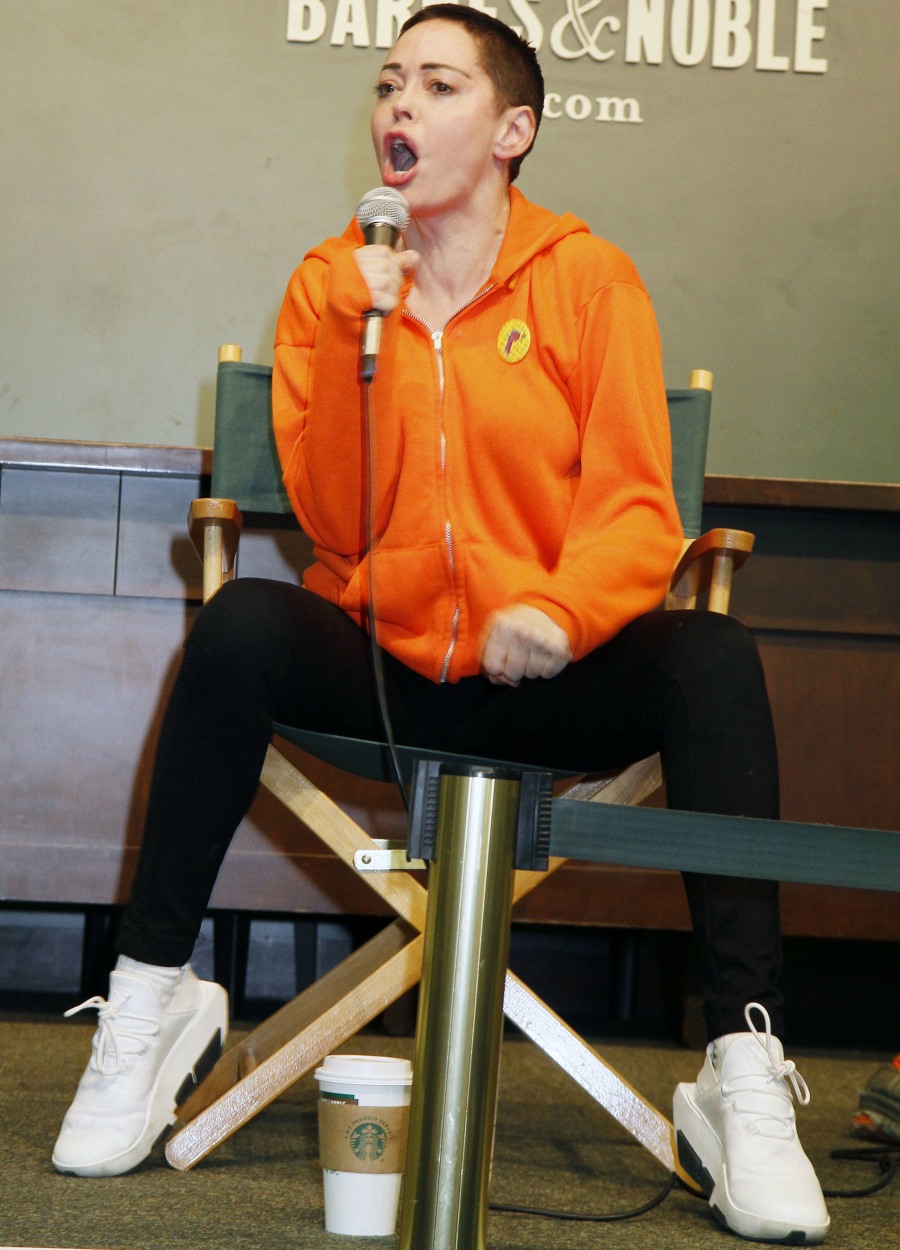 I will keep saying this: I want Rose McGowan to find peace. I want her to heal, and to find a good therapist, and to live a full life. I want her to be successful and happy. I want her to work and find joy. I don't think she's had much fulfillment or peace or joy in weeks or months or years. Rose has been promoting her book, Brave, and her new E! series, Citizen Rose, for a few weeks. The promotion has not gone well. For many people, I suspect, it is uncomfortable to watch her in interviews or on her show, because it feels like she's disintegrating mentally and emotionally before our eyes. Harvey Weinstein spent twenty f–king years gaslighting her publicly and privately after he raped her. He destroyed her career, he had her followed by Mossad agents, he paid people to keep tabs on her all this time. Most of us would barely be hanging on by a thread as well. And so it feels like everything has caught up to her, all of those years of no one listening, no one believing, and now they're listening to every word she says and it's all too much.
Last week, Rose was doing a Q&A session when a transgender activist started disrupting her session. Rose has said problematic sh-t about transgender women, just as she's said problematic sh-t about race and everything else. This is what happened early in Rose's appearance at Barnes & Noble:
A woman shot up from her seat to confront McGowan about comments made on RuPaul's "What's the Tee?" podcast in July 2017, which recently resurfaced on social media. The mood took a sharp turn.

"I have a suggestion. Talk about what you said on RuPaul. Trans women are dying and you said that we, as trans women, are not like regular women. We get raped more often. We go through domestic violence more often. There was a trans woman killed here a few blocks [away]. I have been followed home –." The woman was then interrupted by Rose.

"Hold on. So am I. We are the same. My point was, we are the same. There's an entire show called ID channel, a network, dedicated to women getting abused, murdered, sexualized, violated, and you're a part of that, too, sister. It's the same," McGowan retorted.

"You do nothing for them. Trans women are in men's prisons. And what have you done for them?" she asked.

"What have you done for women?" McGowan said. It then turned into a shouting match, with McGowan demanding the interrupter sit down as her voice broke. She proceeded to yell at the woman as she was carted off by Barnes & Noble security, chanting "white cis feminism." McGowan, as the woman was carted off, launched into a passionate tirade, shouting into the microphone:

"Don't label me, sister. Don't put your labels on me. Don't you f—ing do that. Do not put your labels on me. I don't come from your planet. Leave me alone. I do not subscribe to your rules. I do not subscribe to your language. You will not put labels on me or anybody. Step the f— back. What I do for the f—ing world and you should be f—ing grateful. Shut the f— up. Get off my back. What have you done? I know what I've done, God dammit."

The crowd didn't quite know what to do and began to console the actress and activist with outbursts of "We love you, Rose" and cheering.

"I'm not crying, I'm f—ing mad with the lies. I'm mad that you put s— on me because I have a f—ing vagina and I'm white or I'm black or I'm yellow or I'm purple. F— off. All of us want to say it. I just do. And you can label this thing as a breakdown. That, motherf—ers, is a breakdown. Maybe not for me, but for you. I might have information you want. I might know s— that you don't. So f—ing shut up. Please systemically. For once. In the world. You know what I'm talking about. Just tell the God damned truth. Stop boxing everybody into s—. I didn't agree to your cis f—ing world. Ok? F— off."
Hours later, Rose did a Q&A session with Ronan Farrow in which she suggested – or said outright – that the activist was just someone Harvey Weinstein paid to disrupt the discussion. On Friday, Rose went on Twitter and announced that she was canceling all of her appearances to promote her book and show.
I am canceling upcoming public appearances because I have given enough. I have given beauty, in return I was VERBALLY ASSAULTED for two full minutes @BNBuzz by an actor paid to verbally assault a woman who has been terrorized by your system. And no ONE in that room did anything

— rose mcgowan (@rosemcgowan) February 2, 2018
And everyone from my publicists, t assistants, managers and every person sitting in their chairs frozen by their weakness, a weakness called COMPLICITY. The truth is you all failed me. Again. And again. And again.

— rose mcgowan (@rosemcgowan) February 2, 2018
I would like an apology from the manager of the Union Square @BNUnionSquareNY and all security people, and the audience, who did nothing and let the paid verbal assault of an assaulted woman happen. Cool?

— rose mcgowan (@rosemcgowan) February 2, 2018
She also accuses Variety of being the "mouthpiece" for Weinstein, and says that's why they got their hands on the transcript… only I'm pretty sure they probably just had a freelance reporter there, or they were going off of one of the many videos from the incident?
Also: the transgender woman has come forward to tell her side of the story: her name is Andi Dier, and she spoke to the Daily Beast about how she's not a Weinstein plant and why she believes Rose is transphobic. While I think Rose definitely needs to rethink how she speaks about transgender people… this whole incident just feels so uncomfortable, like a sideshow spectacle instead of a substantive discussion about intersectionality of race, women's rights and trans rights. Sigh…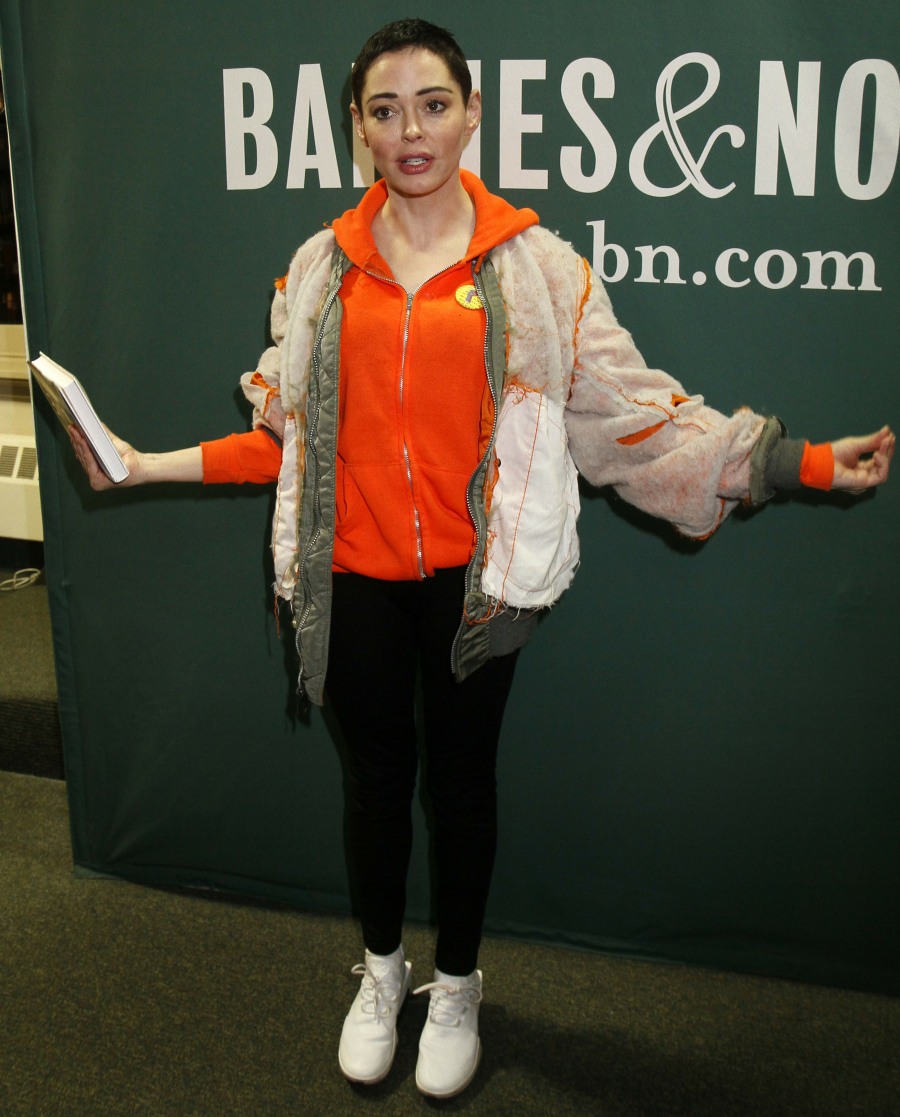 Photos courtesy of WENN.