I covered the Uma Thurman story over the weekend, wherein Uma Thurman told Maureen Dowd at the New York Times all about Harvey Weinstein and Quentin Tarantino. Sadly, Uma's stories about Weinstein are keeping with the pattern which is too familiar at this point – there was a meeting in a hotel room, manipulation, an attempt to throw her off balance, then an assault. Beyond that, people were very interested in what she had to say about Quentin Tarantino and how he made her feel degraded on the set of Kill Bill, and how he insisted she drive a death-mobile and then refused to show her the footage of the on-camera film crash. There were also details about how he insisted on being the one to choke her with a chain and spit on her for the films too. Basically, Tarantino came across like a total psycho too.
Well, Uma had some additional thoughts after the NY Times piece came out on Saturday. Roughly 48 hours later, she posted the above Instagram with this message:
i post this clip to memorialize it's full exposure in the nyt by Maureen Dowd. the circumstances of this event were negligent to the point of criminality. i do not believe though with malicious intent.

Quentin Tarantino, was deeply regretful and remains remorseful about this sorry event, and gave me the footage years later so i could expose it and let it see the light of day, regardless of it most likely being an event for which justice will never be possible. he also did so with full knowledge it could cause him personal harm, and i am proud of him for doing the right thing and for his courage.

THE COVER UP after the fact is UNFORGIVABLE.

for this i hold Lawrence Bender, E. Bennett Walsh, and the notorious Harvey Weinstein solely responsible. they lied, destroyed evidence, and continue to lie about the permanent harm they caused and then chose to suppress. the cover up did have malicious intent, and shame on these three for all eternity.

CAA never sent anyone to Mexico. i hope they look after other clients more respectfully if they in fact want to do the job for which they take money with any decency.
This clarification is odd, especially since it definitely seemed like Uma was calling out Tarantino's treatment specifically in the NYT piece, and calling him out for HIS negligence and ego and borderline abuse for ordering her to do the stunt. But maybe we can and should chalk that up to Maureen Dowd's weird way of writing that Uma story, where she summarized what Uma was saying without quoting her directly for the most part. In any case, it's clear who Uma is specifically targeting now: CAA, Harvey Weinstein, the producers, etc. Also: Tarantino has now come out with a lengthy interview to explain his side of things, which I will cover separately in another post.
Speaking of Harvey Weinstein, Entertainment Weekly received a statement from Weinstein's lawyer saying: "Ms. Thurman's statements to The Times are being carefully examined and investigated before deciding whether any legal action against her would be appropriate." As in, he's threatening to sue her. God I hate him.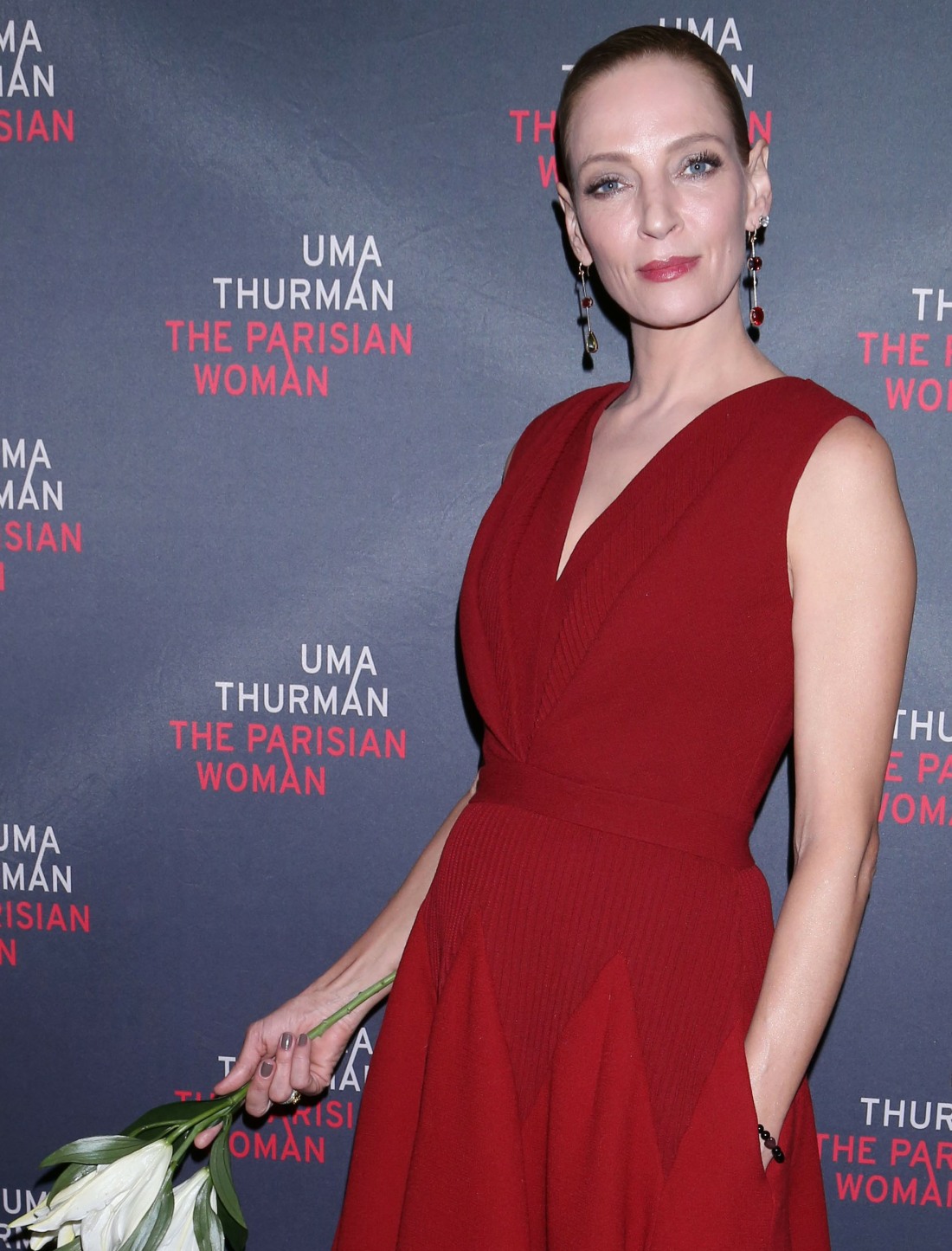 Photos courtesy of WENN, Instagram.