Embed from Getty Images
Nicole Richie has a new interview with People Style to promote her collaboration with Urban Decay. She's representing a new eyeshadow palette called Naked Petite Heat, which has those rose gold color shades everyone is talking about. It's not available until February 22, but the regular Naked Heat palette is here. (We are using affiliate links but this is not a sponsored post. I actually use this brand and wanted to talk about it.) I have three Urban Decay palettes, Naked, Naked 2 and the Smokey palette which was on sale for half off before the holidays. I also use Urban Decay eyeshadow primer and it makes my eyeshadow last much longer. It's a good company and judging from this interview they picked the perfect spokesperson. Nicole talks about makeup, fashion and hair and I loved reading her responses. I found myself agreeing with her on almost everything and she phrased it well.
"Makeup has … power," Richie tells PeopleStyle. "You can transform yourself into another being, which I think is really amazing. I know women who feel most like themselves when they have a full face of makeup on and that makes them feel strong about themselves. We as women have every tool that we need in order to feel our strongest. best self. I don't think that makeup has to hide you. I think it can accentuate what you already have."

And while Richie loves makeup, she draws her well of strength from the way she dresses, saying "I feel that way [empowered] about fashion."

"My fashion choices are extremely emotional," she explains. "I am somebody who likes a lot of color around me. It elevates me. I'm very passionate about color and I know that it has a direct effect on the energy that I have around me. And so when I'm putting something on, that definitely changes the way that I feel and the way that I approach the day."

Right now, there's a certain shade that really speaks to her, she says: "If I'm sick or I'm having my 'monthly-not-feeling-too-great-about-myself' woman moment, I'll wear a bright color to make me feel a little more alive. I hated pink for so long and I'm really gravitating towards a magenta and hot pink this season. That's what's so fun about fashion, you can really hate something for a long time and come back to it later and you feel a totally different way about it."
While Nicole says she doesn't wear makeup everyday, I could relate to everything else she said about it. I feel similarly about makeup, like it gives me power to get through the day and it transforms me somehow. I also get a thrill out of fashion and putting together outfits. If I'm feeling down I just do my hair and makeup and pick out a nice outfit and I feel so much better. My mom tells me I've always been fussy about my hair and clothing since kindergarten so I don't think I've been overly influenced by the patriarchy or anything. There's a real joy in hair, makeup and fashion and some women just love to focus on those things. Now I just have to resist spending money on this eyeshadow I absolutely do not need. I'm trying to purge stuff this spring and I've had to fight the urge to buy things. There's also a thrill in shopping but it does not last as long as the stuff that clutters up your house.
This video of Nicole dancing with Twitch is so cute! (Use the right arrow to scroll to the video)
Also, Nicole is starring on a Tina Fey comedy on NBC called Great News. I haven't heard much about it.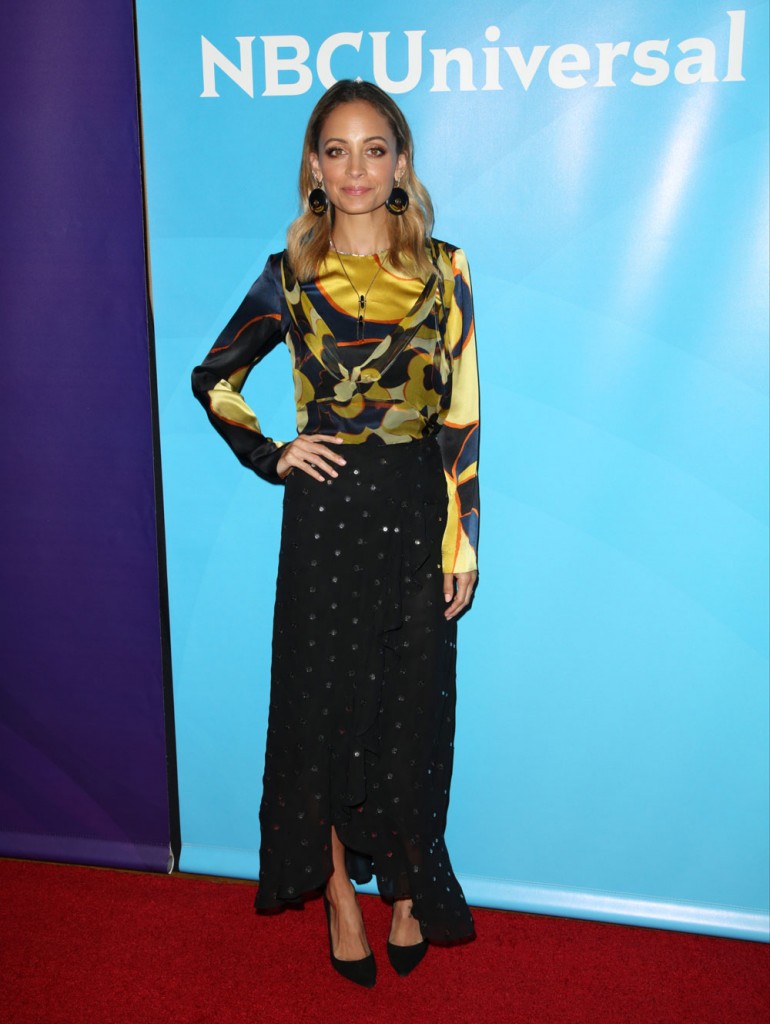 photos credit: Getty, Instagram/Nicole Richie and WENN