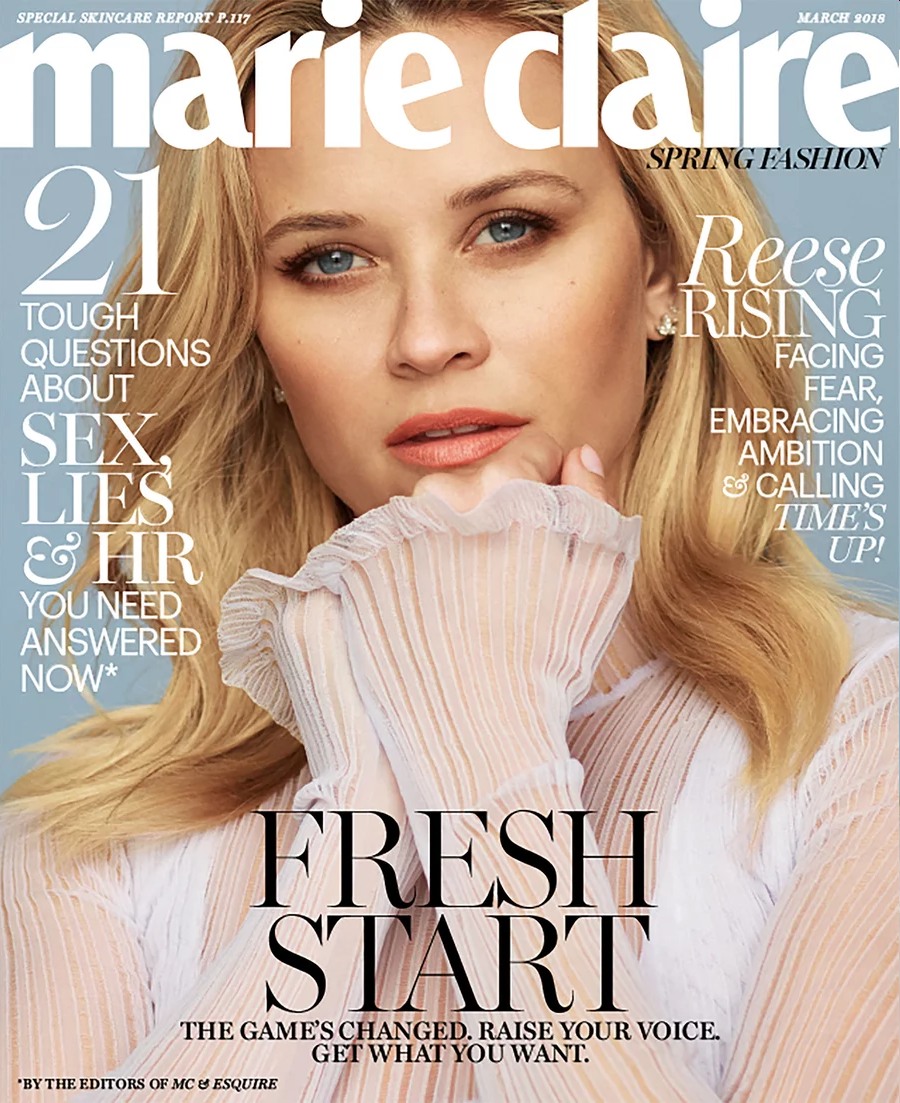 There's this constant debate that we're always on the edge of: who should be forgiven, what should be forgiven, and should we give public figures – celebrities, politicians – the room to grow, to apologize, to change their minds, to learn from teachable moments. Several years back, I couldn't stand Reese Witherspoon. I thought she was such a fake a–hole. But with everything that's happened in the past year – from her success in shepherding Big Little Lies to her involvement with Time's Up – I have genuine warmth for her. Do I still side-eye the fact that Reese is getting a lot of credit for "starting" Time's Up and that this seemed to be a counter-reaction to CAA (her agency, and where her husband works) being accused of failing to repeatedly protect their young female clients? For sure. But let's not put all of that on Reese, I guess. Reese covers the new issue of Marie Claire, and she's got some interesting stuff to say:
Where she gets her ambition: "I get a lot of support from my husband [Jim Toth, an agent at CAA], who cares deeply about equality and always tells me,"Why wouldn't you call the person in charge of a company and have a personal relationship with them?" He's encouraged me to be outspoken. Oprah has encouraged me before I ever met her to be the best version of myself, through her book clubs, the people I saw on her show. [She's been] an incredible advocate for me as a businesswoman.

Whether she was surprised by the Hollywood sexual harassment stories: "Sadly, I don't find any of this shocking. Women have been sharing stories in each other's living rooms and workplaces for as long as I've been a working woman. It's just incredible that the media and the world started believing us all and listening. I was particularly moved by the women at Ford Motor Company who came forward and told their stories of harassment and abuse, and by the women in my own industry who told their stories so bravely when they had nothing to gain.

Why so many people stayed silent for so long: "The majority of women—if they came forward—were stigmatized for reporting and in some cases lost their jobs. There was simply no reason to share your story if the results would be so punitive. That's why I've been working very hard on an initiative called Time's Up with more than 400 women in my industry to raise money for women to have better resources for on-the-job-harassment lawsuits in their own industries. We are trying to level the playing field for all women and men who have suffered from discrimination, harassment, and abuse.

Whether everything will really change now: "I feel a shift, completely, a reckoning of people who have been silent for so long finally coming forward and speaking out even if their voice shakes, as I know mine did when I told my story. The female leaders within every industry have to stand up for those who are voiceless and silent, and we have to do better to create more balanced cultures with female leadership and leadership with people of color. It's just profoundly overdue. [Women and the public] think, Well, I don't know how I can really effect change. You can effect change by where you spend your money. We all need to be more aware of the companies we work at and the companies that we do business with, because the consumer is very powerful in this world of social media. Some companies are doing incredibly well with inclusion and diversity—those industries thrive, and abuse goes down when you have more balance at the top.

On her upcoming projects with Jennifer Aniston & Zendaya: "I'm excited about the project with Jen Aniston [one of the first television shows out of Apple]. It's a show about women in media–the morning news in particular. Zendaya and I are producing a movie on a book I brought to her called The Gilded Years. It's about the first African-American woman who graduated from Vassar. It's important to go back in time so that my daughter's generation and Zendaya's generation realize that these were hard-fought wins for humankind and that the brave people at the center of them were women and people of color."
I hate the way Marie Claire framed it as "why didn't victims say anything?" I expected more from a women's magazine, but I'm glad Reese shut it down, and she's right – some women did speak up and speak out as it happened to them and they were actively silenced and threatened and many of them lost their careers. Sometimes they didn't even speak out and Harvey Weinstein just destroyed their careers anyway because he's a f–king psycho. A psycho who kept taking meetings in hotel rooms with CAA clients, btw. CAA still needs to answer for a lot, and I do wish Reese would talk about that side a little bit more.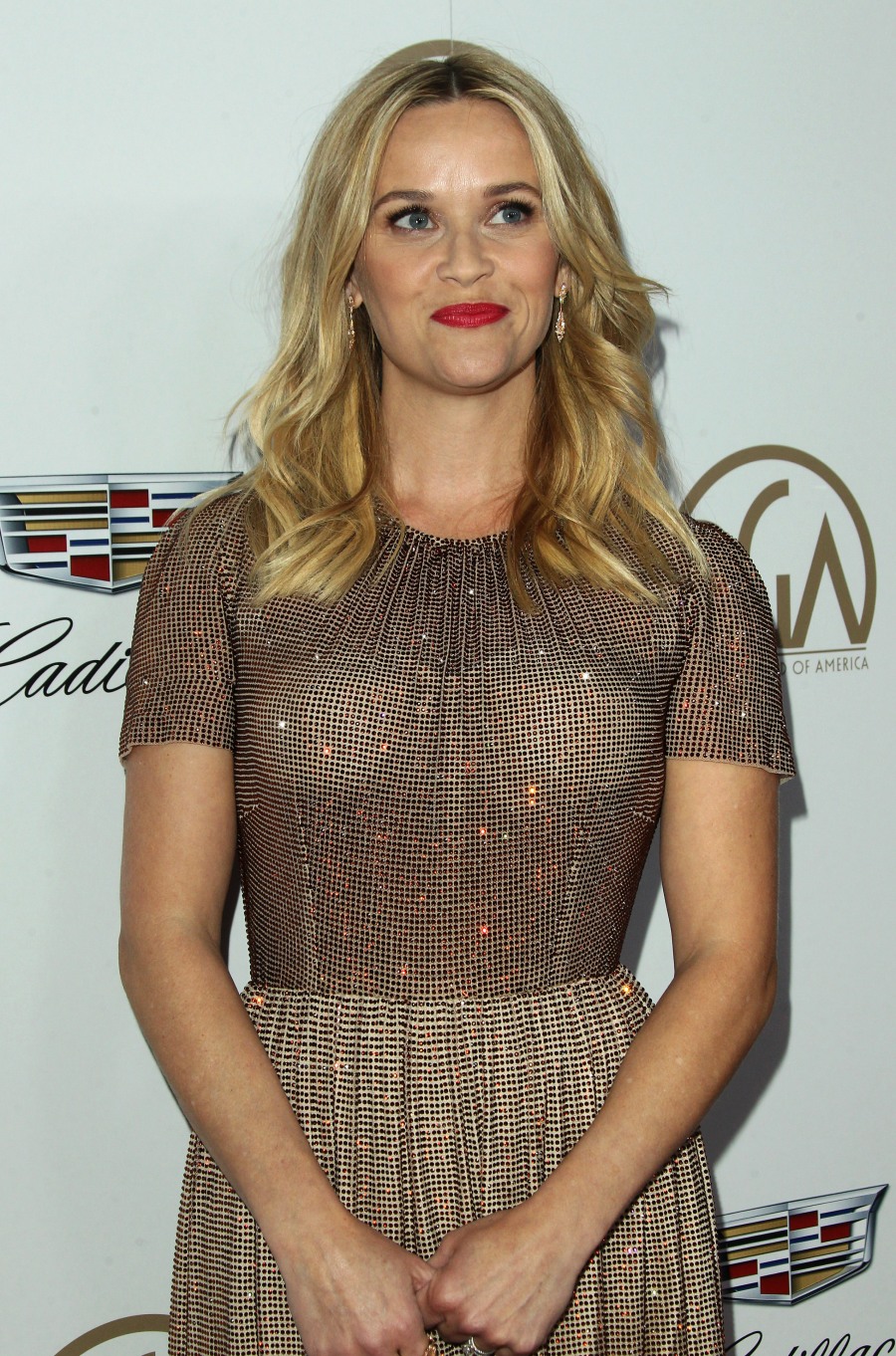 Cover courtesy of Marie Claire, additional photo courtesy of WENN.