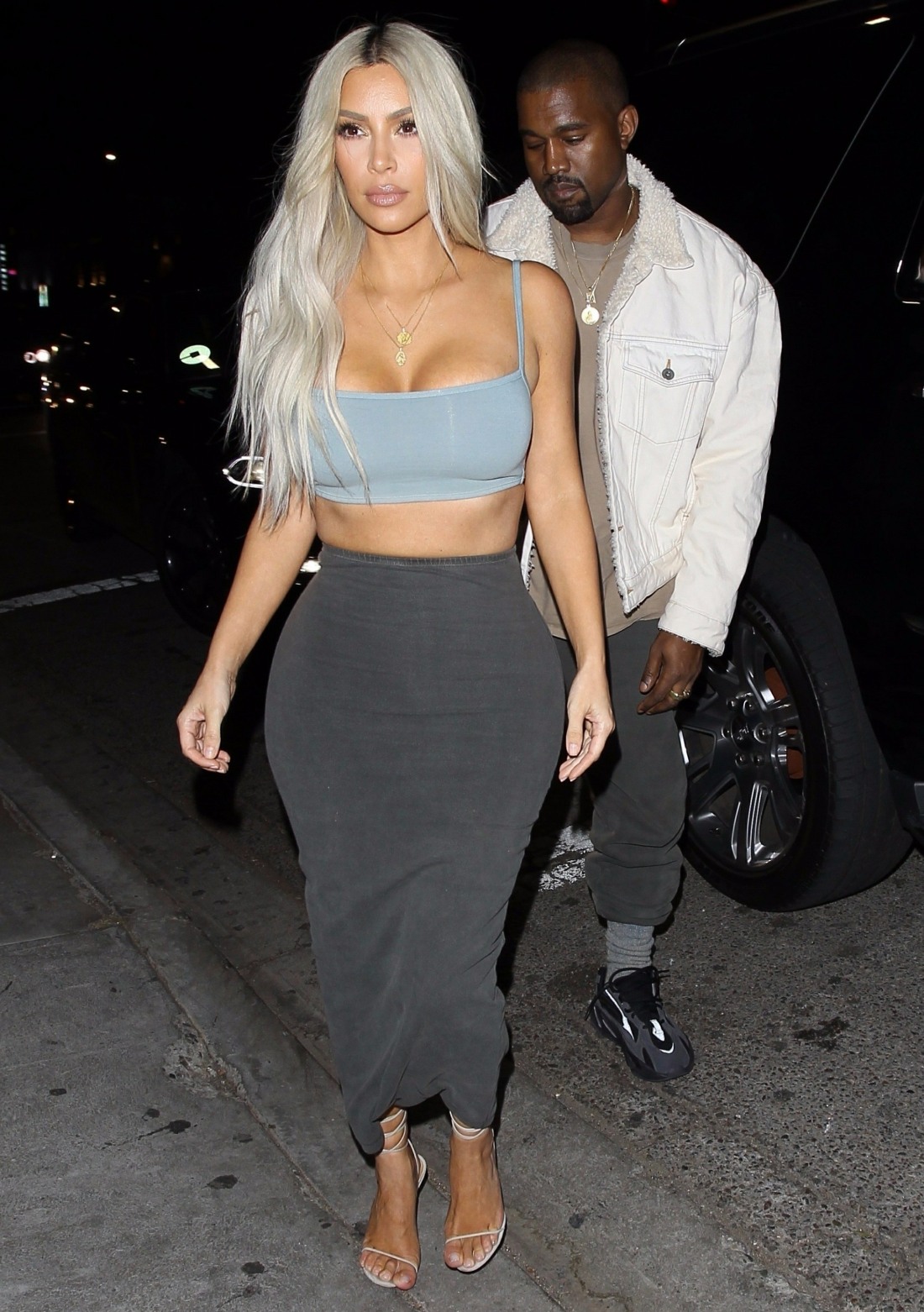 For months now, Kim Kardashian has been getting pap'd in outfits that involve the same kind of vibe: either a crop top or a midriff-baring tank, and skintight skirts or leggings. The focus for months has been on Kim's stomach, is what I'm saying. I thought it was weird this whole time, because Kim's best feature isn't her waist – her best features are her surgically altered ass, her thin calves and ankles, and her always-slender arms. For this story, keep in mind two things: 1) Kim has ALWAYS lied about her size, her weight and what she gets surgically altered and 2) Kim cannot pick out clothes that flatter her figure to save her life. She's short, naturally curvy and she's given birth to two kids. No one expects her to saunter around like Karlie Kloss. Kim's not that person. But she thinks she's that person. Which is why Kim is claiming to have a 24-inch waist.
Forget talking about books — at Kim Kardashian's inaugural book club meeting last year, all her sister Kourtney could focus on was Kim's tiny waist. Kim shared a video from their book club meeting on her app on Monday, and before they could dive in to her selection, Embraced by the Light by Betty J. Eadie, Kourtney turned the discussion to Kim's body.

"I can't take your hips seriously right now," Kourtney said to Kim. "Because your waist is so small and your hips are so big."

Kardashian hairdresser and BFF Jen Atkin then asked Kim for her measurements, and Kim had Chrissy Teigen guess (she went with 23 inches).

"24," Kim said, with a smirk.

"24? That's insane," Atkin replied.

"It's never been 24 ever in my life," Kim said, and after Atkin asked, added that her hips are 39 inches. After giving birth to son Saint West, 2, in Dec. 2015, Kim started on the Atkins Diet and jumpstarted her workout routine to get back to her pre-pregnancy shape, and lose the 70 lbs. she gained with Saint and daughter North, 4. But over the last year, Kim took her workouts and diet to another level with trainer Melissa Alcantara.

"Kim told me, 'I love my body. I love the way it looks and I love my hips,' " Alcantara recently told PEOPLE. "She just wanted more muscle. She wanted bigger hamstrings, which accentuates the entire leg. And she wants those cut arms and abs!" Kim now works out with Alcantara six days a week at 6 a.m., and they focus on different areas of the body each day. "Kim has been getting some really nice results, like with her triceps!" Alcantara said. "She can't believe how much has changed over the last few months. And when you're in this deep, it's hard to go back. She just keeps it up."

The trainer added that Kim's body goals have changed. "She didn't want to be skinny. She wanted to have muscle and feel strong. And she wanted to find something she can do for the rest of her life," Alcantara said. "I totally understood where she was coming from."
A waist that's 24 inches and hips that are 39 inches? And a bust that's probably 36 inches, just a guess. Do you believe that? I believe the hip measurement. I'm not sure if I believe the waist measurement. And even if I did believe the waist measurement, I wouldn't believe that she got it through diet and exercise alone. Girl makes so many trips to the "dermatologist" every month – my guess is she's just been getting her waist lipo'd and nothing else, which is why her hips are "normal size" for her frame/body type.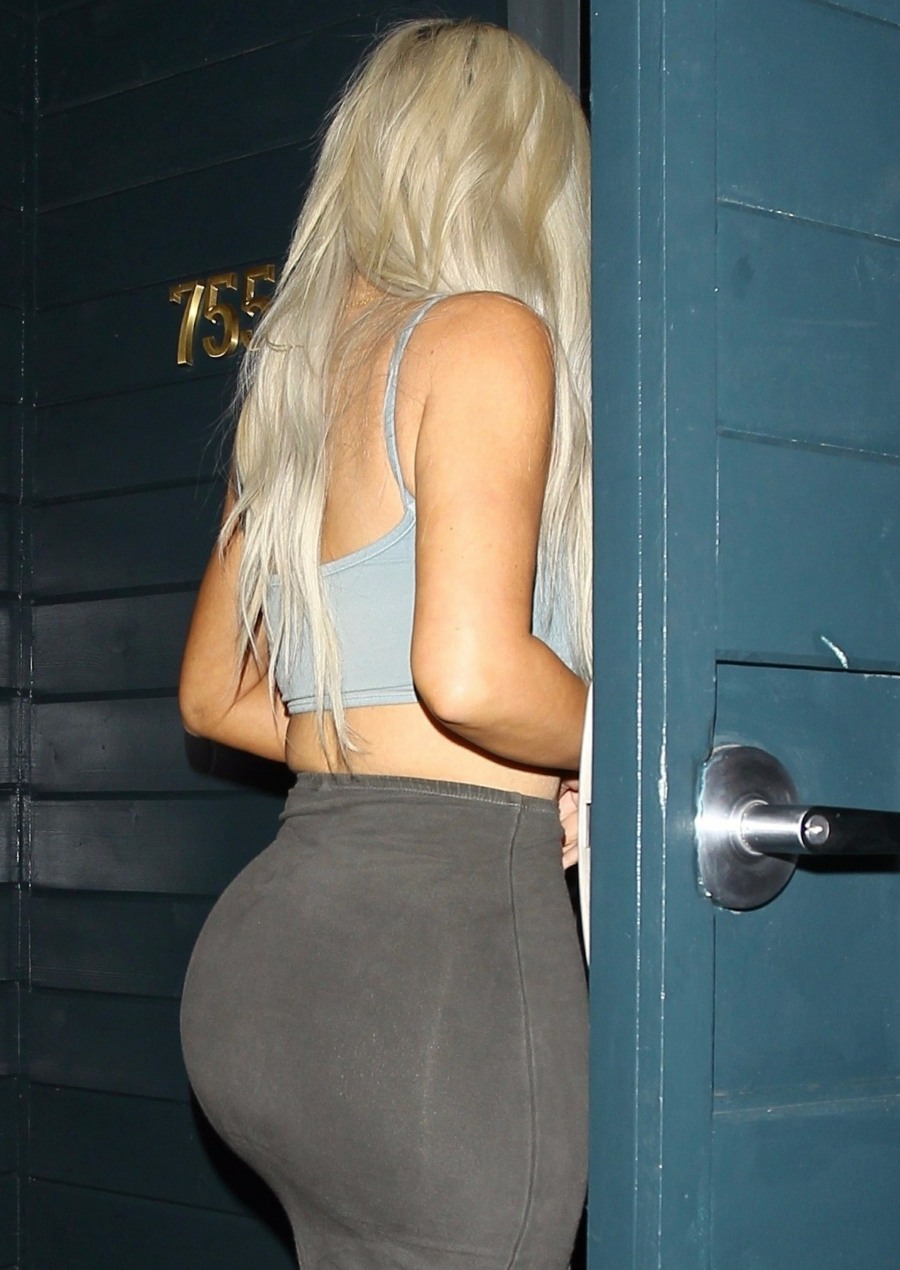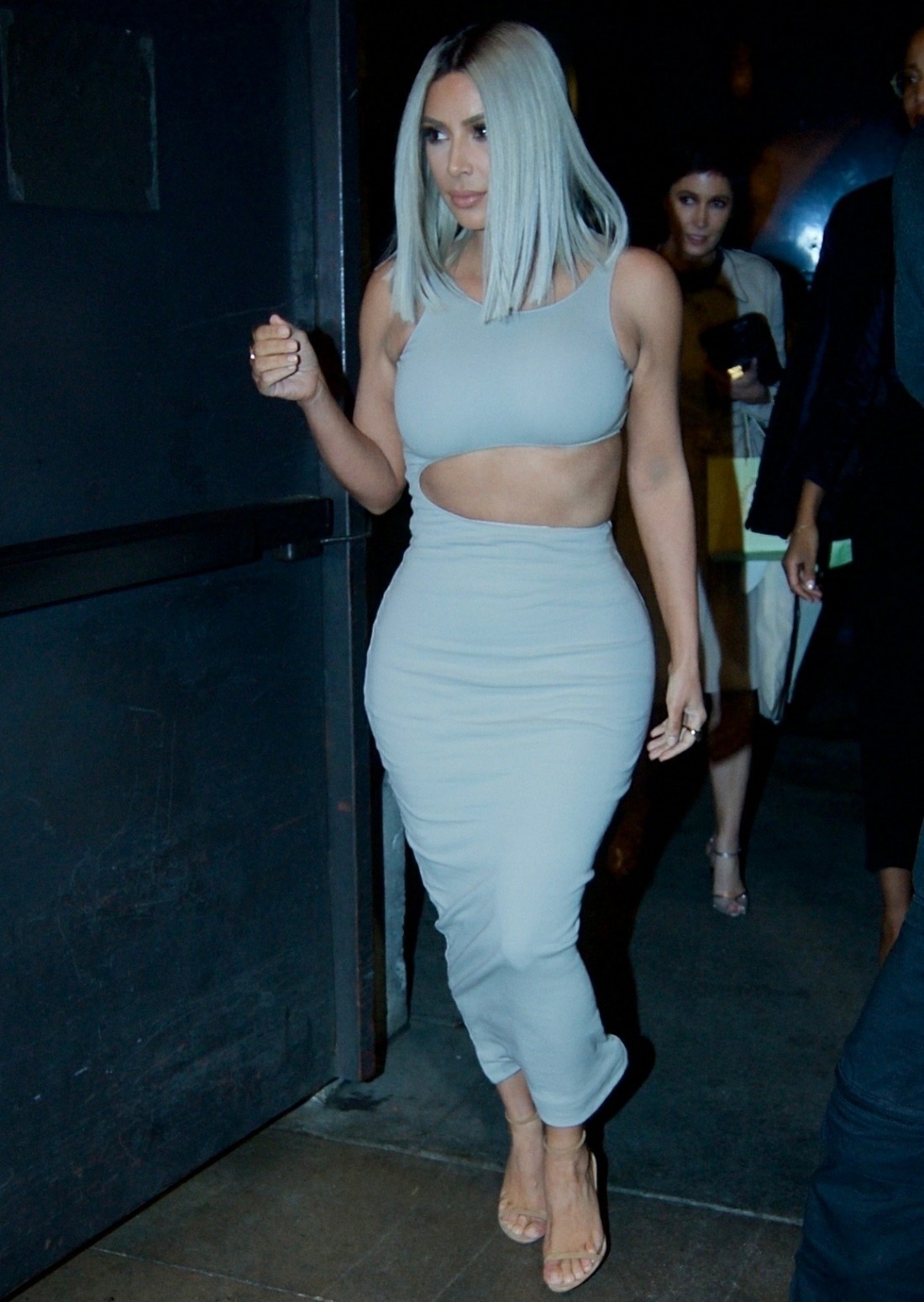 Photos courtesy of Backgrid and WENN.