Embed from Getty Images
I was watching The Office just this weekend, of which I had only seen maybe two episodes and some clips prior. My 13 year-old is watching it, his last show was Parks and Rec, so he has great taste. The Office is hilarious, fast-moving and irreverent. There are so many talented actors in it like of course Steve Carrell and John Krasinski, but also Mindy Kaling, Ed Helms, Craig Robinson and Phyllis Smith. Krasinski and Carrell are the big movie stars but a lot of the other actors are standout character actors with steady careers. I can imagine that the reboot, which we've been hearing about from industry outlets for a couple of months, is going to be expensive for NBC. Well there's one less paycheck they'll have to worry about, because John Krasinski told Ellen DeGeneres on her show that no one contacted him about it. We have already heard that Carrell won't be back and that it's going to be a mix of old and new actors.
Krasinski has been getting press for his Amazon series based on a Tom Clancy novel, Jack Ryan. That's not out until August though. He also wrote and directed an upcoming horror movie which he costars in with his wife, Emily Blunt, called A Quiet Place. (I got all excited thinking that was coming out soon, but it's not out until April 6th.) Here's some of what he told Ellen. He had some really cute stories about his daughters, who are three and eighteen months old.
On his daughters with Emily Blunt, Hazel and Violet
The last time [their names] were popular was in 1890. So we were like 'we're safe.'

They're amazing and they're geniuses. The other day it was a rainy day and I started singing [Violet] this song for kids which goes 'Rolly poley,' all of a sudden Violet who is 18 months goes 'yeah baby' [in a deep voice]. We have no idea what that was. Then we turned it on in the car and at the end of the song this guy just comes in and goes 'yeah baby.' I'm not kidding [Violet] looked at me like 'are we good?' It was weird.

Ellen: Do the girls like the beard?
Yes they loved it. I thought they would be terrified. I shaved it after the movie and my three year-old said 'What happened to the beard?'

And I said 'Oh I shaved it, it's so smooth you can touch it' and she went 'put it back.'

Well I'm not a Lego guy I can't just snap it back.

Ellen: I heard that they're going to reboot The Office. Did you hear that?
I did hear that, on the Internet. Guess who didn't get a call? Me. What does that say? NBC is like 'do you know who we didn't like? Jim.'

Would you do it?
Oh my God, are you kidding? I'd love to get that gang back together.
[From Video of the Ellen show, via E! Online]
This reminds me of Melissa McCarthy revealing that no one asked her to be in the Gilmore Girls remake. She made a public statement about it and filmmakers then worked her in. It's like producers don't even think to approach the most successful stars of the original show as they assume their salary requirements will be too high and/or that they're too busy. I've only been watching The Office for a few hours now and even I know that it needs Jim! This is a major oversight and I hope that he'll at least be able to make a cameo.
Here's the first part of John's interview:

And here's the second part where he talks about A Quiet Place. Ellen and John try to make each other laugh in a staring contest and there's a surprise at the end.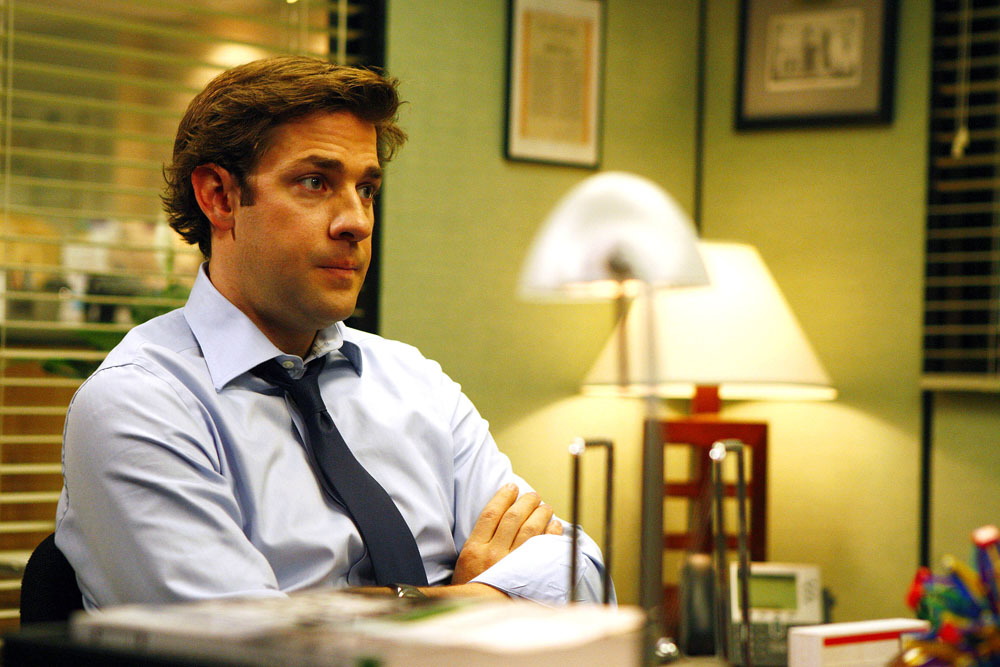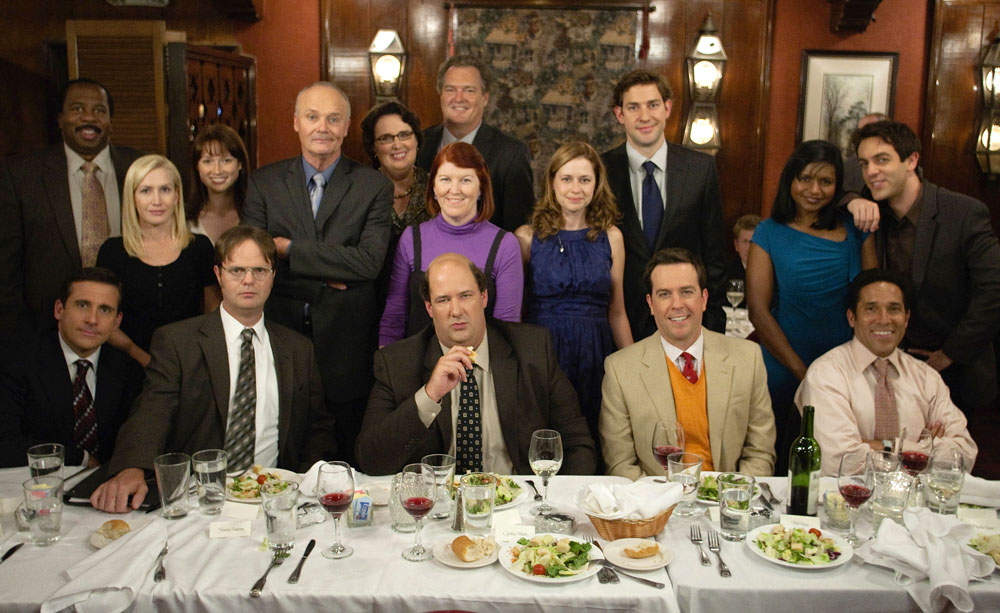 Photos credit: Getty and NBC via WENN