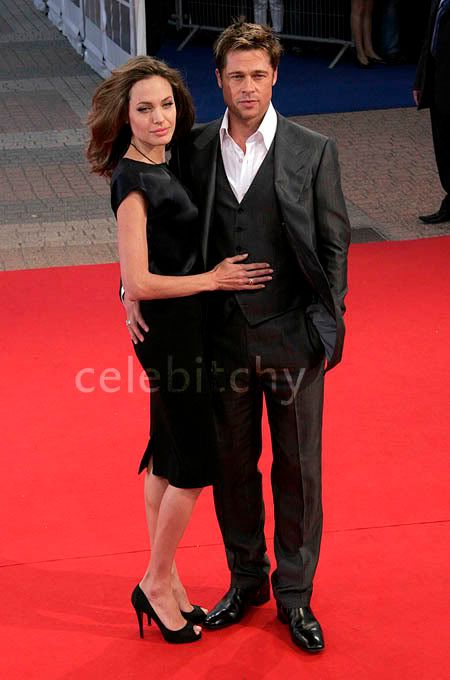 The fertile womb/abundant adoption papers that are Angelina Jolie and Brad Pitt may be simmering again (do wombs simmer?) – Pitt has publicly confirmed that the pair is ready and looking to add on to their already plentiful brood. This confirms much speculation that the two were looking to adopt another child – though there's also been speculation that Brad wants another biological baby. Probably not the best idea, considering Angelina appeared to actually lose weight when she was pregnant with Shiloh. But nonetheless, the bounty that is Brangelina will soon be growing, whether through nature or extensive legal documents and financial wranglings.
"Brad Pitt and his partner Angelina Jolie are ready for another child, the actor said Sunday as he was promoting his new film. Pitt and Jolie, with children in tow, were in Venice to talk about his film on Western outlaw Jesse James. The movie is competing for the top Golden Lion award at the city's film festival. Pitt and Jolie already have four children including a 15-month-old girl, Shiloh, born to the couple. Jolie has also adopted three children close in age from Cambodia, Ethiopia and Vietnam. Asked by Italian state TV whether they were ready for a fifth, Pitt replied: 'Yeah we're ready.'

He did not indicate whether they planned another biological child or if they would adopt. Earlier on Sunday, Pitt told a news conference fatherhood was fun and good for his work, though he's not getting much sleep. 'It's the most fun I've ever had and also the biggest pain … I've ever experienced,' he said when asked what it was like to become a family with four children in a short space of time. 'I love it and can't recommend it any more highly – although sleep is nonexistent.' Having four small children 'makes me much more efficient because when I work, I really have to focus. I know I've less time to get things done. Actually, I'm quite pleased by it,' said Pitt."
[From the Washington Post]
Brad Pitt admitting that raising four children is the biggest pain he's ever experienced makes me seriously question whether or not I should ever be a parent. I mean this is a guy who used to date Gwyneth Paltrow – and he's saying having kids is worse. That makes you think. Seriously though, I admire anyone who publicly admits that being a parent is hard and a big pain sometimes. I think it makes parents everywhere feel a little less guilty that they aren't in love with the job 100% of the time. And Brad Pitt has 8 nannies on retainer in 98% of the countries around the world. True story. (And by true I mean I randomly picked some numbers and said it was true). My point being that he can afford the best childcare around, and he's still exhausted. But it must be worth it if he wants to add on – and let's be honest; Brangelina adding on another kid is not the same thing as you or I popping one out. He probably has a person who's sole duty is to powder the kids' butts on the diaper assembly line they must have.
Picture note by Celebitchy: Brad and Angelina are shown at The Assassination of Jesse James screening at the 33rd American Film Festival of Deauville, France, this weekend. Images thanks to Splash News.