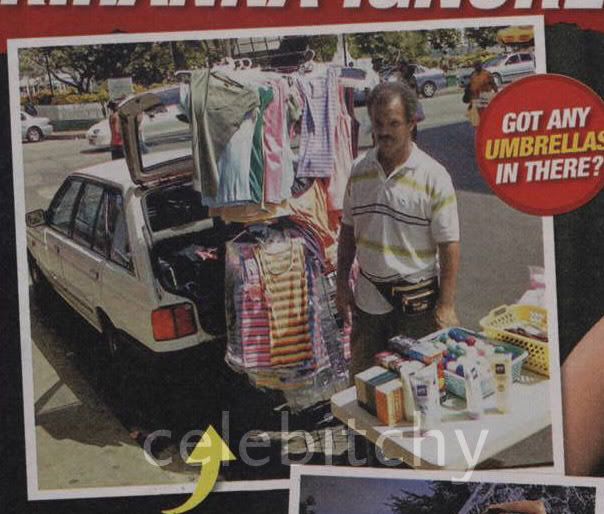 Rihanna recently opened up to Atlanta Peach Magazine about the fact that she revealed in an interview a short while ago that her father was once a crack addict, but kicked the habit. She said she hasn't really talked to him about it, and gave a very good response that answered the question without being too revealing.
On Her Relationship With Her Father

"I am actually embarassed by that. I don't like speaking about it because I am not proud of it. But it is something that helped make me who I am today. Now people know that I am not perfect and that I had real conflicts. My dad is not pleased, because he is embarassed. We still have not sat and had a conversation about it."
[From Atlanta Peach Magazine via Bossip]
Not only has the successful pop singer not spoken to her dad recently, it doesn't seem like she's helping him out financially either. The guy is selling clothing out of the back of his car back in their native Barbados.
These exclusive Enquirer photos show the entertainer's down-and-out dad trying to eke out a living. Rihanna, 19, a former beauty pageant winner in Barbados, has said in interviews that she witnessed her father, Ronald Fenty, struggle with a crack cocaine addiction while she was growing up.

While Ronald reportedly has beaten his drug problem, he's still clearly struggling with poverty. "Ronald is trying to make ends meet by selling clothes and perfumes and lotions out of his car," said a friend of his in Barbados.

"It's kind of sad that his daughter is raking in millions as a world famous singer while her dad is still hustling to make a buck."
[From The National Enquirer, print edition, September 10, 2007]
Rihanna is now said to be dating up-and-coming Transformers star Shia LaBeouf and has been seen out on several dates with him. They have at least one thing in common, because Shia has said in interviews that his dad was a drug addict and dealer too. Shia and Rihanna have said similar things about their father's battles with drugs:
Shia on his dad:
"I got to grow up in a situation where drugs were demonic. To watch your dad go through heroin withdrawl is something that would keep you from doing any of that yourself…"
[From Star Magazine print edition, March 7, 2007]
Rihanna on her dad:
"I just knew that my mom and dad would always argue when there was a foil paper with an ashtray. He would just go into the bathroom all the time. I didn't know what it was… [But] he knew that to get closer to [his kids], he had to cut that out. And he did."
[Interview with Giant Magazine via SOHH.com]
Shia's dad left his mother when he was just five. When Shia was 12 he needed a guardian on the set of a Disney series he was filming and asked his then-sober father to step in, at which point they reconciled. Shia and his dad now have a great relationship.
Maybe Shia will be a good influence on Rihanna, and can show her that it's possible to have a relationship with a parent who was once drug addict. If Rihanna is afraid to give her dad a handout she might give him a job instead, like Shia did.
Rihanna is shown at a video shoot in Santa Monica. Thanks to Bossip. Everyone is saying she looks like Beyonce in the Irreplaceable video. (The scene is about 2:30 minutes into the video.) The header image is a scan from The Enquirer.