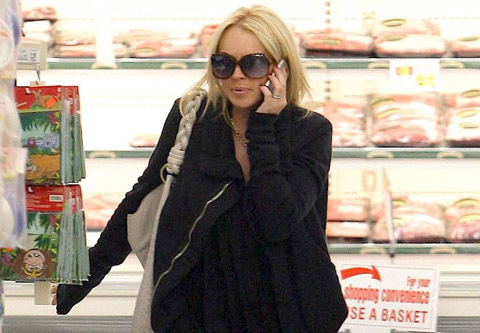 In 2005, Lindsay Lohan is said to have shocked her accountants by running up a million dollar bill at the Chateau Marmont hotel where she was staying. (And ultimately got kicked out of for her rampant partying.) Despite getting comped a lot of clothes, shoes, and purses, and stealing tens of thousands worth of clothing from her friends, she also spent $1 million shopping for crap she probably only wore once that same year.
It's no surprise, then, that the woman who blew all her cash on clothes and drugs is now begging acquaintances for money. Lohan is said to ask just about everyone to give her $10k.
Lohan's mom Dina has cut her off from her money after her latest DUI, but I bet she's squandered most of her earnings on frivolous things anyway.
Lindsay, 21, resorted to begging, the sources, say, because her manager mom, Dina, has temporarily cut her off from what's left of the fortune she made starring in hit films like Mean Girls and Freaky Friday.

"Dina must think Lohan is a serious addict, and she's afraid if she gives her even $20, she'll run out and buy drugs and booze," says an insider close tot he family…

"Lindsay wants money – what she calls 'cake' – now," says a source. She's even asked guys she's only met two or three times to hand over $10,000. That's what she always asks for: 10K."

Among the celebs Lindsay's tried to hit up are 50 Cent and Music producer Damon Dash, the source reveals.

She's also turned to former flames Steve-O, That 70's Show's Wilmer Valderamma and British Model Calum Best. She keeps getting turned down, but one music industry insider confesses that he did fall victim to her charms.

"When Lindsay asked me, after her second arrest, I kind of laughed because she's a big movie star, right? Why does she need money from me?" the industry insider asks. "She explained her money was 'tied up.' She wasn't even nice about it. She said 'I'm good for it, I'll make a huge comeback. I am, after all, the most famous person on the planet right now!'"
[From Star Magazine, print edition, September 10, 2007]
Steve-O? I saw was was supposed to be that guy's apartment on Cribs once and it's doubtful he has that kind of cash. Either that or he's saving it all and just enjoys living like a college student.
It sounds like typical Lindsay to say "I'm the most famous person on the planet." People aren't even that interested in her anymore, she's fading fast. If she can't get money from random acquaintances, she still has one means to make a quick buck. She's said to be arranging photo opportunities from rehab. Once the veneer on her fame has completely rubbed off she'll be standing on street corners clutching a Voss water bottle, talking about how famous she is in that old lady voice of hers and screaming about how the world is just waiting for her. I'd give her a dollar.