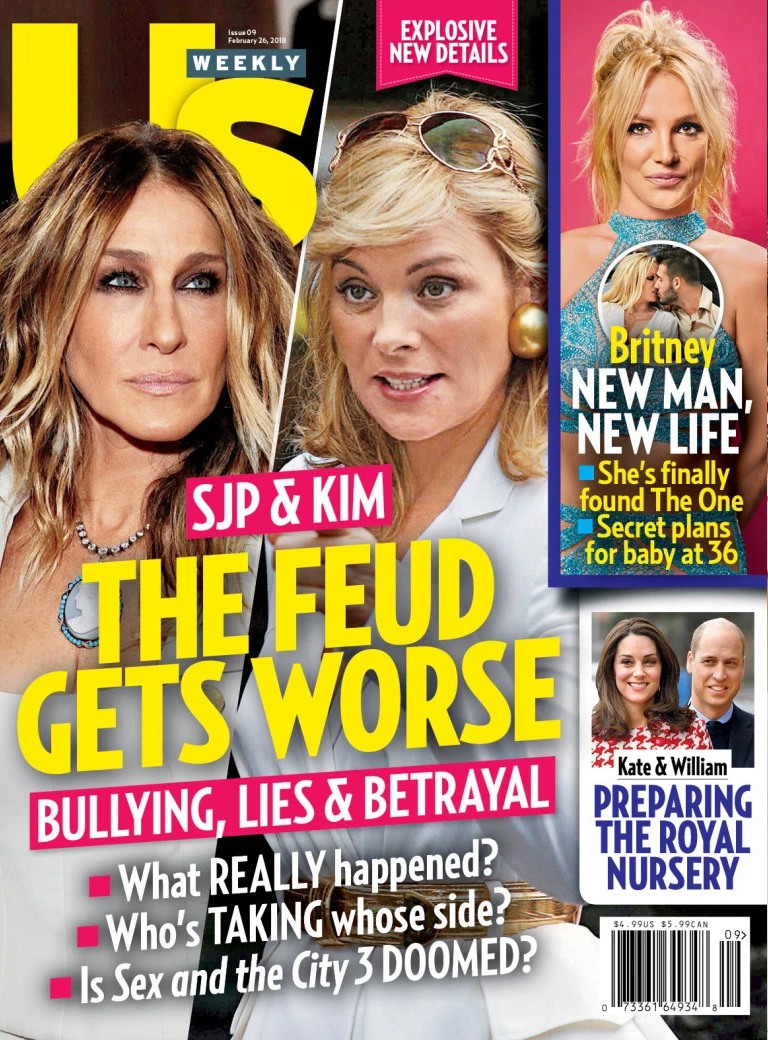 I shouldn't have wondered if Sarah Jessica Parker would respond to Kim Cattrall's bridge-burning Instagram. I shouldn't have wondered if SJP was going to leave Cattrall alone to grieve in peace. SJP is responding, but just not directly. SJP organized a People Magazine cover this week to restore her "nice girl persona," to quote Cattrall. In that interview, SJP didn't mention Cattrall once, nor did People ask about Cattrall. But that was part of a one-two punch aimed at Cattrall – "sources close to Sarah Jessica" went to Us Weekly to do the dirty work for Us Weekly's cover story this week.
She thought they'd reached a détente. Quizzed on the January 31 episode of Watch What Happens Live about her recent public dustup with former Sex and the City costar Kim Cattrall, Sarah Jessica Parker admitted Cattrall's insults had taken a toll. While Parker felt she'd been respectful when detailing to the press that plans for a third movie of the popular HBO spinoff had been scrapped, Cattrall chastised her in an October interview, saying Parker "could have been nicer." The words stung, Parker told host and close pal Andy Cohen, but she hoped they could move past the issue: "It was a professional experience but it became personal because it was years and years of our lives, so I hope that that eclipses anything that's been recently spoken."

But she couldn't help but wonder: Would they ever really call a truce? The answer came just 10 days later when Cattrall slammed Parker for posting condolences after the death of her brother, Christopher. Despite having thanked her colleagues for an "outpouring of support" just four days earlier, now she deemed Parker's message hypocritical. "Your continuous reaching out is a painful reminder of how cruel you really were then and now," wrote the Modus star, 61, adding, "You are not my friend."

While those close to the pair found Cattrall's words harsh — "Not sure why Kim had to take it to this level," says one Parker insider — they weren't surprising. As one source notes in the new issue of Us Weekly, Parker, 52, and Cattrall have been at odds since they started filming the second season of the Emmy-winning series. Notes a set source, "They hated each other."

Even with the shared vitriol, pals were stunned by Cattrall's statement. "Their costars can't understand why Kim lashed out," admits a Cattrall friend, chalking up the move to grief. "It wasn't this bad during filming."

But it wasn't exactly good, says one source, noting, "You have two strong, famous women competing for the same thing. Of course it wasn't nice."

Apparently those memories flooded back when Cattrall read Parker's comment on her Instagram. Says the insider, "It just struck a nerve." Now Parker is doing some grieving of her own. "There's no love there, but Sarah Jessica was just being polite," says a friend. "It's sad."
Look at how this is being framed – that Cattrall is being "harsh," that Cattrall is the one "taking it to this level," that Cattrall is "lashing out," and that Sarah Jessica was "just being polite." I see you, Sarah Jessica. One of my biggest gossip rules is this: if someone is trying so hard to convince you of something, you know the opposite is true. SJP is trying so hard to convince us that Cattrall was one with the problem, that she's unreasonable and money-hungry and difficult and a liar and rude. So you know the opposite is true.
Photos courtesy of Getty, cover courtesy of Us Weekly.