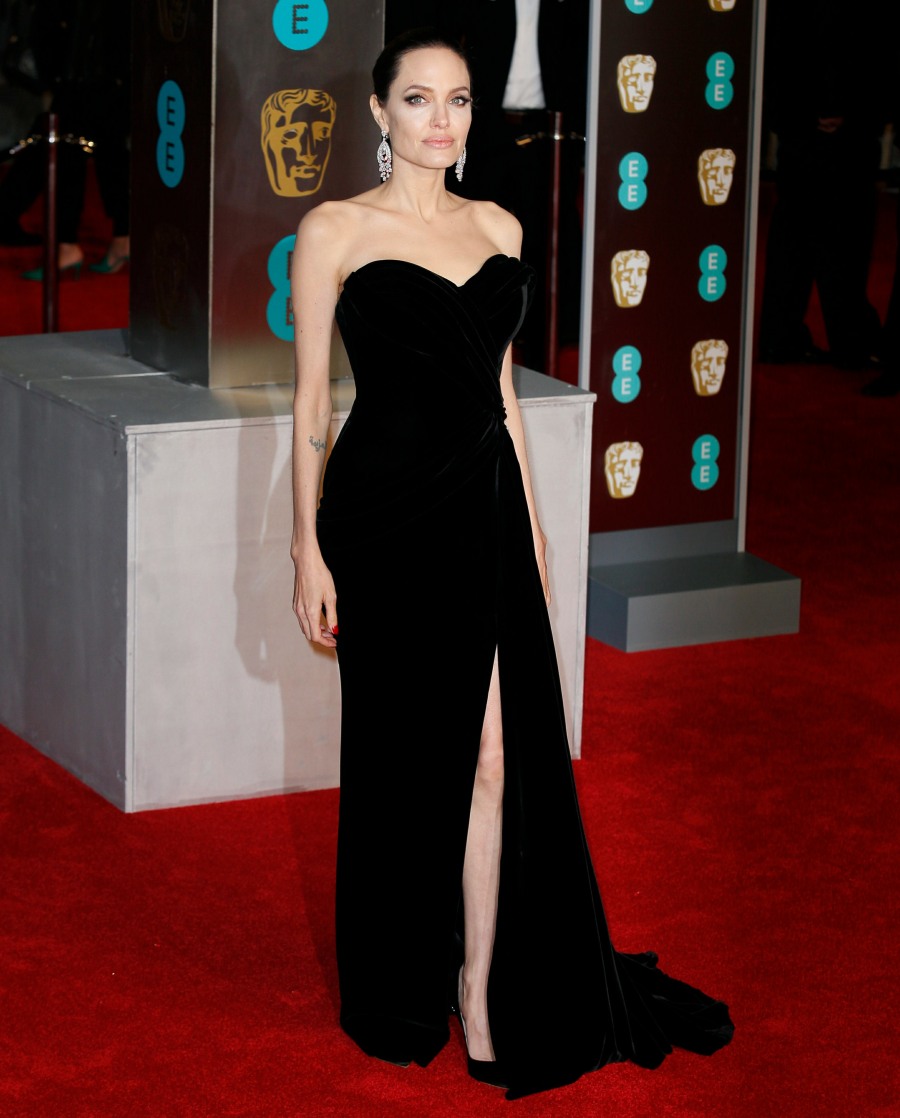 I idly wondered if we were going to see Angelina Jolie pop up for some kind of photo-op now that Jennifer Aniston is getting some headlines. It happened all the time, and it continues to happen all the time, like some kind of circle of Hell: Jennifer Aniston, Brad Pitt and Angelina Jolie can't help themselves. They always have to step on each other's newscycles. I actually forgot that Jolie was going to attend two events this weekend: the BAFTAs and the American Society of Cinematographers Awards over the weekend. For the ASCAs, it was announced a while back that Jolie would receive their Board of Governors Award, so… it was on her schedule long before JustJen's marriage went kaput. This is more of a happy accident than Uncool Bermuda Triangle Stratergy!
Let's start with her BAFTAs look, this black Ralph & Russo gown. Jolie has worn Ralph and Russo for years, long before Meghan Markle took the label next-level as far as "household name designers." While it's black and not crazy-notable, I like it because of the simple lines and the fact that it's done impeccably. If you're going to wear a simple black gown, make sure it's done beautifully. She wore black for Time's Up, just as she did at the Golden Globes. My one qualm about this look as a whole is that I think Jolie's hair is pulled too tight. I'm all for a simple, chic updo. But this is too severe. Love the statement earrings, the diamond ring and the red nails though. VAMP!!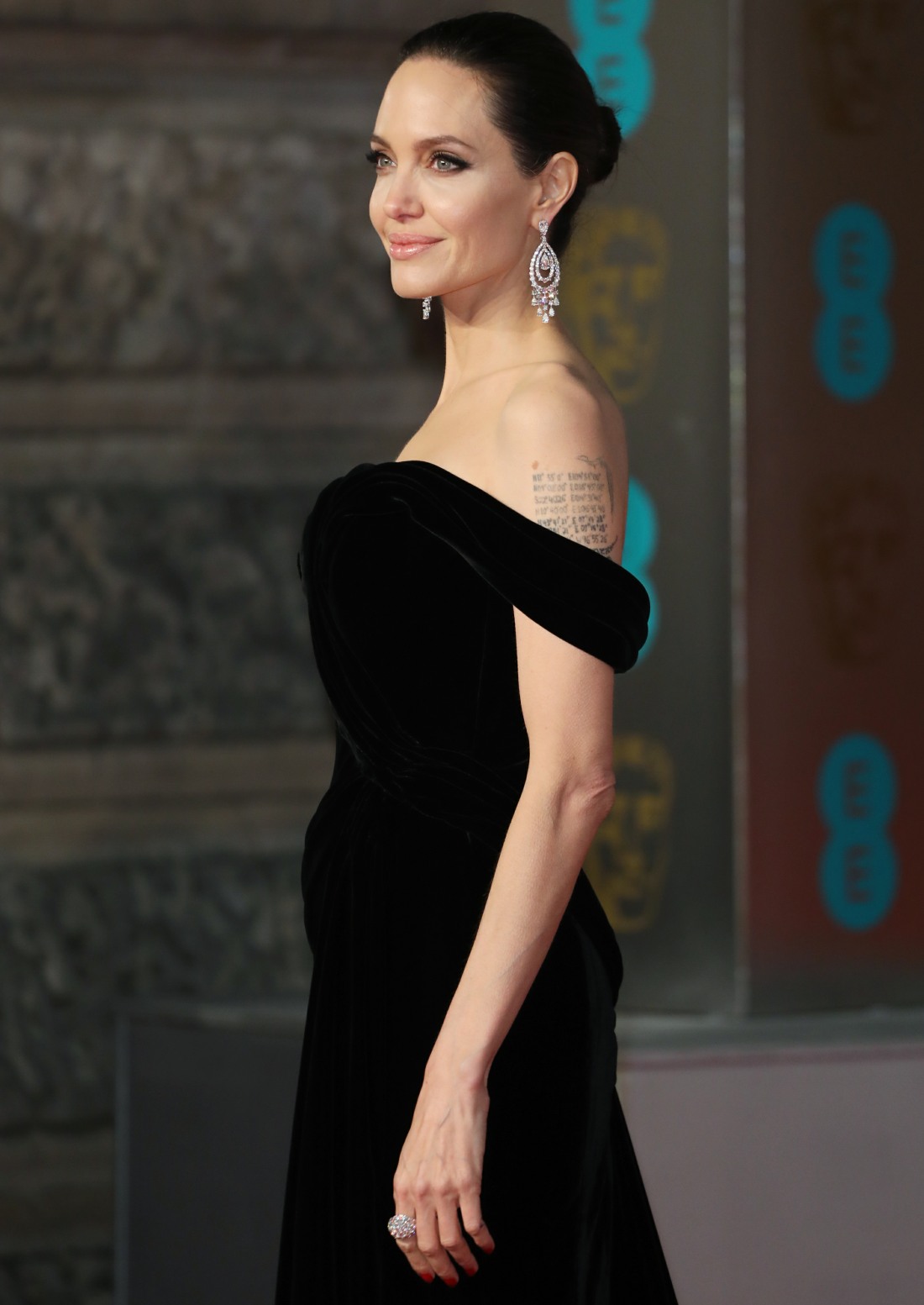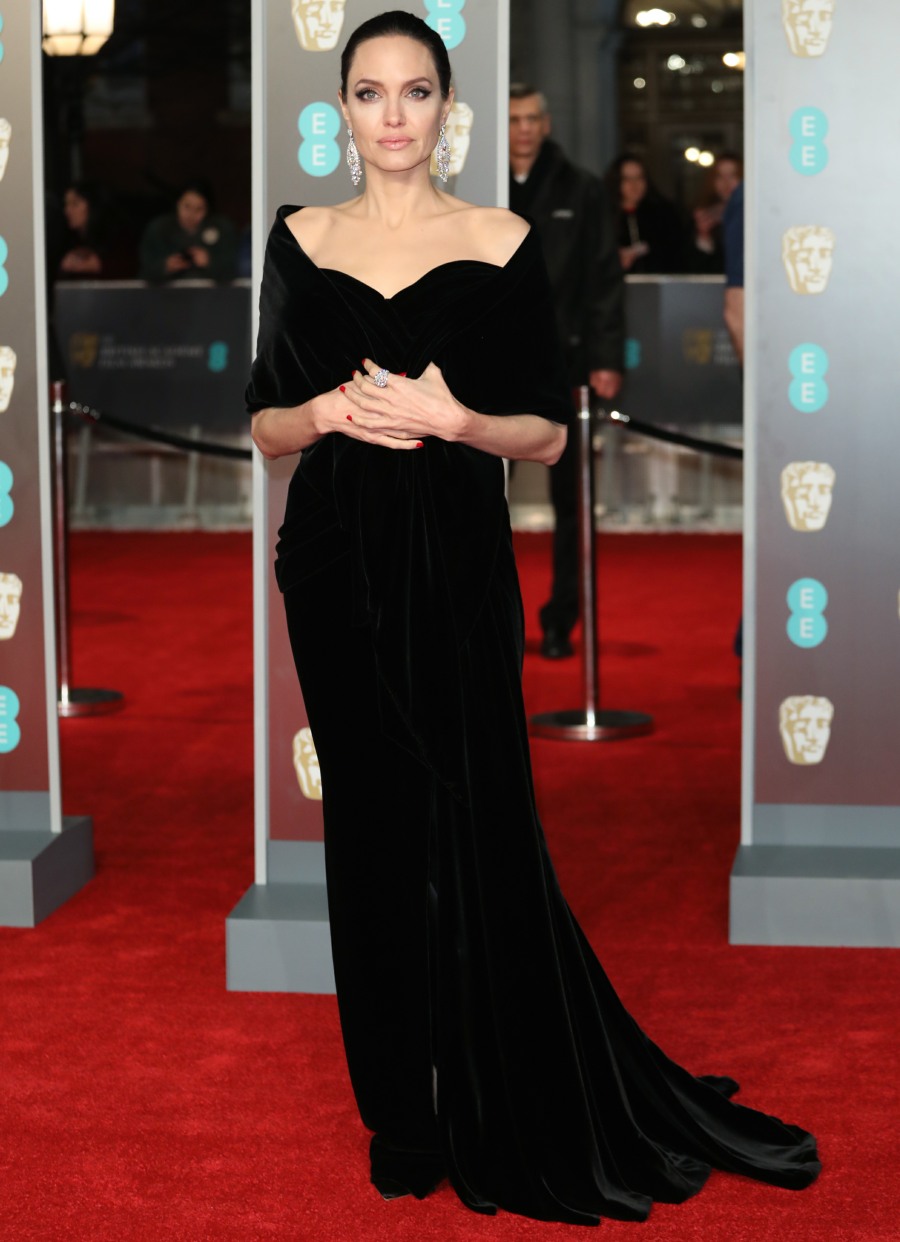 As for the ASCAs, Angelina attended the event, briefly walked the red carpet, and posed with Australian cinematographer Dean Semler, the Aussie cinematographer who has worked with Angelina as an actress (The Bone Collector, Maleficent) and as a director (In the Land of Blood and Honey). He seemed pleased to present the award to Angelina. Jolie didn't wear a bright color, because that's not her thing. If she's not wearing black or white, she's usually going for a neutral or a metallic. She wore this sort of beige-y/fleshy/sparkly Elie Saab gown which… it's not really a bad dress but it's not very good either. Post-divorce, my wish is that she hires a new stylist who rips all of the beige sack dresses from her hands and forces her to wear red, purple and blue all the time.
Photos courtesy of WENN, Getty.