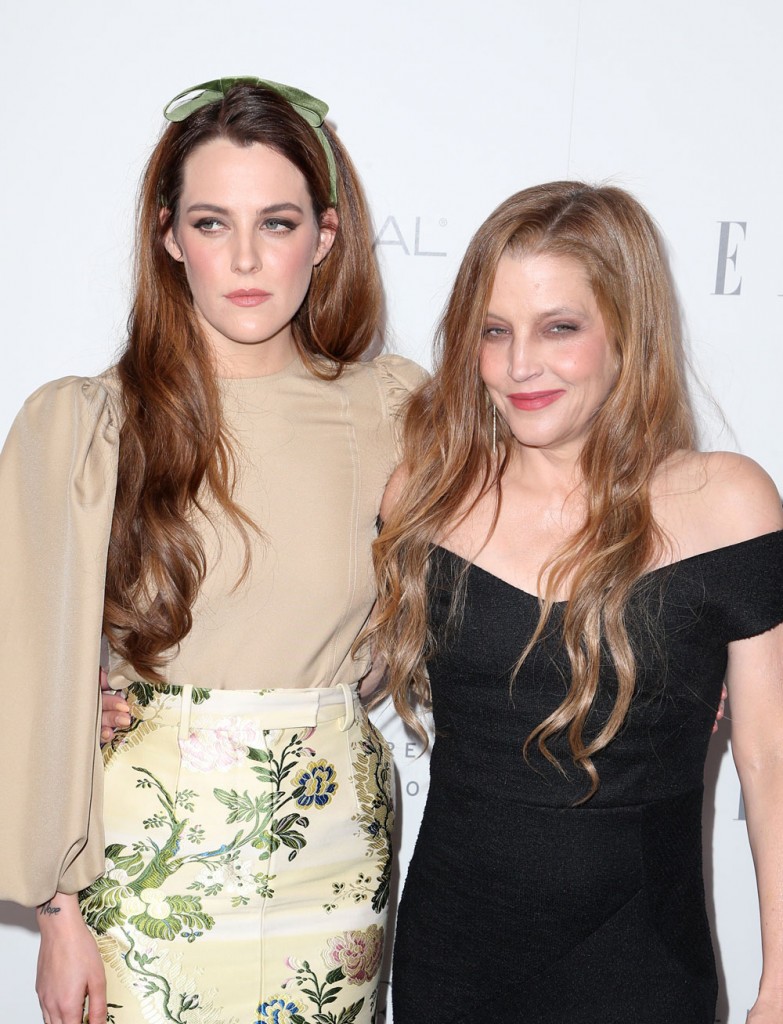 Whenever I hear about celebrities being in massive debt, I think of Suze Orman's story in the intro to one of her books (I can't remember which one) that when she was younger she was driving a Mercedes, decked out in a business suit and realized that she likely didn't have as much money as the waitress who had just served her. That's what debt means technically, but I still always think that 1. These people are living the life of luxury regardless of whether or not they're bankrupt and 2. They're able to make the money back quicker than the rest of use plebes. So while Lisa Marie Presley may be deeper in the hole than most of us can imagine, she's still living large. Lisa Marie revealed in new divorce documents that she's $16 million in debt, owing $10 million in back income taxes alone. She has a massive estate in England which she hasn't been able to sell and for which she's defaulted on the mortgage payments/ She is blaming the debt on her last business manager and is claiming he hid the details from her. On the surface this looks similar to Nicolas Cage's situation, although she probably didn't spend as wildly as he does. (Cage and Presley were incidentally married to for a couple of years, from 2002 to 2004.) Here's the news from People Magazine:
In court documents relating to Presley's ongoing divorce from Michael Lockwood, it was revealed that Elvis' daughter owes debts in a number of areas, including income taxes, a defaulted mortgage and credit card bills.

According to the documents, which were filed on Wednesday and obtained by PEOPLE Friday, Justin Stiegemeyer, Presley's current business manager who is responsible for "day-to-day finances and paying all of her bills," disclosed that the 50-year-old had first learned of her debt while her old business manager Provident Financial Management was handling her finances.

Stiegemeyer went on to claim that Presley "had not been provided with proper accountings or notices or been kept abreast of her finances" by her former business manager and that at the time they were fired, Presley had "total liquid assets of less than $20,000."

He also revealed that "by the end of 2015" there were "no additional funds" other than "the approximately $20,00 of liquid assets" available to Presley to use to pay her debts, adding that the majority of those debts "are related to unpaid income taxes" from 2012-2015, which "total over $10 million."

In the court documents, Stiegemeyer went on to claim that Presley owes almost $50K in credit card debt, although he added that she has been actively paying down the sum and has managed to pay off the debt on certain cards in full.

Stiegemeyer said that Presley paid off one of three "outstanding American Express cards each totaling approximately $300,000" in October 2017 and that she made the final payment on a "Citicard credit card with a balance due of $111,083" in January of this year.

He also said that Presley expects one of her remaining outstanding AmEx bills to be "paid in full in September 2018."

"Suffice it to say that in addition to having to pay off these debts, the payment issues with these cards has caused [Presley's] credit to be significantly impaired," Stiegemeyer added.

Her business manager went on to state that Presley hopes to begin making payments towards her income tax debt "once we have paid off the credit cards and various legal fee debts and obligations."

In addition to the income tax and credit card debt owed, the documents claim Presley has defaulted on the mortgage of a $6 million home she owns in the U.K., which she has been trying to sell for the past two years.

Presley states she currently receives a monthly salary of $4,361 from her father Elvis Presley's estate, as well as $100,000 in dividends and interest from investments.

In this latest development in the pair's ongoing divorce battle, Presley detailed her debts in response to a February 2017 court order requiring her to cover $50,000 of Lockwood's $450,000 in attorney fees.
It's possible she's not as broke as this and is using it as a negotiation tactic, but it does look bad. Is she like Tori Spelling in that she grew up wealthy with no limits and never had to think about her spending? How does she only make 4k a month from Elvis's estate? Did she just hire the wrong business manager? It's possible she's a victim of an unscrupulous person, but that's often what celebrities claim. Hopefully whatever is going on, her nine year-old twin daughters are safe and well taken care of. Last year we heard that they were staying with their grandmother, Lisa's mom Priscilla, after photos of child abuse and pornography were found on Lockwood's computer. Lisa's Instagram makes it look like the twins are back with her now. I'm surprised she's not divorced from Lockwood yet. She filed for divorce from him almost two years ago.
Event photos of Lisa Marie with Riley Keough, her oldest daughter, are from October, 2017. Credit: WENN. Other photos credit Getty and Instagram/Lisa Marie Presley