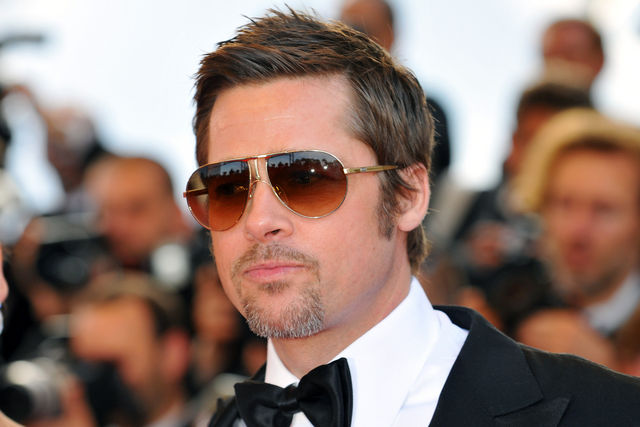 All of that anxiety about Brad Pitt and Angelina Jolie allegedly being split up for the summer was all for nothing. A few weeks ago it seemed that Brad was going to be spending the summer working on Moneyball with director Steven Soderbergh, filming in Arizona and California. Many tabloid reports had Angelina and kids wanting to spend the summer in France – even though People Magazine's cover story on the "rumors" had Angelina and the kids going with Brad wherever he was. It was just announced over the weekend that Brad might not even be filming Moneyball this summer though – the financing from Columbia Pictures just fell through. Apparently, the studio chief Amy Pascal thought the script was pretty horrible, and she was all "I don't care if Brad wants to make it, this blows. Screw you guys, I'm taking my money with me."
Looks like the children of the Jolie-Pitt household are getting one big Father's Day treat–some extra time with their dad now that his latest movie is in free-fall.

Brad Pitt was slated to begin production on Moneyball in Phoenix, Az. on Monday, with director Steven Soderbergh at the wheel.

Studio Columbia Picture and its honcho Amy Pascal, however, have ditched the project last minute due to major script problems, reports Variety.

The baseball themed flick, a usual Soderbergh hybrid of fictional vignettes and real-life interviews, now has a limited period to find a new home to finance its shooting and distribution.

Agents for star Pitt and director Soderbergh are said to be targeting Paramount and Warner Bros.
[From Radar]
I tend to think that the script really must have been terrible for the studio to pull the money from a film with Soderbergh and Pitt attached. The film was supposed to be about the true story of Billy Beane, manager of the Oakland A's, and his magical draft system. What's a little sketchy is that Soderbergh was the one to write the screenplay – so basically a studio chief just told an Oscar-winning director that he blows as a writer.
But could there be another reason for the financing falling through? A source told OK! Magazine that one of the factors might have been Brad's lack of Fight Club-esque muscles. OK!'s source is a real bitch about it too, saying "Maybe [Brad] should stop riding his motorcycle and take a spinning class." Oh, burn!
[Insiders] explain to OK! that this delay in production, which is reportedly due to last-minute conflicts over the script, may end up working in Brad's favor — psychologically and physically.

"The location shoot for the film would have kept Brad away from his family, who are all with Angelina Jolie while she films Salt on the east coast," says the insider. "But with Moneyball on hold, he won't be jetting back and forth or have to worry about being a long-distance dad. Brad is free to do what he wants until this situation with the film is resolved."

Some sources tell OK! that Brad already took advantage of the schedule change by flying east to join Angie and the kids for Father's Day weekend.

One thing Brad might want to do with his free time, says the insider, is hit the gym.

"Brad's character in Moneyball, Oakland A's manager Billy Beane, is in the kind of shape Brad used to be in, but anyone who's looked at photos of him recently can see this is not the ripped hottie from Fight Club," explains the insider. "Maybe he should stop riding his motorcycle and take a spinning class."
[From OK!]
As I said before, People claimed that Angelina and the kids were going with Brad, so OK! probably has that part of the story wrong. I think the tabloids were geared up for the multiple covers proclaiming the death of the relationship, and now they're a little disappointed that Brad is probably going to spend the summer puttering around the French chateau in his underwear, drinking beer and playing with the kids. Scandalous!
Brad Pitt is shown at Cannes on 5/20/09. Credit: WENN.com