On Sunday night, director Kevin Smith suffered a heart attack right after a stand up performance. He was rushed to hospital, where doctors discovered he had 100% blockage of the LAD artery, which is the main artery supplying the heart with blood. So many people were concerned about Kevin, including Chris Pratt, who tweeted that he was praying for him and had some idiots trolling him for it. Well Kevin wants us to know that he's doing well and also that he appreciates well wishes and prayers. He recorded a Facebook live from the hospital, where he described his heart attack and how he's doing now. It was open, heartfelt and funny as Kevin discussed his brush with death. He gushed about the hospital and his doctor, who he called the Batman of cardiologists. Here's some of what he said and you can watch the video above.
On his symptoms
I started feeling nauseous and then I tried to lay down on the floor… I threw up. I was under the impression that I'd gotten some bad milk.

He never realized he was having a heart attack
I started feeling pressure on my chest. Honestly I was never in pain. I just couldn't catch my breath. Because of that, and because I'm 47 I didn't piece together heart attack… even though my father died at 67 of a massive heart attack [and] even though my mother has heart problems and she has two stents. I never in a million years thought it was heart attack. I thought I was just mucusy, I'd smoked like two joints earlier in the day.

He didn't want to let them see his dick
Here's me in the emergency room literally dying and this was my biggest concern. Guy comes in he goes 'I'm going to have to shave your groin.'

I said 'I don't want to do that.' My biggest fear in life, death number one. Number two, people seeing my dick. Never wanted to go to a hospital or a doctor for that reason. Obviously small.

On his operation
They went in there and went up my groin. They found the LAD it was 100% blocked, put a stent there. Bam here I am. Crazy. Dude literally saved my life.

He explained that it's because of his genetics and earlier lifestyle
He told the doctor 'I just lost like 85 pounds and I walk everyday.'
[The doctor told him] 'This started a long time ago. All that plaque in that artery.' Plus because of my genetics I've got a real thin artery there.

I lost like 85, 90 pounds since [I was too fat to fly]. I went through lifestyle changes. Some shit you can't beat because it's genetic.

On all the well wishes
It was kind of like reading your eulogy. I saw what the reaction will be when I die and it was very sweet.

On Chris Pratt praying for him
Poor Chris Pratt, one of my favorite actors on the planet, put up a nice tweet. Apparently some people were like 'f-ck your prayers' and attacked him and shit. Number one, thanks to Chris Pratt, how sweet was that? Number two, please don't fight over stuff like that, it's a waste of time. This is like good intention.
Kevin said that he's feeling much better now, which his doctor told him was likely because his artery was blocked for so long and he's finally getting blood to his heart again. He did think he was going to die at one point and he was ok with that. He got choked up as he described his thoughts at that moment. "I thought about my parents and how they raised me and my brother and my sister and my friends and my wife and my kid and this weird wonderful career that I've had. I was content. I didn't want to die but I was like 'Well, if the ferryman comes tonight, I got to pay him. What a ride it's been.'" He said he felt calm in that moment and that he used to be worried he would be afraid of dying, but he was ready.
That touched me so much, especially when he said he felt like he was Babe! He said "That'll do pig, that'll do." I'm so glad Kevin didn't die and I hope more people watch this video. His story is moving, and he will save a few lives by describing his symptoms.
Also, he said a Jay and Silent Bob reboot is coming!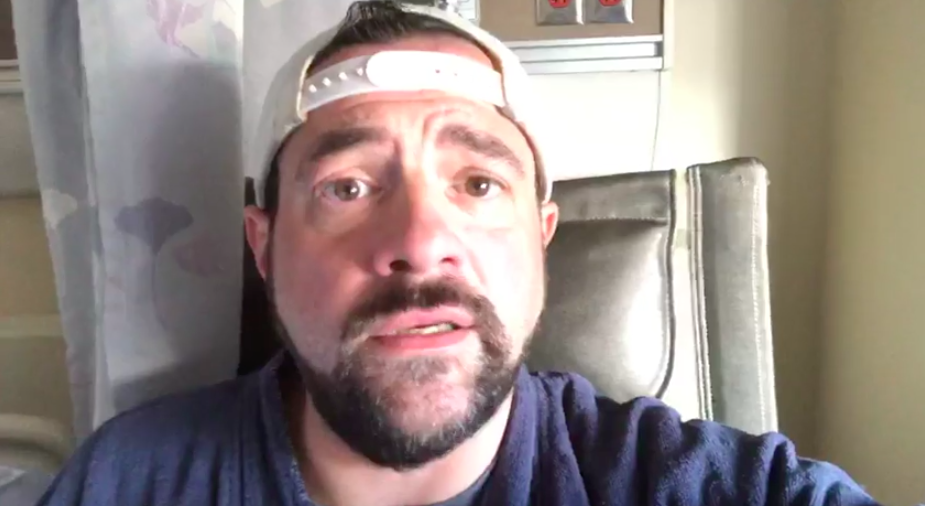 photos credit: Getty and Facebook/Kein