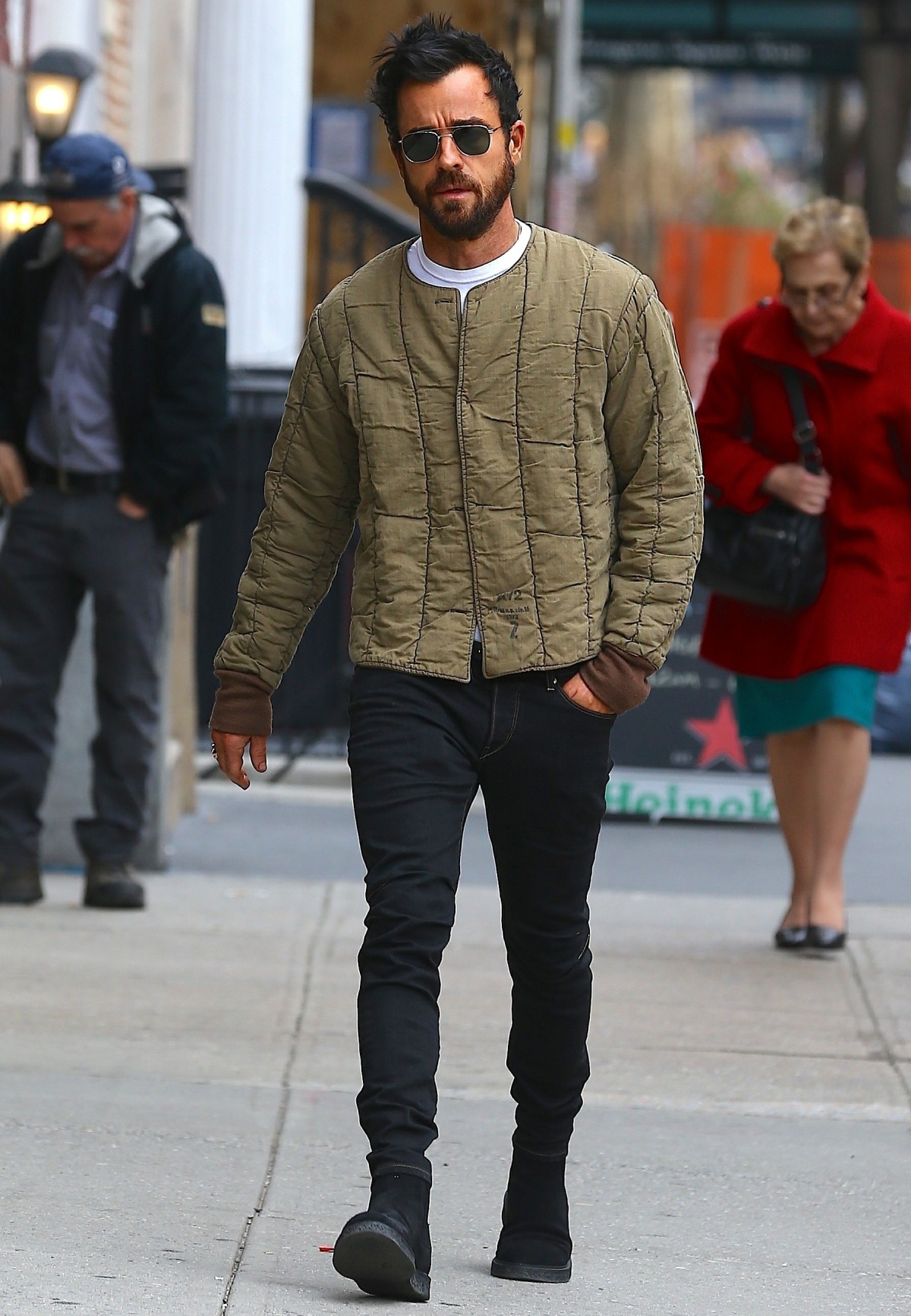 Here are some photos of Justin Theroux, looking edgy in a quilted jacket that probably costs a grand or more. The photo agency says he was hiding his ring finger, but other outlets got some shots of his hands and discovered that derp, of course he's not wearing his wedding ring. The jig is up, and the jig has been up for months. JustJen is over. Their love is dead. Anyway, Star Magazine has a funny story about Edgy Justin and His Edginess. The true love story, as it turns out, was always Justin + Arty Hipsterness. According to Star, even vacationing in Cabo with Jennifer was like "torture." Some highlights from Star's print edition:
Justin had no desire to keep up pretenses by spending Jen's 49th birthday with her in LA. In fact, reveals an insider, he couldn't wait to be done with his wife.

"Justin has been trying for years to fit into the West Coast scene that Jen loved," says a source, "but it was always like trying to shove a square peg into a round hole… he's totally done pretending to be someone he's not and honestly feels relieved."

Before he met Jennifer, he had been living in Manhattan for more than a decade, and he had zero plans to leave the city OR tie the knot. "He was living a low-key life that suited him and no one was pressuring him to change that."

When he became smitten with Jen, he tried to become the man she wanted him to be. "This is a guy with an artsy group of non-industry friends – writers, tattoo artists, designers – who thrives off city energy and wears head-to-toe black. He's never wanted A-list fame or to spend every holiday in Cabo." His frequent trips to Jen's favorite Mexican getaway, adds the source, "were like torture." Jen "insisted" on run-of-the-mill beach vacations despite being worth millions, and Justin never seemed to enjoy the beach time. "He's not the guy who wants to sit on hot sand and tan. That's hardly his idea of vacation."

Justin never really felt at home in Jennifer's mansion, and he seemed skittish about tying the knot. The source says, "He had healthy relationships without ever getting married or feeling the need to have kids. Then suddenly he's dating a woman who constantly gets asked about marriage and motherhood, and he felt pressure from all sides."

By the time they got married – three years after they got engaged – "Justin always felt like he was the one doing all the compromising, and realized that he was creating a future that he actually didn't want. Now, finally, he's taking some time for himself, reconnecting with old friends and getting back to the way things were."
[From Star Magazine, print edition]
Point: Jennifer Aniston is super-boring and vanilla and all she does is eat chicken salads and go to Cabo to lay by the pool and get hammered. Fair enough, I believe you, she's boring.
Counterpoint: Justin, you knew all of that and you still married her!
Point: Jennifer actively encouraged Justin to become more Hollywood, encouraged him to change agencies over to CAA (her agency) and after all of that, he figured out that it really wasn't what he wanted. Fair enough.
Counterpoint: Through her contacts, she helped his career significantly and he will likely still have a significant career boost as the ex Mr. Aniston. And he was a grown f–king man when they met and he decided to "change" for her. He's allowed to figure out that he didn't actually want to change, of course, but don't act like Aniston forced him to do any of that. He WANTED to shave the hipster beard and wear expensive Rolexes and be her Oscar date and star on an HBO show.
Point: Justin is very fit.
Counterpoint: I still can't get over his weird proportions though. The skinny jeans just emphasize how off-balance he is. He has tiny little legs, and I'm pretty sure he's wearing lifts in these photos.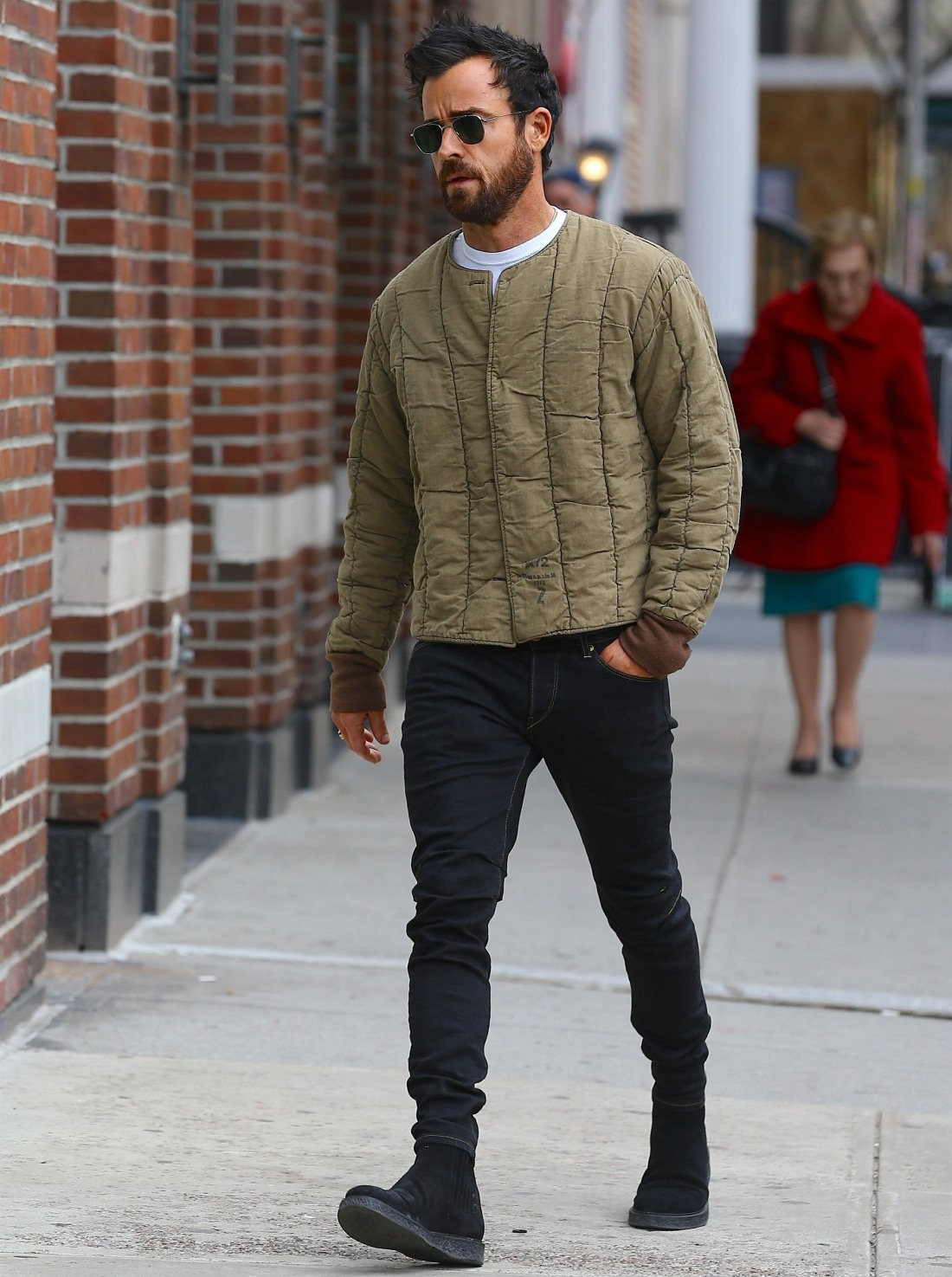 Photos courtesy of Backgrid.