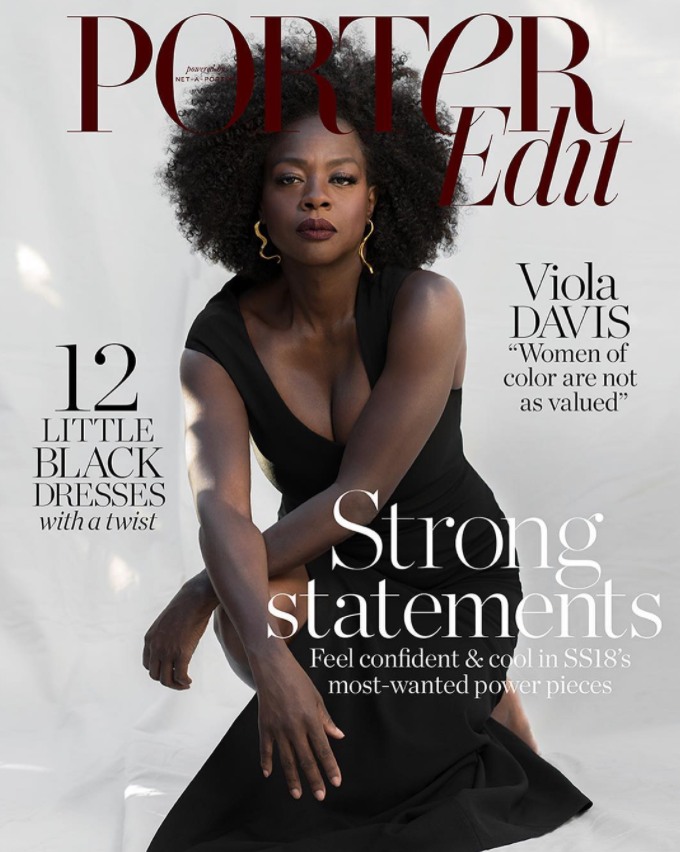 Viola Davis is The One. Whenever I get down on Hollywood a little bit, or find people like Jennifer Lawrence exhausting, I just think about Viola Davis and I feel a little bit better. Viola is smart, she's thoughtful, she's passionate and she has, at this point, zero time for a–holes and douchebags. Viola covers the latest issue of Porter online (formerly The Edit?) and the entire photoshoot is gorgeous – you can see the photos here. Around the time of The Help, Viola stopped wearing wigs to every event, and started being photographed with her natural hair. It became a big deal, because Viola made it a big deal and because she's awesome. Anyway, this interview is classic Viola – she talks about intersectionality, the lack of imagination in Hollywood, #MeToo, Time's Up and a lot more. Some highlights:
The role of Annalise Keating: She knows these roles don't come along all that often, "especially for a woman who looks like me. I'm 52 and darker than a paper bag. Women who look like me are relegated to the back of the bus, auditioning for crackheads and mammas and the person with a hand on her hip who is always described as 'sassy' or 'soulful'. I've had a 30-year career and I have rarely gotten roles that are fleshed out, even a little bit. I mean, you wouldn't think [these characters] have a vagina. Annalise Keating has changed the game. I don't even care if she doesn't make sense. I love that she's unrestricted, that every week I actually have to fight [showrunner] Peter Nowalk not to have another love scene. When does that ever happen?"

Doing sex scenes at her age: "It costs me something because very rarely in my career – and in my life – have I been allowed to explore that part of myself, to be given permission to know that is an aspect of my humanity, that I desire and am desired. I always felt in playing sexuality you have to look a certain way, to be a certain size, to walk a certain way. Until I realized that what makes people lean in is when they see themselves. There's no way I am going to believe that all women who are sexualized are size zero or two, all have straight hair, all look like sex kittens every time they go to bed and want sex from their man, all are heterosexual. I am mirroring women. I always say it is not my job to be sexy, it's my job to be sexual. That's the difference."

The Oscar nominations for black artists after the #OscarsSoWhite campaign: "Here's the thing: it's not about the Oscars, it's about how we're included in every aspect of the movie-making business. When you look at a role as a director or producer that is not ethnically specific, can you consider an actor of color, to invest in that talent? The problem is, if it's not an urban or civil rights drama, they don't see you in the story. People need to understand that they shouldn't see people of color one way. We don't always have to be slaves or in the 'hood or fighting the KKK. I could be in a romantic comedy. I could be in Gone Girl. Or Wild. I could be seen the same way as Nicole Kidman, Meryl Streep, Julianne Moore. I actually came from the same sort of background; I went to Juilliard, I've done Broadway. I've worked with the Steven Spielbergs. I should be seen the same way. That's what I think is missing: imagination."

Pay equality: "If Caucasian women are getting 50% of what men are getting paid, we're not even getting a quarter of what white women are getting paid. We don't even get the magazine covers white women get. And that is not speaking in a way that is angry. They deserve everything they get paid. Nicole Kidman deserves it. Reese Witherspoon deserves it. Meryl Streep, Julianne Moore, Frances McDormand… But guess what – I deserve it too. So does Octavia Spencer, Taraji P. Henson, Halle Berry. We've put the work in too. I don't want to tell anyone what to do but I think Jessica Chastain did a really boss move with Octavia Spencer [on their latest, as yet untitled project] by saying Octavia's got to be paid the same as her. She actually upped Octavia's quote for that movie because she took a salary cut. I think Caucasian women have to stand in solidarity with us. And they have to understand we are not in the same boat. Even a lot of female-driven events in Hollywood, like power luncheons – which I've been to, and are awesome by the way – there will be 3,000 women in that room and five of them are women of color. And it's by invite! So, you're not even inviting us."

Whether #MeToo would have gained traction if black women had come out first: "No. No. Recy Taylor came forward in 1944 when she was gang raped by six men in Alabama. Tarana Burke was the founder of the #MeToo movement in 2006. There are plenty of black women who have come forward. I don't think people feel we deserve the same empathy. Or investment. We are not as valued. If the story wasn't coming out of Hollywood, and the predator wasn't someone like [Harvey] Weinstein, I don't think it would have gotten the spotlight [either]."
She says like a million other interesting quotes. She's one of those women who I could listen to or read about for days, weeks, months. Like, she's the best professor you could ever have – I want to sit there and listen to her lectures on justice and civil rights and intersectional feminism. Viola stays so clear-eyed throughout everything too – she's not "slamming" or "shading" anyone. She believes Nicole Kidman and Reese Witherspoon should be paid, should be respected, should get to tell their stories. But she just wants to remind everyone that Reese and Nicole (and a slew of other white men and women) could be and should be doing a lot more.
Cover courtesy of Porter, additional photo courtesy of Getty.