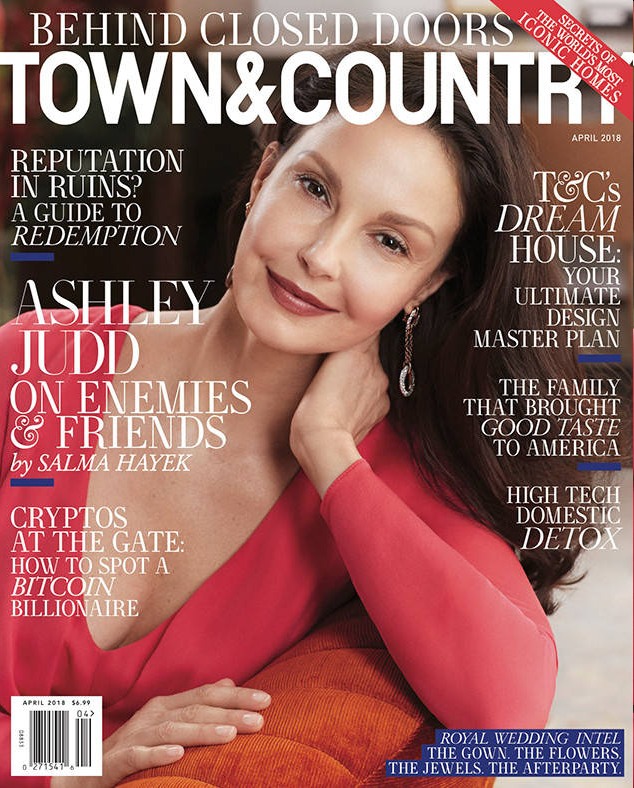 Ashley Judd was one of the first women to come out and name Harvey Weinstein as a sexual predator on the record. She had flirted with doing it for several years, telling her story but not naming names, but then everything came to a head when Ronan Farrow and the New York Times got on the story last year. Ashley was happy to take some of the first hits, and I truly believe that by coming forward, she gave many other women the space to speak out as well. Ashley covers the new issue of Town and Country Magazine, and the interview – such as it is – is more of a conversation between Ashley and her BFF Salma Hayek. It's pretty interesting too – they adore each other and they've known each other for decades, and you can really feel their history together. You can read the full piece here, and here are some of the Ashley-specific quotes:
Living in Tennessee, not Hollywood: "I have bifurcated my life by choosing to live in Tennessee, so in many ways I've been isolated from the community in Hollywood. I have a very sweet, stable, and what one might call normal life there. I meditate, read, work, watch Kentucky basketball, and spend time with my friends and with my folks. I host a picnic every Sunday for my biological and my chosen families; I host a lot of dance parties. I get over to Great Smoky Mountains National Park as often as I can; I was there camping alone when the New York Times article came out [last October]. I didn't know to what kind of world I would be returning. I was maybe going to be ostracized for it, but I was at peace with that.

Telling her Weinstein story: "I didn't feel afraid. But remember, I've told this story from literally the moment I left that hotel room with Harvey. My dad was with me that day, and he could tell by the look on my face, to use his words, that something devastating had happened, and I told him. And both the producer and director of Kiss the Girls said recently that when I went to the set that night, I told them what had happened. I've been telling this story—but the seismic shift is that now everyone is willing to hear it. The tweak was naming Harvey, and I felt comfortable doing that.

Sisterhood among actresses: "Now that I'm more connected to this community again, I feel a shift and a sense of real discovery about female alliances. My favorite conversation recently was with Joan Collins—what a gentle and lovely person!—who immediately started telling me about the sexual harassment she experienced when she was 17 years old on her first set. And I feel really loved and appreciated right now. In these Time's Up meetings, when I speak I notice that everyone really pays very close attention to what I say, so that's a really sweet experience for me to have, like I have earned my stripes.

She hopes she'll got more work: "I also hope to have more opportunities now; it would feel exceedingly nice at this particular juncture to be offered more work. I'm going to be doing a show on Broadway this fall. I was offered a romantic comedy. And that is the greatest amends that Hollywood can make to me for having maliciously blacklisted me for something that was patently false and promulgated by a sexual predator and alleged rapist. [Editor's note: Weinstein reportedly spread rumors throughout Hollywood that Judd was impossible to work with as a result of her rebuffing his advances.]

Whether she forgives Weinstein: "Well, forgiveness is no favor. I do it for myself, and so I've already forgiven—it's the easier way to live. I have to forgive myself for being young and vulnerable, for being in the room… But forgiveness, first of all, implies that I've judged someone, and that's not a really healthy and appropriate place for me to be. I can certainly evaluate, but I guess the distinction I'm making is that condemnation is really not an energy that I want to keep inside of myself. Forgiveness just cuts those things—I can prosecute and forgive at the same time.
I'm sure I'm not enlightened enough to understand her word-parsing on forgiveness and judgment. I get that she wants to be in a healthy frame of mind and if she feels like "let go and let God" towards Harvey Weinstein, so be it and that's her choice. Other women and men can feel free to make other choices, other judgments, other condemnations and prosecutions. I will carry my anger, my rage, my judgment, my hatred for sexual predators for many years to come. Maybe that's not the way to live and maybe that's not the healthiest choice either. But I can't bring myself to feel any other way.
Cover courtesy of Town & Country, additional photo courtesy of Getty.