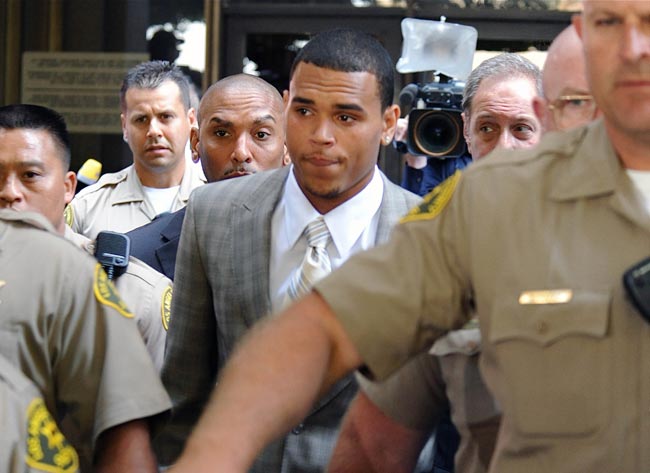 Chris Brown entered a guilty plea for felony assault yesterday and received five years probation for the brutal beating of his then-girlfriend, singer Rihanna, in February. He was also ordered to complete 180 days of community service in his home state of Virginia and to undergo domestic violence counseling every week for nearly a year. Although Rihanna was in court in anticipation of being called to testify, the plea deal ensured that she was not called to the stand. The judge also issued an order of protection for Rihanna stipulating that Brown stay 50 yards away from her at all times, except at music events, when the distance was limited to 10 yards.
A repentant Chris Brown accepted a plea deal Monday from California prosecutors, avoiding jail time for beating up his ex-girlfriend Rihanna.

Brown, 20, fessed up to one count of felony assault stemming from the February attack…

"Guilty," Brown said in a soft voice, standing in the packed courtroom with hands clasped behind his back.

[Brown] is expected to receive five years' probation and be ordered to complete 180 days, or more than 1,400 hours, of community labor when sentenced Aug. 5. He must also undergo 52 weeks of domestic violence counseling.

Asked by Judge Patricia Schnegg if he understood the plea-bargain, Brown said, "Yes, ma'am."

Wearing a gray plaid suit, a white shirt and a striped cream tie, Brown entered his plea as his mother, Joyce Hawkins, somberly watched from the courtroom gallery.

"I think it's commendable you took responsibility for your conduct," Schnegg told [Brown]

Schnegg encouraged Brown to take his counseling sessions seriously, saying, "I hope [it] will have some meaning for you."

The plea deal allowed Rihanna, 21, to avoid testifying at the hearing, initially intended to determine if there was enough evidence to send Brown to trial.

The "Umbrella" singer made a brief appearance in the courtroom after Brown left. Schnegg told her that she was issuing a protection order barring Brown from coming closer than 50 yards, except at music industry
events, when he must stay 10 yards away from her.

"Thank you, Your Honor," said Rihanna, wearing a short black dress and a pearl necklace.

Prosecutors informed [Rihanna] of the deal shortly before the hearing.

"We discussed the plea with the victim, and she concurred," said Sandi Gibbons, spokeswoman for the Los Angeles district attorney's office.

Brown started beating Rihanna after they left a pre-Grammy gala Feb. 8 in a rented Lamborghini.

"He [Brown] punched her in the left eye with his right hand," a police affidavit stated and "continued to punch her in the face with his right hand while steering the vehicle with his left hand."
[From The NY Daily News]
We haven't heard any kind of mea culpa or sincere apology from Brown and he has done absolutely nothing to show that he's repentant at all for his severe attack on Rihanna. All he did was issue a kind of passive statement that he was "sorry… for what transpired" and record a video in which he called out people for being haters and claimed "I ain't a monster." Brown didn't do a single act of public contrition, like visiting sick kids in the hospital or recording a public service message – about anything, not necessarily domestic violence. I hope his community service is backbreaking, and I hope he gets arrogant and entitled as expected, doesn't complete his probation requirements and gets sent to jail.
Brown is shown outside of court yesterday. Credit: Horizon Pix/Fame Pictures. Court sketches thanks to MavrixOnline.