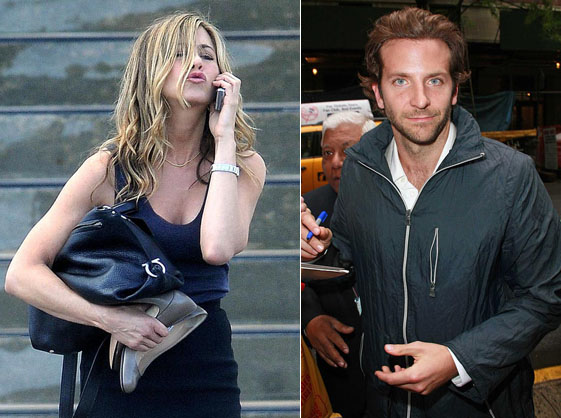 Jennifer Aniston is thought to be dating tousled hair up-and-coming actor Bradley Cooper. They were spotted out at a romantic dinner in New York last week. People Magazine confirmed their date with a piece about how they were both dog lovers and should get along well. In May, Cooper denied dating his co-star Aniston, saying he'd only met her three times but that his mom enjoyed reading about his fictional romance in the tabloids. The two were first linked way back in August, 2007 before they started shooting He's Just Not That Into You. Stories in the celebrity press make it seem like things are moving along nicely for them after they got acquainted doing press for their film.
Many of you were skeptical of Cooper and Aniston's supposed new romance and said it had the whiff of a publicity stunt. Now People Magazine has a strange piece on Cooper that makes him out to be an all-around great catch. It reads like something his manager would put out to raise his profile. He cooks, speaks French, and is a college graduate who loves his adopted dogs. What a man:
The hot star of this summer's breakout comedy The Hangover is catching the eye of just about everyone in Hollywood, including Jennifer Aniston, who went on a date with actor on June 18. But there's more to Cooper than just good looks and a sense of humor. Here are five things you need to know about the rising star:

1. He likes a down-to-earth woman: The actor recently took Jennifer Aniston on a late-night date, has been previously linked to Cameron Diaz and was briefly married to actress Jennifer Esposito. As for what quality he looks for in a partner, he has said: "Give me an authentic woman, and I'm happy."

2. He has two rescue dogs: "I have two beautiful dogs that I cherish. Samson is a 14-year-old German short hair pointer and Charlotte is a 6 or 7 year-old Chow Retriever mix. They are both rescue dogs and they are the best … I'm sort of a hybrid of both my dogs. Samson is stoic and makes me earn it and Charlotte loves me undyingly. They're my kids."

3. He graduated from Georgetown University: "I loved the college experience of studying. I was very grateful to be there … I applied out of high school and I didn't get in, and then I applied as a transfer and got in," says the actor who graduated from the school's honors English program in 1997. "I felt honored to be there, so I worked my ass off. The whole time I was there I thought I wasn't smart enough so I felt like I had to."

4. He is fluent in French: "When I was a kid, I remember watching Chariots of Fire. And French is the official language of the Olympics. So there's a scene where a guy was speaking French and I thought, 'Man, that sounds so cool. I want to learn French.' "

5. He's a master in the kitchen: "I seriously love to cook … My grandmother was an amazing cook. As a kid I used to help her make handmade pasta, Cavatelli and Ravioli. It was one of my favorite things to do. I love the idea of making whatever is in the fridge into something."
[From People]
What the hell is that? Maybe People runs these type of stories in their magazine with the "sexiest men alive" issues, but this is over the top. I was willing to believe that Aniston was legitimately moving on after her relationship with John Mayer predictably crashed and burned, but it looks like someone's publicist got a little too greedy. Way to be obvious – first confirm the date to People Magazine and then run a fluff piece about what a great guy your client is. If this is a real romance for these two, and it's doubtful, it looks like Cooper and his people are milking the situation for as much PR as possible. They way it's going down makes it all look staged, though. I usually don't think that way but it's hard to come to any other conclusion when you read crap like this. The question is – is Aniston complicit in this or is she getting duped?
Why would People run of profile of Bradley Cooper like this? I can't see them calling up his manager and asking a bunch of personal questions about him to reach some rosy conclusion. The two authors credited with the article, Lisa Ingrassia and Paul Chi, have plenty of other stories on People's website that seem like regular celebrity coverage. It's of course possible that there's a natural interest in Cooper since he's been connected with Aniston but instinct tells me there's more to it than that. This is just too strange.
Jennifer Aniston is shown shooting her film Bounty Hunter in Atlantic City yesterday. Credit: Pacific Coast News. Bradley Cooper is shown on 6/2, 6/4 and 6/15/09. Credit: Juan Rico/Fame Pictures