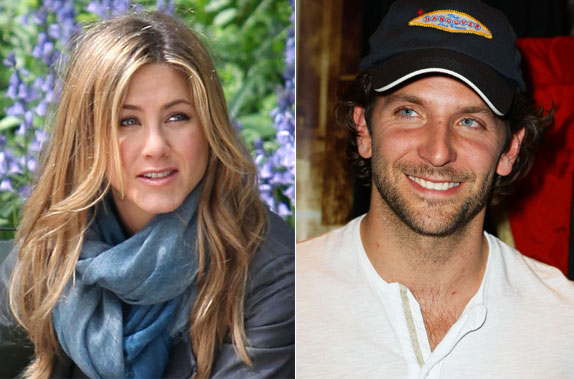 Actor Bradley Cooper says he's not dating Jennifer Aniston, but hints that his mom is more than happy to read about his fictional romance in the tabloids. As for where the rumors started, he says "I've met her three times in my life." These two were first linked back in August, 2007, when they were seen having dinner together before filming started for He's Just Not That Into You. Despite starring in separate vignettes in the same movie, they haven't had many run-ins, Cooper maintains, and they're definitely not dating. They were also supposedly seen "flirting" after the premiere for Aniston's movie that opened this weekend, Management, but maybe they were just exchanging pleasantries like people usually do when they know each other casually:
Bradley Cooper has the approval of his family for his rumored romance with Jennifer Aniston. The only problem: he and Jennifer Aniston aren't dating.

Despite reports this week linking him to the Friends star, the rumors are far from true, says Cooper, 34.

"I met her 3 times in my life," Cooper, soon to star in The Hangover with Heather Graham, told PEOPLE in Las Vegas Friday at a charity poker tournament at Caesars Palace. "I'm very flattered."

"My mom loves it, but unfortunately it's not true," says Cooper, who split with actress Jennifer Esposito after four months of marriage in 2007.
[From People]
I was kind of hoping Aniston had a new boyfriend that keeps quiet about their relationship and is happy just to spend time with her without broadcasting it to the world. Cooper is adamant that they're not together, though, which almost rules out the possibility that they're seeing each other on the sly. Whoever Aniston ends up with, or if she ends up happily single, we're rooting for her.
Aniston's quirky romcom Management was out in limited release this weekend, where it ended up 16th at the box office, taking in $1,783 per theater, which is low for an opening weekend. It's receiving mixed reviews with only a 53% aggregate critics rating on Rotten Tomatoes. Some critics say that it tries to makes stalking seem romantic while other say it's cute and endearing. Here's the trailer. It looks bad to me.
Bradley Cooper is shown on 5/15/09. Jennifer Aniston is shown on the NY set of The Baster on 5/14/09. Credit: WENN.com