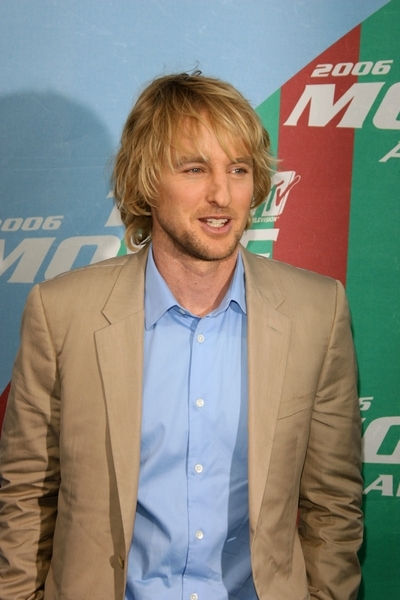 Owen Wilson is improving and getting better everyday, according to his friend, director Wes Anderson. Anderson was at the Venice Film Festival this week promoting his latest film with Wilson, "The Darjeeling Limited." The two go way back – Wilson's been in a number of Anderson's films, and they were roommates in college. Wilson wasn't able to attend the festival, as he's been at Cedars-Sinai Medical Center the last week after his suicide attempt. He's back home now and being watched under 24/7 care. Anderson says that Wilson's spirits have lifted enough to crack some jokes and make people laugh – and any progress is good.
"Just one week after being admitted to the hospital following an apparent suicide attempt, Owen Wilson is back home and "doing very well," according to friends.

"While the actor has canceled all immediate public appearances, including what was expected to be a high-profile screening of The Darjeeling Limited at the Venice Film Festival this week, his director on the project, Wes Anderson, did show up to the festival and spoke publicly about his collaborator and longtime friend—the two were college roommates—for the first time since Wilson's hospitalization.

"'We all miss having him here very much. Obviously, he has been through a lot this week,' Anderson told reporters on the Lido Monday. 'I can tell you he has been doing very well—he has been making us laugh.

"'When he's ready, he's going to speak for himself much better than any of us could. He has a very good way with words.'"
[From E! News]
Owen Wilson seems to have a pretty tight-knit family, and as long as he has good people around him that will love him and not judge him, then he's got a good support system and that can make all the difference in his recovery. I hope he conquers whatever sadness is in his heart.
In related news, "The Darjeeling Limited" isn't getting the greatest reviews. A lot of viewers are saying that it comes across as trite or hackneyed – though to be fair, appreciating Wes Anderson's movies requires a very specific kind of humor, so it's hard to say if the reviewers just don't get that, or if the movie really is bad. After previewing the movie at the Venice Film Festival, Reuters called it a "tortuous train ride" and noted "The film is overly pleased with itself, and the characters are way too self-absorbed. There's never a man-eating tiger around when you need one." I think it'll probably be like most of Wes Anderson's movies – you either get it or you don't, and you love it or you hate it, and there's no in between. Hopefully Owen's not reading the reviews and just focusing on getting better.
Picture note by JayBird: Here's Owen Wilson at the 2006 MTV Movie Awards. Images thanks to PR Photos.