It's rare to see Sarah Paulson and Holland Taylor on the red carpet together. The last time we saw them was at the Time 100 Awards in April last year. The two made up for lost time at the post-Oscar Vanity Fair party on Sunday night. Holland looked effortlessly chic in a black pantsuit by Christian Siriano. She paired her suit with black heels with a jewel embellishment on the vamp and a black clutch.Sarah wore a vibrant, canary yellow Marc Jacobs gown, boldly adding black opera length gloves to complete the look. The gloves and the black clutch she carries were a perfect complement to Holland's all-black ensemble. I love their looks. The hue of the dress, paired with bright red lipstick made Sarah look absolutely radiant. I adore these two together, and the fact that they hung out with Joan Collins at the party made me love them even more (and I would have killed to be at that table).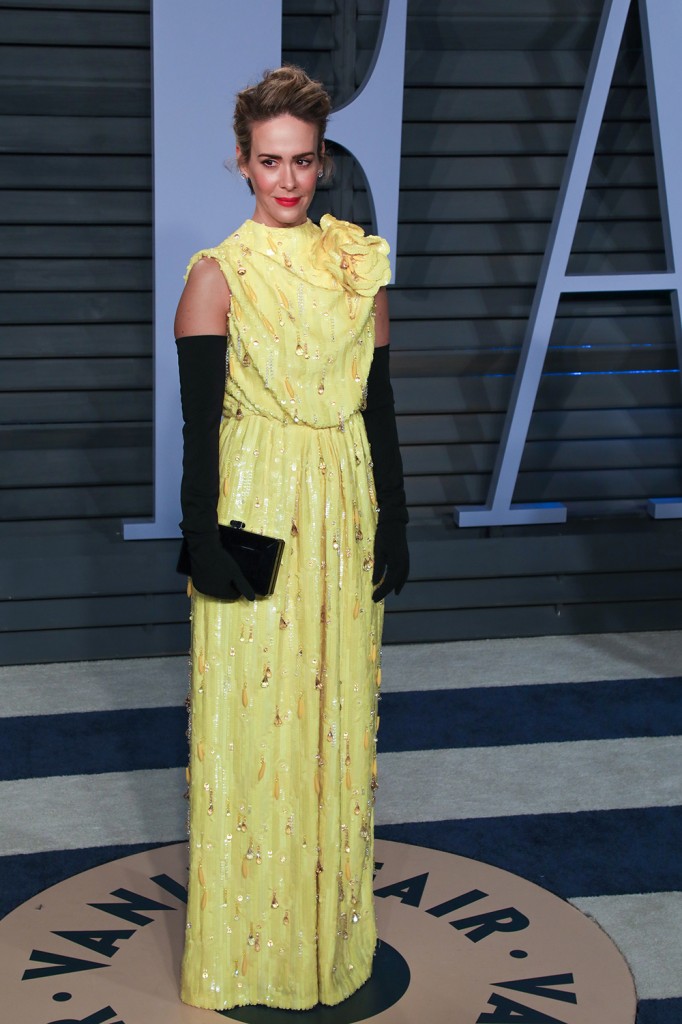 Meanwhile, over at Elton John's AIDS Foundation Academy Awards Viewing Party, Lea Michele must have been freezing. The 31-year-old actress wore a skin-baring dress from La Perla, probably better known for their lingerie. The navy bodice featured an extremely plunging neckline and the gold sequined skirt showed off lots of leg. All I can think of when I see this gown is Daphne Zuniga's line from The Sure Thing, "She's got lovely skin… and so much of it." I am glad Lea kept the jewels at a minimum, accessorizing only with a gold bangle bracelet. As for her hair and makeup, she paired a smoky eye with a pink lip gloss and wisely opted for clip-on bangs instead of going for the permanent fringe. Lea has always struck me as a little too "look at me," so this dress is really on brand for her, but I think it's just a little too much. And, in case you were wondering, yes, Lea did experience a nip slip climbing into a car with her pal Nikki Reed.
If I could ever find a workout to effectively tone my arms, I would totally wear Gabrielle Union's gorgeous dusty rose hued Prada gown. I absolutely love that shade on her. I also like the silver sequin bandeau top, which becomes a bow in the back. It's the perfect blend of elegance and bling. Gabrielle's makeup was from a more natural palette and I covet whatever shade of lipstick she's got on. She pulled her hair back into a sleek, side swept bun and accessorized with jewelry by Harry Kotlar, Hearts on Fire, DVANI, and Narcisa Pheres. Before the party, Gabrielle shared a photo with Regina Hall dolled up and ready to hit the town, captioning the shot, "Hollywood Prom with my hot date." She's not wrong. They look amazing.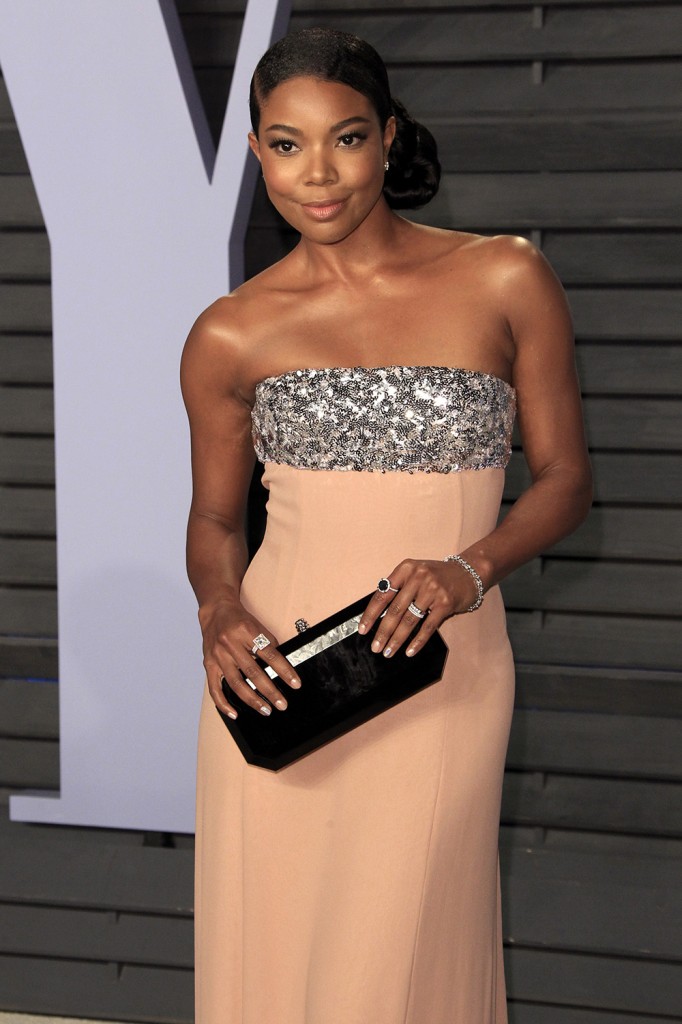 Another standout look at the Vanity Fair party comes from Isla "not Amy Adams" Fisher. The 42-year-old mother of three stunned in a red tower gown by Alex Perry. This gown also featured a plunging neckline, but it stopped well above her navel and lent a dramatic look to the gown (Lea, take note). The actress wore her red hair in old Hollywood-inspired waves. Letting the neckline of her gown stand on its own, she accessorized with simple yet elegant diamond and jade drop earrings and a matching ring from Irene Neuwirth. She wore Stuart Weitzman shoes and carries a geometric-shaped satin clutch. Her husband, Sacha Baron Cohen, looked dapper in a Dolce & Gabbana tux. I don't know what you think, but Sacha is looking pretty hot here. Maybe it's the tux. This look is making me wish he got cast in that Freddie Mercury biopic.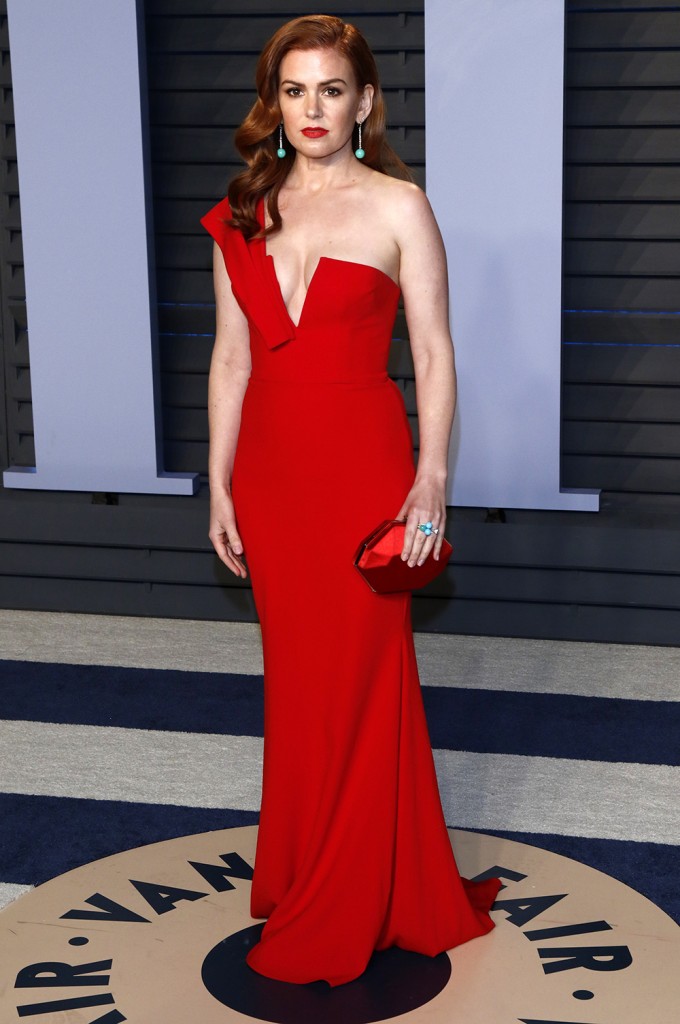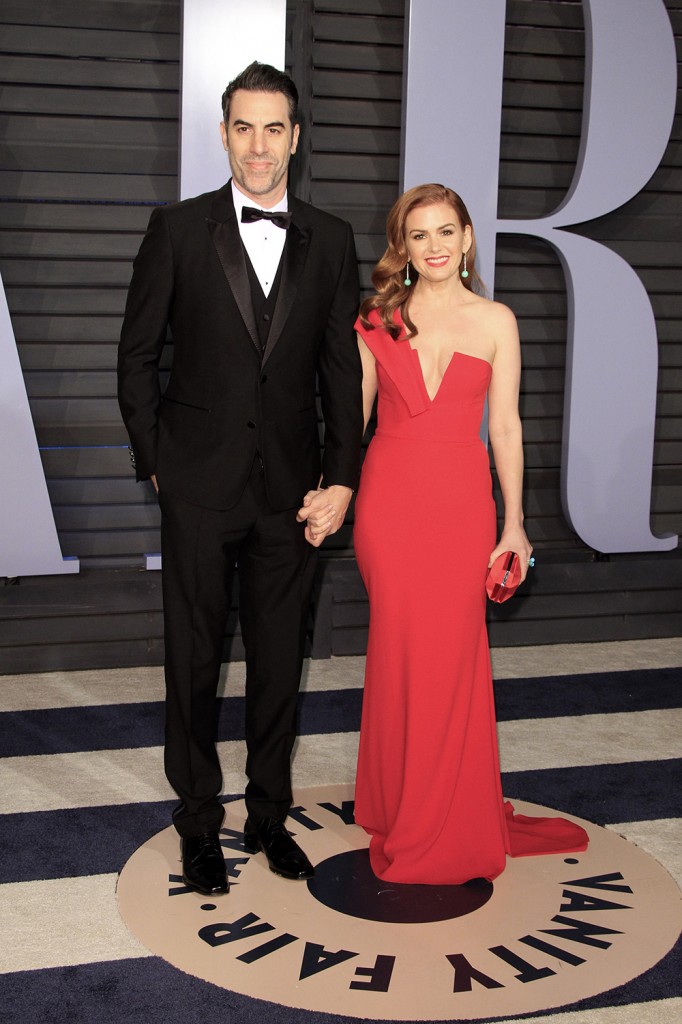 photos: WENN.com, Getty Images, Instagram