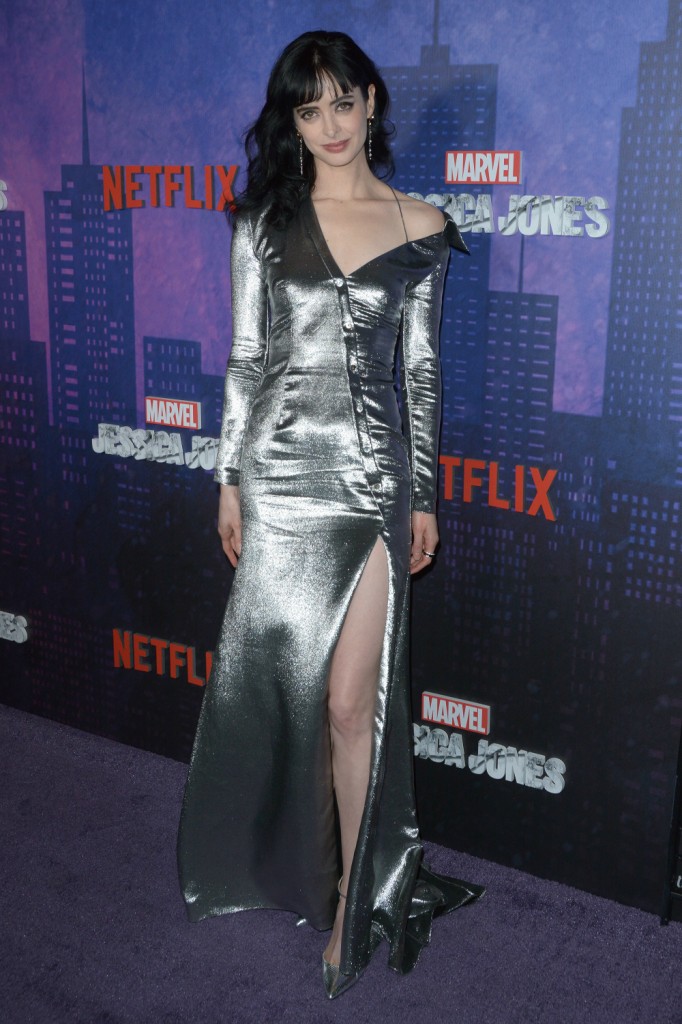 Krysten Ritter wore this silver Cushnie Et Ochs dress to the Jessica Jones premiere. I love it – asymmetrical neckline, color and fabric. And I'm always here for a dramatic slit. Jessica Jones started streaming on Netflix yesterday. I haven't watched it yet, The Mister said I had to wait for him.
I've liked Krysten since Gilmore Girls but I don't know much about her. I had no idea she published a novel last year called Bonfire. I also didn't know Krysten was an avid knitter. Apparently, that's totally on me because Krysten is huge in the knitting community, like gracing the cover of Vogue Knitting huge. She even has her own knitting collection. So how much does she love knitting? According to Krysten, she'd rather knit than do almost anything else.
On if a Krysten Ritter-knitted sweater appeared in the first episode of the new season: I wish! No. Here's the thing: I would have to work really hard, because we need seven of everything that I wear. I think it's seven. It's me, my stand-in, my stunt double, a backup, and then a larger size and a smaller size. But there's just too many. I did not, unfortunately, but maybe [co-star] Rachael [Taylor] ends up wearing something. I always try to get a piece of mine in the show. If we do a season three, I will 100 percent try to get that thing in the show.

On knitting being her first love: Yeah, I love it. Honestly, I'd rather be knitting than doing most things. I love it. I like creating something with my hands, and it's also something that I can do anywhere while I'm doing all of my other side hustles. Y'know, I've got a lot of shit going on, and it's just one of those things that I love to do.
I have a friend who knits all the time. She'll reach over and grab her needles and yarn mid-conversation without taking her eyes off mine. It's therapy for her (maybe I should wonder why talking to me is so stressful she need to start knitting). Knitting must be the way Krysten unwinds. And since it's something she can do everywhere, Krysten always has an outlet. Which is marvelous because I imagine between acting, writing novels and running her production company, things probably get pretty stressful.
When Krysten appeared on The Late Show with Stephen Colbert, she tried to teach him knitting. I'm adding the clip because watching Krysten in the role of Jessica, I forget she ivacious and fun she is in real life (it's called acting, darling). Notice the dress she wore. I'm seeing a trend of silver dresses with deconstructed necklines – and I am all for it!
But guys, we need to talk about her dog, Mikey. He needs his own Vogue cover: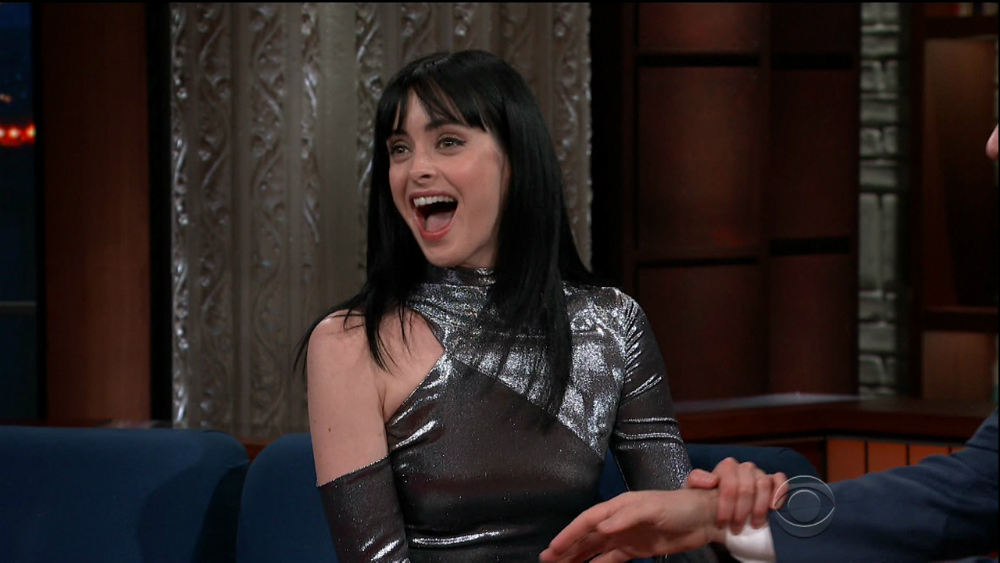 Photo credit: WENN Photos and Instagram