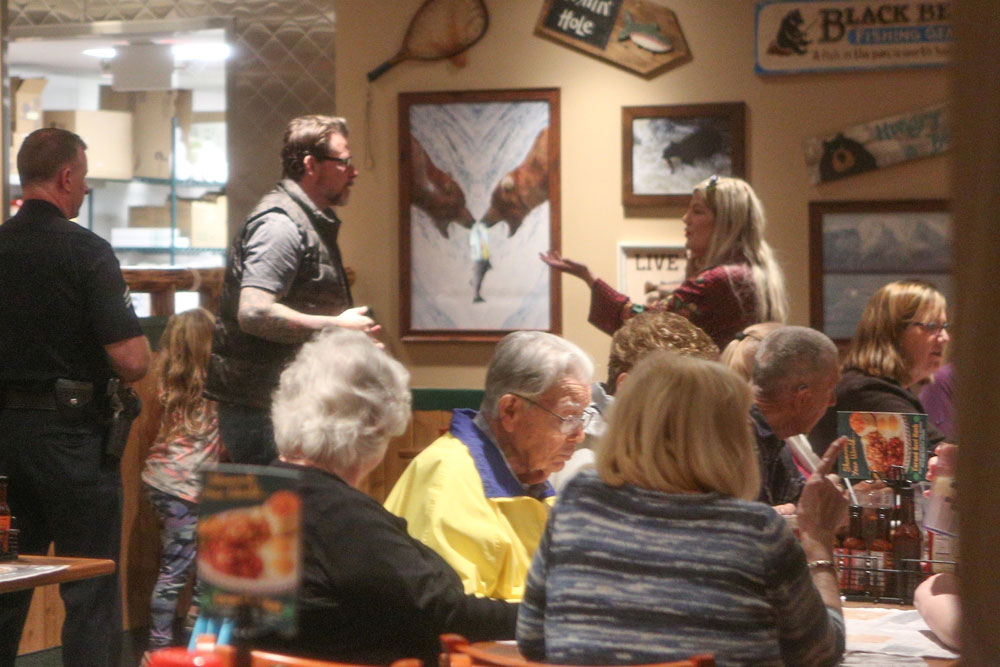 Last week, Dean McDermott called 911 for a second time after his wife, Tori Spelling, left their home with one of their five children. Cops located Tori at a doctor's office, where she had taken the child. Dean was standing outside with their one year-old, Beau, like Tori was abandoning them by taking a different kid to the doctors. No arrests were made and no action was taken. Many of you commented with Dlisted's take, which was that Dean is setting up Tori to divorce her. His actions look like gaslighting and portraying her as an unstable parent. That's supported by the fact that Dean went to a lawyer's office on Thursday while Tori took the kids to her mother's house.
On Saturday Dean and Tori went out to eat with all five of their kids. They were at a diner in Encino called The Black Bear where photos show that they were arguing. The police came to escort them out. It's unclear who called the cops or whether they were there because Tori and Dean were arguing or because they wanted protection from the paparazzi. The Daily Mail claims it was due to their fight, and they have video of Tori, Dean and their kids being escorted out of the diner by cops. Tori is holding up her phone to document everything, which just looks ridiculous. She says "smile guys" to the paparazzi and tells them "everything's great."
The paparazzi got photos of the family going into the restaurant, those are below. Given the performative aspect of Tori and Dean's life, I'm slightly skeptical about this and about whether they called the cops themselves. I hope they would not subject their kids to that at all. Meanwhile ET has a story from a source giving Dean's perspective, which is that he's the calm one and Tori is freaking out because he's not helping at home.
"Tori and Dean's marriage is in shambles despite having a sit down last week to try to make it work. They made an attempt to use the tools given to them by their therapist to create a healthy environment for the kids but it isn't working," the source says. "One of Tori's main issues with Dean is he isn't helping with the kids as much as she feels he should. He used to do everything but has stepped away and started taking more time for himself."

"Dean is trying to be calm and handle things," the source says. "He doesn't want to raise his voice or say anything that she could misconstrue to the police."

"She panics every time he is out," the source also alleges. "If she doesn't know exactly where he is, her anxiety goes through the roof. She seems to live in fear he will cheat again."

ET previously confirmed that McDermott called police on March 7 to do a welfare check on his wife at a location in Thousand Oaks, California. The source claims that prior to the call, the two fought, and she threatened not to come back from a doctor's appointment with one of their kids.

"She lost it again, she flipped out again and threatened him," the source claims. "That was the reason the police had to go to the doctor's office. Dean was worried Tori would take their kid and not return."

"Dean doesn't want the mother of his children to get arrested, he just wants to show Tori he is serious about watching her behavior and the children," the source adds. "Close friends only see this getting worse. Things don't look good. It is causing total unrest in the home because the kids are present during her outbursts and threats."

Though Spelling has since returned to work after the police visit, the source says that the troubles have persisted.

"There is non-stop chaos in their home and in their marriage," the source says. "Friends are talking about a possible intervention of sorts before things get even worse."
I don't have a lot of sympathy for Tori but it's low of Dean to use sources to paint her as unstable. It does look like these 911 calls are a way for him to make a case against her and I'm interested to know who called the cops on Saturday. According to US, Dean was seen on his phone talking when cops questioned him. To be fair, Tori was talking on her phone at one point too.
Meanwhile Tori Instagrammed a photo of herself on Sunday at the CBS lot. She's working on a 90210 project with her former costar, Jennie Garth. People has the details that they're in development talks for "a new show based loosely on the series." (These two also had a show together on ABC Family in 2014 called Mystery Girls.) Tori also posted an Instagram story with some vague statements about how great she's doing. In the past two days she shared a picture of baby Beau having sushi for the first time (he had tamago which is mostly egg and rice) and posted a photo of herself on a bed with Beau napping. You can see her flat-looking stomach in the background. Tori is all about keeping up appearances while sh-t is falling down around her.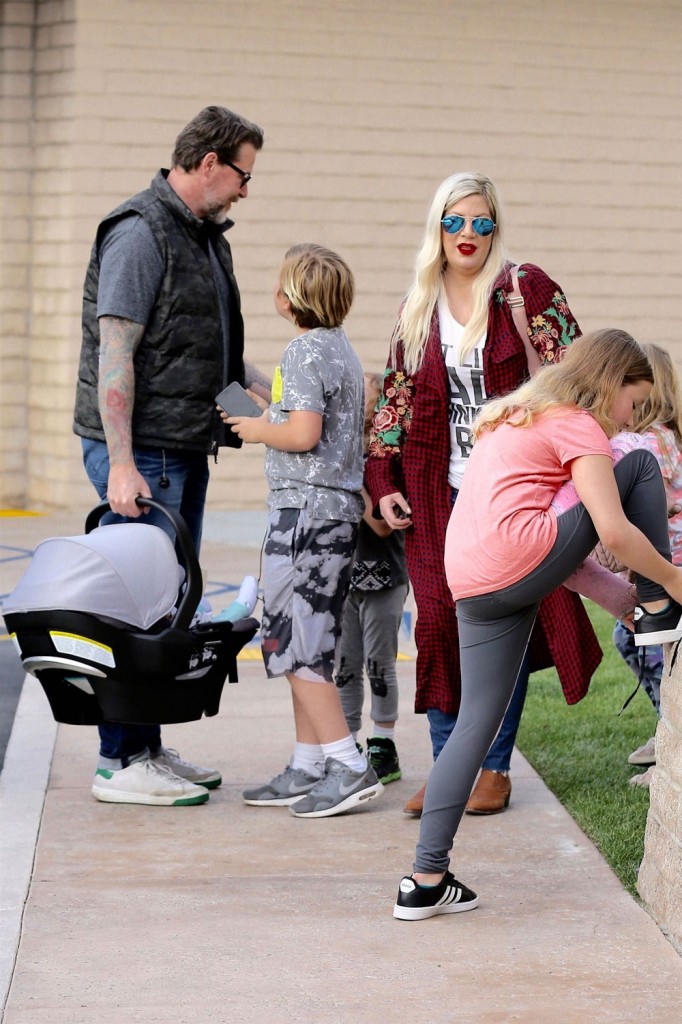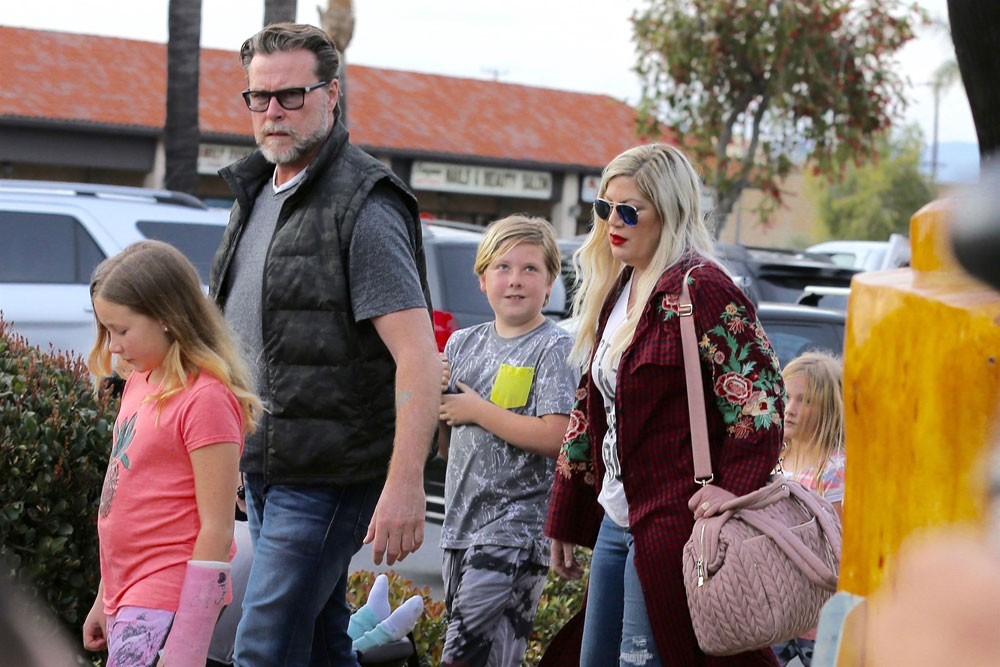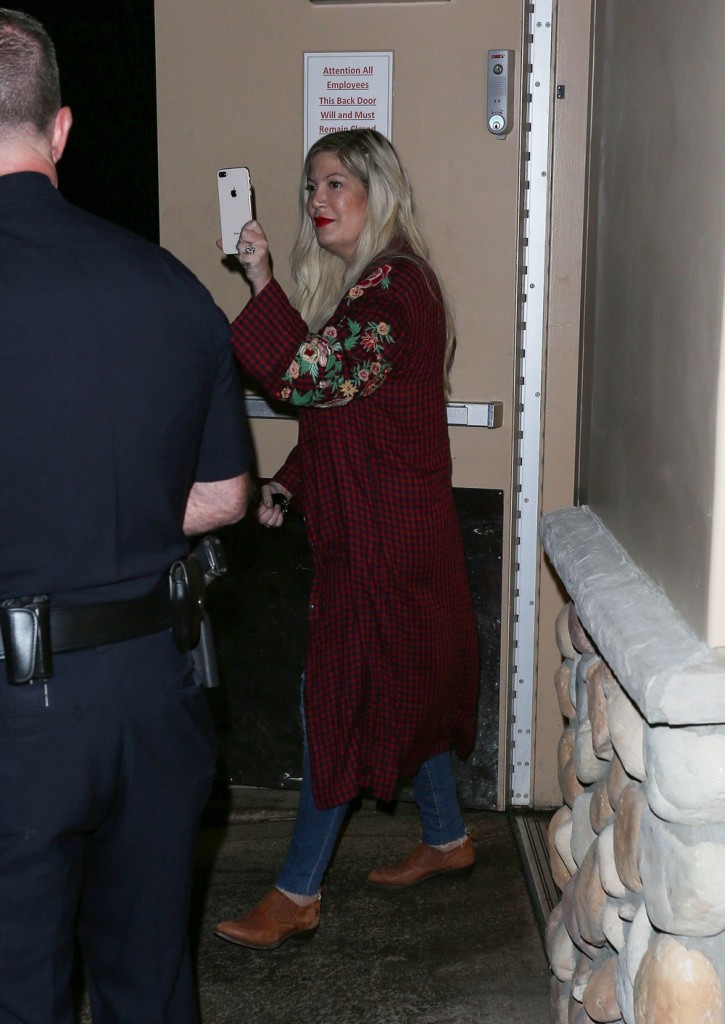 photos credit: Backgrid