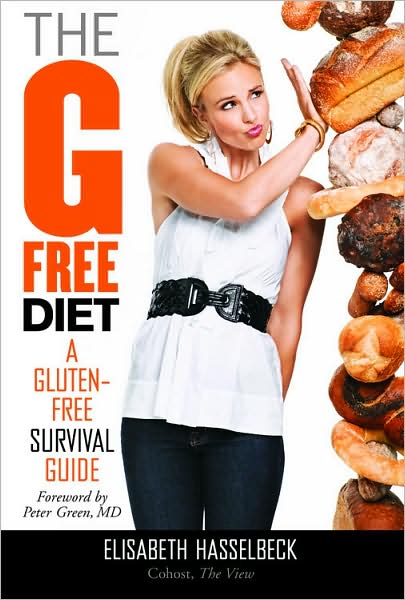 Elizabeth Hasselbeck is being sued! There's this woman, Susan Hassett, who claims that Hasselbeck "stole" her book idea. The book idea that was allegedly stolen isn't what I was hoping for – something political or something sappy, about being the perfect Republican family or something. Instead, the book idea that Hasselbeck "stole" is about Celiac Disease – otherwise known as some kind of extreme wheat allergy, to the point where wheat consumption damages the small intestine. It's a really serious thing that can effect everyone from newborns to full-grown adults, and it can make life hell.
Hasselbeck has Celiac Disease, and she published The G-Free Diet: A Gluten-Free Survival Guide, which was sort of a cookbook/handbook. Hasselbeck even has a website about being "g-free". Unfortunately for Elisabeth, Susan Hassett wrote a book called Living With Celiac Disease a couple of years before Hasselbeck "wrote" her book. At first I thought this was no big deal, that Celiac Disease has gotten more exposure, and more people are writing about it, and of course some of the books are going to sound similar. Turns out, not so much. Hasset sent Hasselbeck a copy of her book thirteen months before Hasselbeck published her book, which seems to be nearly identical to Hasset's book. TMZ has the rundown of the plagiarism and copyright infringement, and they also have a copy of the letter Hasset sent Elisabeth:
Elisabeth Hasselbeck ripped off a woman by plagiarizing her disease material — so claims Susan Hassett, who fired off a letter to "The View" host just before suing her.

We obtained the letter — in which Susan claims she sent Elisabeth a book called "Living with Celiac Disease" back in April of '08. Thirteen months later, Susan says Hasselbeck published the same book with a new title: "The G Free Diet -A Gluten Free Survival Guide." Yes, the title sucks.

Susan compares chapters and lines. Here are some highlights.

Susan's Book Chapter 1: What is Celiac Disease?
Hasselbeck Chapter 2: What is Celiac Disease?

Susan's tips: "Shop in the outer isles of the supermarket."
Hasselbeck's tips: "Food in the outer isles of the supermarket."

And the comparisons go on and on.

Susan just sued Elisabeth for copyright infringement and plagiarism.
[From TMZ]
This incident seems a lot like the whole Jessica Seinfeld-plagiarism scandal, where Jessica Seinfeld pretty much stole an entire cookbook from a woman, all about how to make food fun for kids. Hasset is accusing Elizabeth of stealing her general idea for gluten-free life, as well as the actual ideas, text and life-remedies contained in the book. Don't these people know that they'll be found out? Or is it our fault for thinking Elisabeth was actually capable of writing a book?